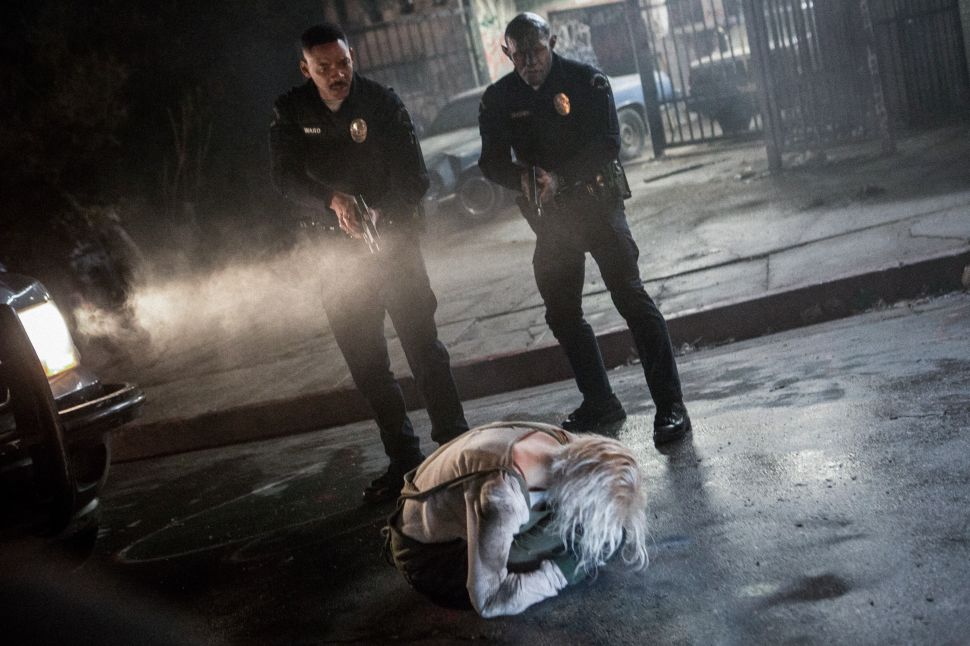 Netflix's Will Smith-led $100 million fantasy blockbuster Bright has been absolutely savaged by critics and sparked controversy for its racial allegories. Yet despite the critical backlash—the film currently sports a 29 percent on Rotten Tomatoes—Netflix has already greenlit a sequel as it attempts to flood the market with content. Perhaps the streaming service was encouraged by Bright's "opening weekend" viewership data.
According to Nielsen, 11 million viewers watched Bright within the first three days of its release. While it's difficult to gauge whether or not the company deems that a success—the Stranger Things season 2 premiere drew 15.8 million viewers—the number does represent roughly one-fifth of Netflix's domestic subscriber base. Of course, the streamer has vehemently denounced the accuracy of any and all third-party ratings for its originals, but Nielsen is the name brand when it comes to viewership measurement. So we'll leave this grain of salt here in case you want it.
Assuming Nielsen's numbers are accurate, Bright could have made a killing at the box office this weekend had it been released theatrically. If all 11 million viewers had purchased a movie ticket at the average price of $8.91, Bright would have earned $98.2 million in its opening weekend, good for ninth-biggest of the year. For comparison, Star Wars: The Last Jedi earned $71.5 million this past weekend, its second in wide release. However, there's quite a difference between piling into the car, driving to the movie theater, standing in line and buying a ticket compared to streaming a movie from the comforts of your home. And if we believe the Rotten Tomatoes effect that studios are all up in arms about these days, it's likely that Bright wouldn't have come close to this total.
Still, it's an interesting "What If" to explore as we continue to search for more traditional metrics to define the success of streaming. Was Netflix's massive investment worth it, though Bright did little to change the film studio's reputation among movie fans? Is 11 million "opening weekend" viewers a good number? Are Nielsen's metrics even accurate?
As streaming continues to become the norm—especially with the Disney-Fox deal changing the game, Amazon's ramped up production and Apple (AAPL)'s looming involvement—we'll need to start tracking data to properly contextualize the success/failure of big name projects.
#FairyLivesMatter