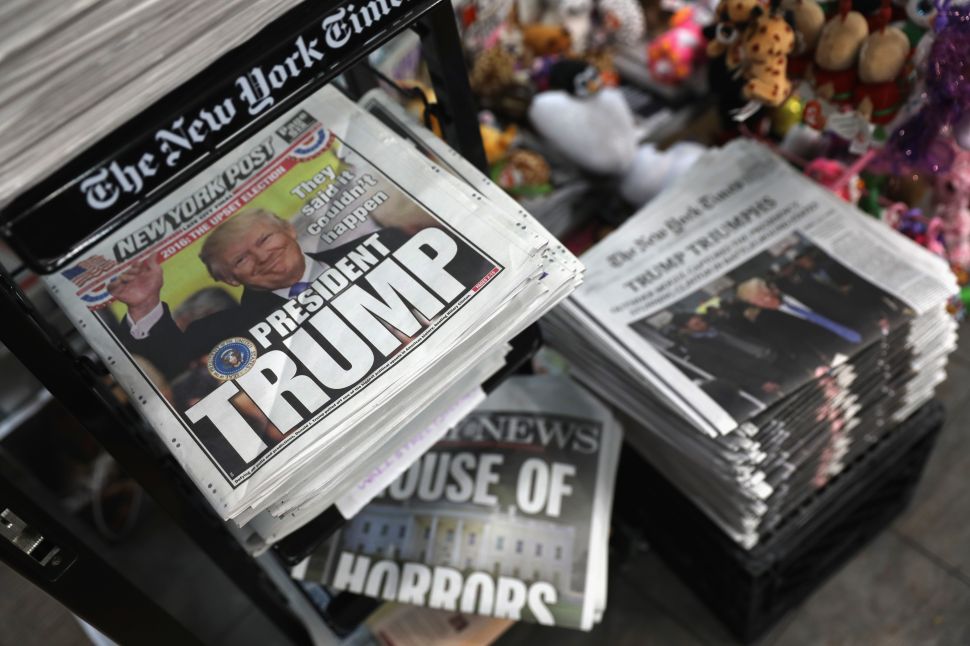 During the 2016 election, Donald Trump and Hillary Clinton were rated as two of the worst presidential candidates in history. Most critiques focused on their style and scandals, yet other nominees have had faced similar issues. Could it be that media in general, and social media in particular, played a role in driving down their numbers?
The Most Unpopular Presidential Candidates in History
A Gallup polling survey released on election day found Clinton and Trump to be the nominees with the lowest favorability and highest unfavorability ratings since the polling entity started collecting that data in 1956. Gallup's Lydia Saad revealed in the survey announcement that out of 26 nominees, Clinton had a 47 percent favorability rating and a 52 percent unfavorable rating, good enough for 25th place (Barry Goldwater had only 43 percent favorable, 47 percent unfavorable). She finished only ahead of Donald Trump, who scored a nearly 60 percent unfavorable rating, and below 40 percent on favorability. In other words, they easily claimed the titles of least-liked candidates.
Just for the sake of contrast, the favorable/unfavorable splits of other candidates include Richard Nixon (79 percent favorable, 22 percent unfavorable) George McGovern (a 55 to 41 percent favorable to unfavorable ratio), Mitt Romney (55 to 43 percent), John Kerry (57 to 40 percent), George W. Bush (61 to 39 percent) and Walter Mondale (66 to 34 percent).
Writing for FiveThirtyEight.com, Harry Enten uncovered similar numbers using Roper Center data. Clinton and Trump were the lowest in the survey by far, going back to 1980, Enten noted.
It's easy to dismiss these numbers as the product of bitter party primaries, but we've had ones to equal 2016's nastiness in the past. Others could point to Clinton's gender and Trump's persona, but being "the first" has not had the same effect on previous nominees (the first Catholic, the first African-American, the first Mormon, the first candidate from the Deep South since Reconstruction); neither has an unlikable personality produced these results before (Dukakis, Kerry, Bush Jr., LBJ and Nixon come to mind).
Maybe It's the Media
I sought to analyze this research with the students in my methods class at LaGrange College. We examined all the articles published on the candidates from several newspapers across the country, looking for a regional balance as well as an ideological balance (i.e. they endorsed Clinton, or Trump, or Gary Johnson, or Evan McMullin, or no one). We focused on more than 1,000 stories that referenced the candidates, from the Atlanta Journal Constitution, Las Vegas Review-Journal, New Hampshire Union Leader, Chattanooga Times Free Press, San Diego Union Tribune and the Provo Utah Daily Herald.
We found that while neutral stories made up the bulk of the reporting (43.1 percent), there were far more negative stories (611) than positive ones (334). Stories on Hillary Clinton were 31.6 percent negative and 22.3 percent positive. It was worse for Donald Trump, with 44.5 percent of the stories portraying him in a negative light, and only 17.4 percent positive.
Did Social Media Make It Worse?
While that "bad news bias" from the traditional media played a role, the newer forms of media certainly played their part in keeping the negative news circulating. A study published this December in Government Information Quarterly found that most of the people on Twitter didn't produce much in the way of new content. They tended to retweet what news was already out there, and much of it was negative. Surprisingly, the researchers found that Trump tended to be more optimistic than Clinton, and had more positive postings. Social media users seemed to appreciate that.
In an October story from the Public Relations Review, Jayeon Lee and Weiai Xu dug deeper into the tone of his tweets. They found more of them to communicate a negative overall message than a positive one, and that these were the ones that received more favorites or retweets, creating an echo chamber of adverse press. Lee and Xu revealed that Trump, in particular, was more effective at garnering attention for his tweets, especially those that went after Hillary Clinton or attacked the media for having a liberal bias.
Is All Bad News Bad?
Long before he became a politician, Trump frequently sought the spotlight. And there were no shortage of Trump-related scandals being reported in tabloids and mainstream press. But Trump tended to see this as more of a blessing than a curse. He has frequently said (or tweeted), "all press is good press," according to Michael Kruse. This belief evidently held through the 2016 election.
Our research showed that Trump was the subject of half of all the stories we analyzed, with the other candidates (Clinton, Johnson, Dr. Jill Stein and Evan McMullin) adding up to the other half. This gave the Republican nominee the most attention, and kept him the news more, a formula that worked for him in the GOP primary against Ted Cruz, Jeb Bush, Marco Rubio, Rand Paul, Scott Walker, Dr. Ben Carson and the rest, according to a Harvard conference and study that analyzed the role of the media in the 2016 election.
Social media helped this along, with Trump fans and haters alike retweeting the news about him. Regardless of whether the reports were positive or negative, one thing is for sure: he dominated headlines—to the point where even Clinton's numerous policy positions were lost in the media soup. As Yu-Ru Lin, James P. Bagrow and David Lazer wrote in LazerLab, "regardless of a positive or negative stance towards an entity, an imbalanced quantity of coverage, if present, is itself a form of bias."
Trump may have lost on the "selection bias" measure (whether a story is positive or negative), but that was more than offset by his favorable "coverage bias" (volume of stories), as well as his more skillful use of social media. If Democrats want to counter that, they'll have to figure out a better means of using the new media forms, and how to stay in the media, rather than avoiding it the way Hillary Clinton did in 2016.
John A. Tures is a professor of political science at LaGrange College in LaGrange, Georgia. He can be reached at jtures@lagrange.edu. His Twitter account is JohnTures2.