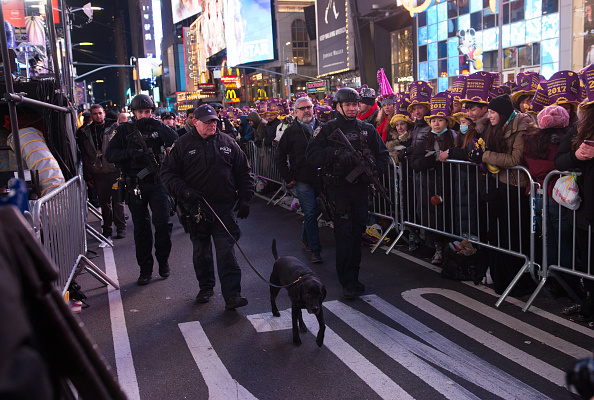 As roughly 2 million New Yorkers and others across the United States and the world flock to Times Square to see the ball drop on New Year's Eve, the NYPD says to expect a "stronger police presence" at the celebration.
This year, the NYPD is adding extra security to the outer perimeter of Times Square to ensure those waiting to enter screening areas will be protected from moving vehicles. The Police Department and its law enforcement partners will also be increasing the number of observation posts across Times Square to monitor elevated vantage points.
Personnel from the Federal Bureau of Investigation will work behind the scenes to track and investigate any threat information the FBI receives. The NYPD encouraged people to call 911 or speak to a police officer if they witness anything suspicious.
"We report at this time there are no credible threats to New York City, to Times Square specifically or to any of our New Year's Eve events generally," O'Neill said. "Have an abundance of caution, however. You'll see a stronger police presence out there than we've seen even in recent years."
O'Neill referred to the explosion in the Chelsea section of Manhattan in September 2016, the truck terror attack in Lower Manhattan and the attempted terrorist attack at the Port Authority Bus Terminal earlier this month.
"That's prudent given the terror events we've seen and studied around the world as well as the three incidents here in New York over the past 15 months, including the two attacks within six weeks of one another on October 31 along the West Side Highway and on December 11 inside the subway passage at 42nd Street and 8th Avenue," O'Neill continued.
Those participating in the celebration in Times Square will be screened. Backpacks, large bags, umbrellas and alcoholic beverages will be prohibited, and property cannot be abandoned at checkpoints. Attendees who leave before the ball drops will not be able to get back into their original viewing area.
Starting at 11 am on Sunday, West 37th Street through West 59th streets from 6th  to 8th avenues will be closed to vehicular traffic. The city expects heavy traffic conditions, and there will be rolling street closures in Manhattan. Officials encouraged people to use mass transit.
O'Neill noted the NYPD has been working with the Times Square Alliance and more than 600 businesses in the immediate bowtie area as well hotels and other venues in Midtown Manhattan.
"We wanna make sure that the approximately 2 million people who will converge in the vicinity of Times Square on Sunday night also feel safe," he added. "Here in New York and again, it's always in conjunction with our law enforcement partners, we constantly monitor and assess the threat stream. It's an around-the-clock task and it's a necessary one."
Mayor Bill de Blasio argued terrorists target New York City because of its values and its "success as a pluralistic city."
He praised New Yorkers for consistently responding with "strength and resiliency" in the aftermath of the terror attacks this fall. And he credited the NYPD with proving "once again its ability to handle and respond to any situation."
"We are clear that those characteristics — that strength, that resiliency, that unwillingness to ever bend in the face of threats marks the character of New Yorkers and is something the city should be proud of and that will again be on display," de Blasio said. "We are ready to have a great celebration."