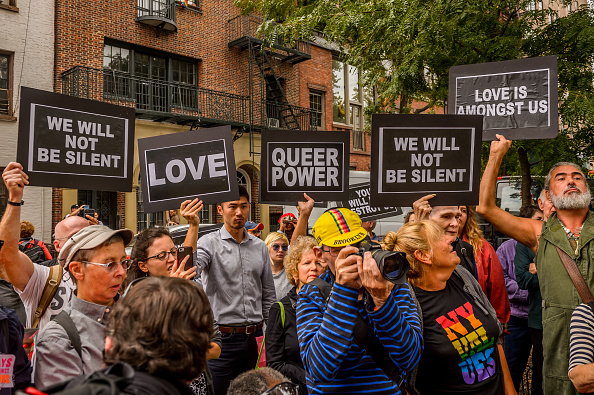 The City Council passed legislation on Thursday afternoon that will ban people from charging individuals for conversion therapy that aims to change an individual's sexual orientation or gender identity.
"Conversion therapy" is defined as any services offered or provided to consumers for a fee that aims to change a person's sexual orientation or gender identity "to conform to the sex of such individual that was recorded at birth," according to the bill, which is sponsored by City Council Speaker Melissa Mark-Viverito.
Individuals will receive a $1,000 civil penalty for the first violation, $5,000 for the second violation, and $10,000 for each subsequent violation, the bill's text states. The proposed law will go into effect 120 days after it officially becomes law.
The Council passed the bill at its monthly stated meeting, with 43 members voting in favor of banning the therapy. Two Council members—Brooklyn Councilmen David Greenfield and Chaim Deutsch—voted  against it, and Bronx Councilman Andy King abstained.
Mark-Viverito said the legislation marks a "very important day, a very historic day" for the city and that she is "happy" the move is occurring under her leadership.
"We will ensure all individuals will be able to live without fear of coercion into change into someone they are not," she said during the meeting on Thursday.
"My partners and I in New York City government will continue to be the model for acceptance across the nation as we ban conversion therapy once and for all," the speaker continued.
The bill states that it is unlawful for any individual to offer or provide conversion therapy services. But the ban does not apply to services that offer assistance to an individual undergoing gender transition or counseling that provides "acceptance, support and understanding" of an individual's sexual orientation or eases an individual's "coping, social support and identity exploration and development."
That includes "sexual-orientation-neutral interventions" to stop or deal with unlawful conduct or unsafe sexual practices—as long as those services do not seek to change an individual's orientation or gender identity.
Queens Councilman Daniel Dromm said vulnerable individuals—including minors—are susceptible to scammers "who are eager to earn a quick buck in this insidious way." He argued the city needs to protect consumers.
"Conversion therapy is a form of psychological torture, pure and simple," Dromm said. "And so it is fitting that New York City is banning this odious practice."
The American Psychiatric Association removed homosexuality from its list of disorders in 1973. And in February 2015, a New Jersey judge ruled that depicting homosexuality as a curable illness constitutes a "misrepresentation" in violation of the state's consumer protection statute.
In June 2015, a New Jersey jury found that a gay conversion therapy group committed consumer fraud and unethical business practices by vowing to change the sexuality of several men, who were its clients.
Nine other states, the District of Columbia, and various municipalities have protected youth from conversion therapy, according to the National Center for Lesbian Rights. In February 2016, Gov. Andrew Cuomo announced a series of comprehensive multi-agency regulations banning public and private health care insurers from covering the practice in New York State.