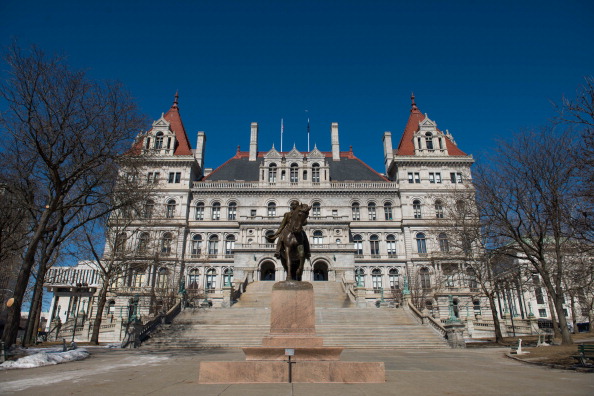 Brooklyn State Senator Simcha Felder, a conservative Democrat, announced that he will continue to caucus with the Senate Republicans, guaranteeing a GOP majority when the state Senate enters budget discussions next year.
Democrats have a majority in the 63-seat body, with 32 Democrats and 31 Republicans. Despite having fewer seats, the Senate GOP controls the chamber because the Independent Democratic Conference, led by Bronx State Senator Jeff Klein, has been in a power-sharing agreement with them since 2011. And Felder, who is not part of the IDC, has been caucusing with the Senate GOP since he was elected in 2012.
At the end of November, four top state Democratic officials wrote a letter to Senate Democratic Leader Andrea Stewart-Cousins and Klein proposing that the two sides come together to win anticipated post-budget special elections. Once they win, Klein and Stewart-Cousins would reunify as co-leaders. Klein indicated his support for the agreement, and Stewart-Cousins maintained that the Democratic Conference has been calling on all senators elected as Democrats to unite "and not empower the Republican minority."
"Some people think they can bully and intimidate me into moving right now," Felder said in a statement provided to Observer. "I will not allow their political calculations to hurt my constituents and New Yorkers. We deserve a thorough, thoughtful, and timely budget process, not one that is fractured and chaotic because of political gamesmanship. I will not consider any call for unity until after a budget is in place."
The New York Post first reported that Felder plans to continue caucusing with the GOP.
Some challengers to IDC members have also emerged despite the unity deal.
Jessica Ramos, who formerly served as director of community and ethnic media for Mayor Bill de Blasio, is considering challenging Queens State Senator Jose Peralta.
Zellnor Myrie, a Brooklyn lawyer and member of the Kings County Democratic Committee, is running against Brooklyn State Senator Jesse Hamilton. And former Upper Manhattan Councilman Robert Jackson is challenging Upper Manhattan State Senator Marisol Alcantara.