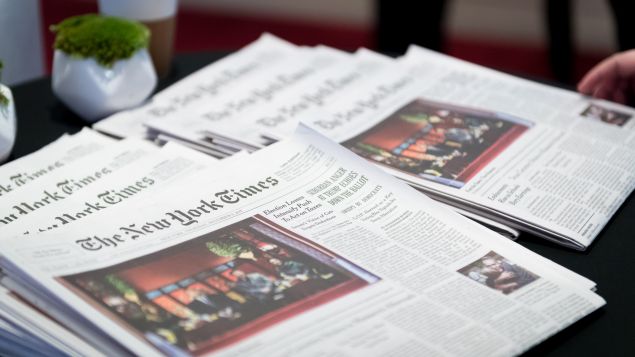 The Gray Lady is tightening up its paywall.
Today The New York Times announced it is cutting the number of articles non-subscribers can read online for free each month in half, from 10 to five. The change, effective immediately, marks the Times' first alteration of its paywall structure since 2012, when it reduced the number of free articles from 20 to 10.
The move comes soon after the Times reported it has 2.5 million digital subscribers, a new record and a 59 percent increase over last year. One of the main reasons for this renewed popularity is the Times' continued, exhaustive coverage of stories like the Trump administration's misdeeds and sexual harassment scandals in Hollywood.
"It's a very hot news cycle," Meredith Kopit Levien, executive vice president and chief operating officer of The New York Times Company, told Bloomberg. "We think it's as good conditions as any to demonstrate to people that high-quality journalism is something to be paid for."
Levien admitted that the paywall decision could lead to a drop in traffic on the Times' website. But she also said it was worth the risk if more people sign up for digital subscriptions.
The Boston Globe attempted a similar gambit in May when it reduced its number of free monthly articles from five to two. A flood of new subscribers joined the site.
This new paywall policy is also a hedge against the Times' advertising shortfall. While digital advertising increased 11 percent last quarter, print ad sales have fallen 20 percent.
The Times, like other media companies, has struggled to keep up with the changing tides of social media. While articles read via Facebook or Twitter initially didn't count toward the paywall, since June they have.
Google further impeded subscriber growth at the Times and other papers because it required subscription-based publishers to offer a few free articles a day through search. The company has since ended this policy, and outlets like The Wall Street Journal have started blocking Google users from reading free articles.
The Times declined to comment for this story, citing Levien's remarks in Bloomberg.
Times digital access, which includes unlimited use of the paper's website and apps, starts as low as $4.50 per week for home delivery subscribers. Online-only subscriptions start at $8 per month.