You can now order a pair of shoes off the menu at The Flower Shop.
New York is believed to be packed with over 24,000 restaurants, but there is, indeed, a certain subset of eateries that attract a cult following. Take Michael's for example, located on West 55th Street between 5th and 6th Avenues. Each of the eatery's loyal patrons who turn out for lunch, some on a daily basis, have their regular table, their regular food and drink order and a regular server. Some even have a regular chef. "It's pretty remarkable," Michael's general manager and CFO Steve Millington told Observer. "It happens solely due to great food and customer service. You should be appreciated and remembered, and feel like you've been included in a club." Those who belong to the Michael's club include media magnates and personalities like Esquire editor-in-chief Jay Fielden, plus Kathie Lee Gifford and Hoda Kotb.
It's not just uptown power brokers who are enthralled by the concept of a daily canteen; downtown creatives have now doubled down by looking beyond the great food and club-like mentality of their local watering holes and going so far as to invest in apparel, home goods and artwork from their go-to grub spots.
The most recent one to join the gang is The Flower Shop, which teamed up with Koio last week on a limited edition pair of low-top sneakers adorned with gold embroidered roses. Constructed from black Italian calf leather, the kicks will set you back $298, and also feature the restaurant's street number, 107, embroidered in gold on the back of the shoe. But, perhaps best of all, the sneaker has been added to the menu, allowing social media famous dinner guests, including Caroline Vreeland and We Wore What's Danielle Bernstein, to simply add a pair of shoes to their tab, before heading out into the night.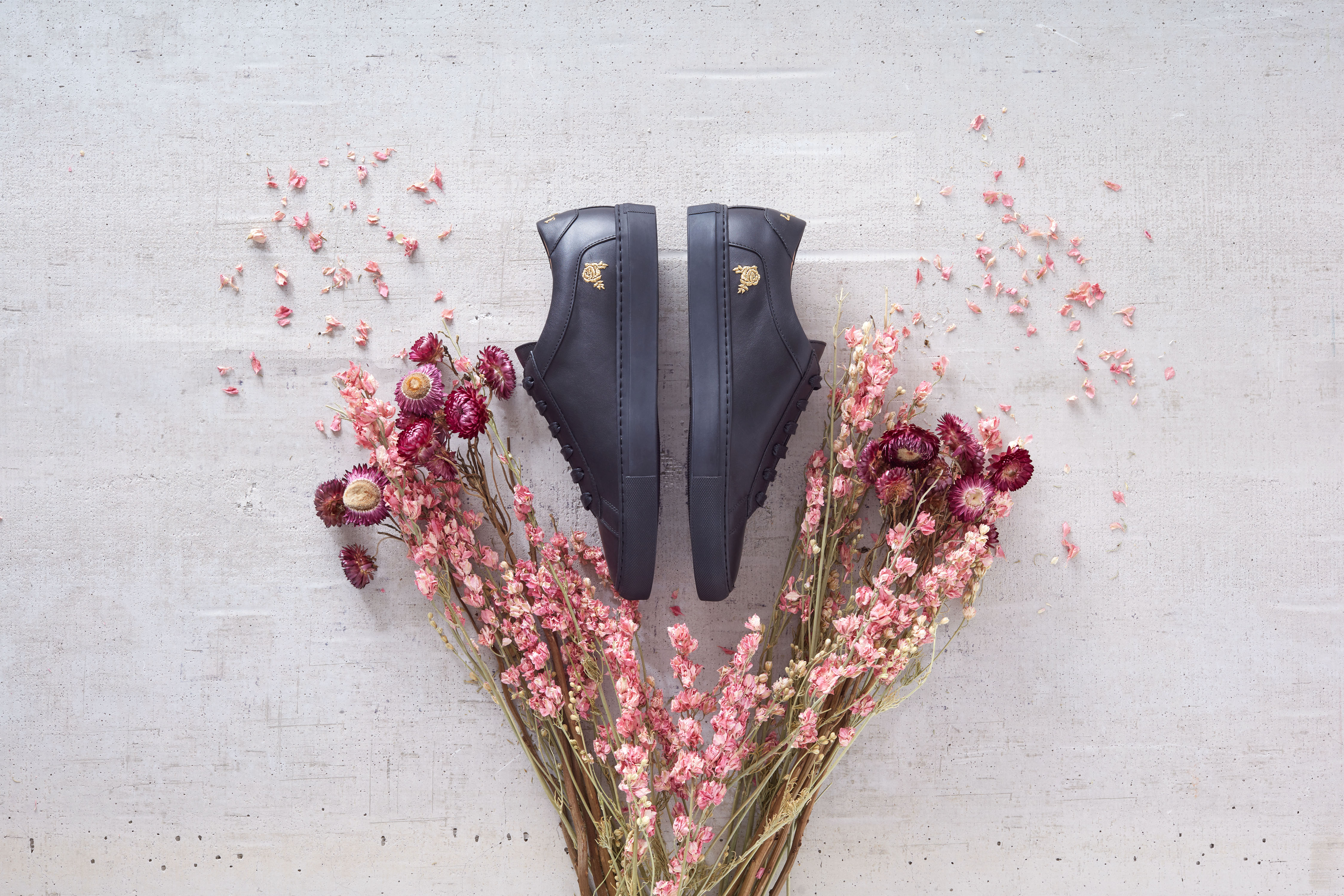 The footwear project began when Koio co-founders Chris Wichert and Johannes Quodt had begun frequenting the hotspot, first opened in March 2017 with financial backing from pro-skater Tony Hawk and New York Giants co-owner Steve Tisch. Their open door mentality is one that the Koio co-founders quickly related to. "We met several times until we came up with the final concept," Quodt told Observer. "Like all true New Yorkers, The Flower Shop guys love wearing black. So we decided that black would have to be the base of the shoe, and when we came to The Flower Shop-specific design elements, we considered the little things that make the space so unique. There are the illustrations on the wall, and all the memorabilia in the restaurant, but our favorite element remained their beautifully designed logo: the rose."
Sant Ambroeus has done the same, by attracting a mix of corporate and creative power players who gleefully shill out $45 for veal chops. There's Man Repeller's Leandra Medine (who dines at the restaurant so often that she has a salad named after her at the Soho location), apparel investor Mickey Drexler and supermodels like Naomi Campbell. With six locations in Manhattan, and satellite outposts in Palm Beach and Southampton, the Italian hot spots are a year-round constant for the East Coast jet set.
Alireza Niroomand, a vivacious former maître d'-turned-creative director for the Sant Ambroeus Restaurant Group who boasts over 35k Instagram followers, has become the one to oversee a tight selection of limited edition goods. However, like the Koio team's frequent visits to The Flower Shop, most of the collaborations have come from the eclectic and high-powered clientele who cross paths often with Niroomand. "We frequent Sant Ambroeus Soho multiple times a week," Morgan Colette, co-founder of the surf-centric lifestyle brand, Saturdays NYC, told Observer. "It feels like you're home every time you visit."
Since Sant Ambroeus launched a merch series in September 2017, coveted objects in the restaurant's signature hue of pink have included a skate deck made in collaboration with Supreme, a pair of Superga sneakers, rose-colored sunglasses made by Oliver Peoples and, most recently, a crewneck sweatshirt designed by Saturdays NYC. It reads "Sabati," which is Italian for Saturday. "I came across Saturdays and the team when we first opened our Soho location," Niroomand explained via e-mail, during a holiday visit to Italy. "I wear their apparel every Saturday for brunch! Morgan and I became close friends, and this is how this collaboration [came to] light—friendship and respect for our common brands."
Despite the organic nature of these hype-heavy, limited edition partnerships, there remains the question of whether the items actually leave the shelves—or technically, the restaurants. It's a formula that has breathed new life into the music industry in the wake of music streaming services that have eaten into an artist's bottom line, and it seems poised to do the same for both restaurants and fashion brands.
"It's been really great to see our community supporting this collaboration," Saturdays NYC co-founder Colin Tunstall said, when we checked in with him just five days after the Sabati crewneck sweatshirt was released. "We are already looking into re-stocking our inventory as the response has been amazing."