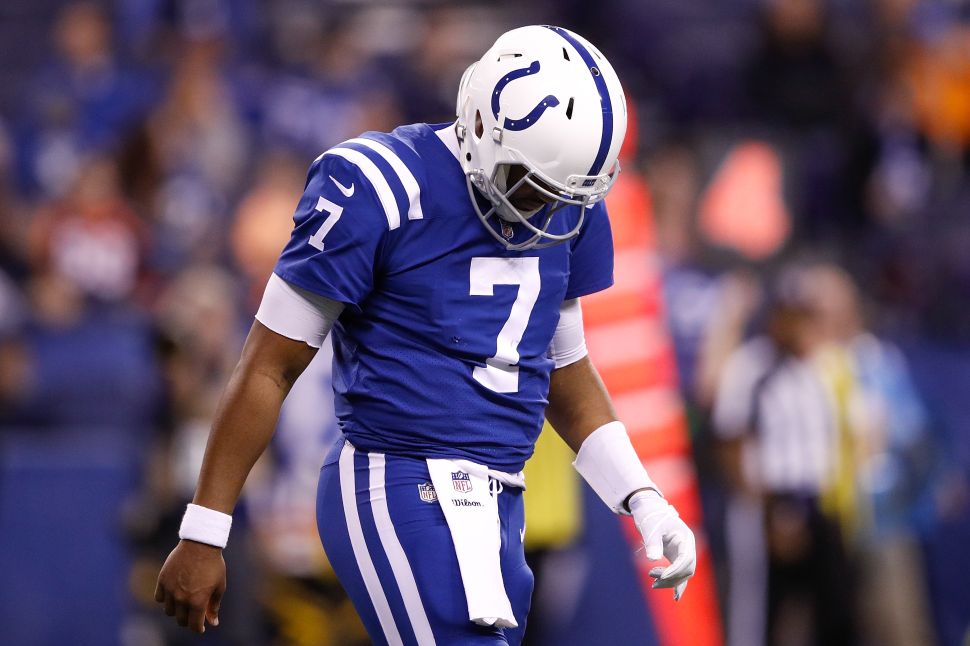 The NFL should know this by now: bad teams and bad games are going to get you bad ratings. So when you match the last place Denver Broncos (5-9) up against the last place Indianapolis Colts (3-11) in a primetime Thursday Night Football contest, you shouldn't be shocked when viewership plummets.
With a 7.4/13 in the metered market ratings (per Deadline), last night's game marked a season-low for TNF, which has aired on CBS and NBC this year. That marks a staggering 27 percent tumble in the early ratings compared to last week's New Orleans Saints-Atlanta Falcons game, which scored a 4.3/17 rating in the advertiser-friendly 18 to 49 demographic and 14.61 million viewers overall. More worrisome is the 26 percent slide from last year's TNF game on December 15, which drew a 4.3/16 and 14.65 million viewers. Thursday Night Football has consistently averaged between 13 million and 15 million total viewers this year, though the low point came in Week 9 when the Buffalo Bills and New York Jets only managed 5.8 million, per Sports Media Watch.
The 2016 season was considered a down year in terms of NFL viewership due to the National Anthem protests and the presidential election. Unfortunately for the league, the numbers have only gotten worse. The premiere game of the week, NBC's Sunday Night Football offering of the Baltimore Ravens vs. the Pittsburgh Steelers, brought in 17.2 million viewers. That's a 35 percent drop from last year's game between the Dallas Cowboys and New York Giants. For the week, ESPN's Monday Night Football was down 9 percent compared to last year.
Overall, NFL television ratings are also down 9 percent from last year.
One alternative factor to the league's ratings decline is the uncanny rash of injuries to marquee star players that sell tickets. Andrew Luck, Aaron Rodgers, Carson Wentz, Odell Beckham, J.J. Watt, Deshaun Watson, Richard Sherman and other notable names have all been injured at some point this season. Dallas Cowboys star running back Ezekiel Elliott has also missed several games due to suspension.
Regardless of the reason, this is the second-straight year the NFL is bleeding viewers. This is no longer a blip on the radar, it's a trend.