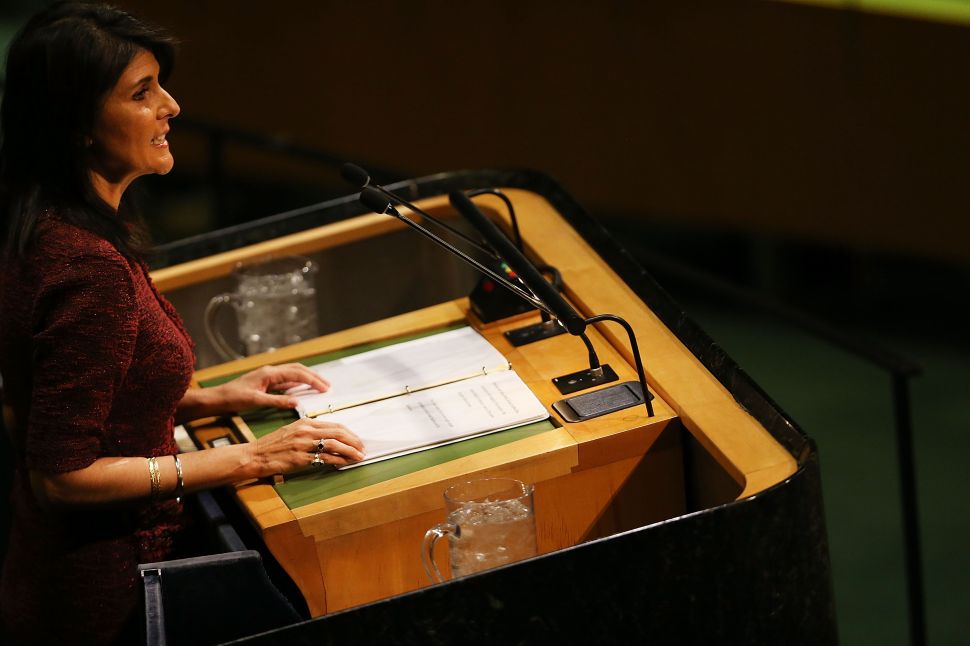 President Donald Trump's Ambassador to the United Nations, Nikki Haley, announced that the organization would receive a $285 million budget cut for the upcoming fiscal year.
"The inefficiency and overspending of the United Nations are well known," Haley said in a statement from the U.S. mission. "We will no longer let the generosity of the American people be taken advantage of or remain unchecked."
The ambassador's announcement follows a vote by the U.N. General Assembly demanding the U.S. rescind its recognition of Jerusalem as Israel's capital. 128 countries, including longstanding U.S. allies like Britain and France, voted against the recognition.
Anticipating such condemnation, the Trump administration revved nationalistic rhetoric towards the body.
"All of these nations that take our money and then they vote against us at the Security Council or they vote against us, potentially, at the Assembly, they take hundreds of millions of dollars and even billions of dollars and then they vote against us," said Trump at a cabinet meeting following the GOP's passage of tax reform.
"The United States will remember this day in which it was singled out in this assembly for the very act of exercising our right as a sovereign nation," Haley said before last week's vote. "We will remember it when, once again, we are called up to make the world's largest contribution to the UN, and we will remember it when many countries come calling on us to pay even more and to use our influence for their benefit."
The U.S. paid roughly $1.2 billion of the U.N.'s $5.4 billion budget for 2016-2017.
Haley's announcement commits the U.S. to Trump's brand of nationalism, slowly divesting from longstanding institutions and policies. Other nations look to fill the vacuum left in the absence of global leadership, though no frontrunner has emerged.