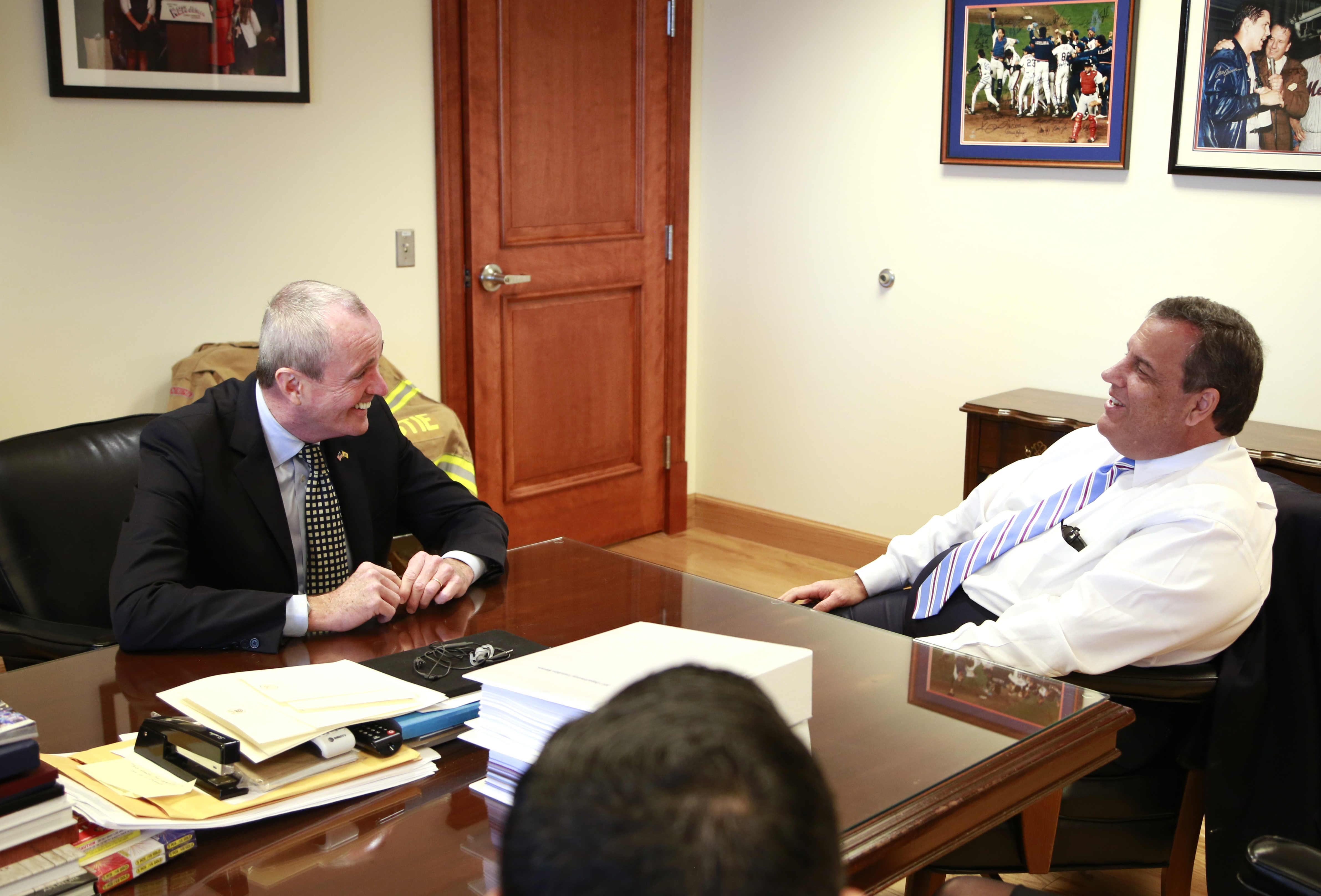 Governor-elect Phil Murphy posed for photos next to a cardboard cutout of Gov. Chris Christie sitting on the beach last summer, but not everyone is laughing.
The pictures were taken at a gala hosted by the New Jersey Working Families Alliance, a liberal group that has criticized Christie and used the near life-size cutout as a prop. Murphy told NJ Advance Media that he "couldn't resist" the opportunity for a photograph next the infamous image of Christie lounging on a state beach closed to the public during a government shutdown.
Christie didn't find the photo funny. "I think someone's got to remind him that the campaign is over," he said of Murphy, according to the Bergen Record.
[protected-iframe id="c7693ecb1e0938a7a03df16194c8007f-35584880-21207928″ info="https://www.facebook.com/plugins/post.php?href=https%3A%2F%2Fwww.facebook.com%2Fnjworkingfamilies%2Fposts%2F10154908206856784&width=500″ width="500″ height="633″ frameborder="0″ style="border:none;overflow:hidden" scrolling="no"]
In more important news, the state Senate is scheduled to vote today on a bill that would give Camden Mayor Dana Redd and perhaps a few other elected officials bigger pensions. The Assembly Appropriations Committee is also scheduled to consider the pension-padding bill for politicians.
Quote of the Day: "I just think it sends a really terrible message to people." — Gov. Chris Christie on Governor-elect Murphy posing for photos next to a cutout of him lounging on the beach during a government shutdown, (Christie's infamous day at the beach certainly sent a terrible message to people.)
NJ Lawmakers Unveil Nuclear Subsidy Bill
New Jersey lawmakers unveiled a bill Friday that would force ratepayers to subsidize nuclear power after the state's largest energy company warned it would close its plants without financial assistance.
Christian Hetrick, Observer Read more
Coughlin Picks Cimino to Lead Assembly Majority Office
Incoming Assembly Speaker Craig Coughlin has picked Anthony "Skip" Cimino to be the next executive director of the Assembly Majority Office, choosing a former Democratic assemblyman and lobbyist as his top aide.
Christian Hetrick, Observer Read more
Murphy Travels to Puerto Rico for Hurricane Maria Recovery
Gov.-elect Phil Murphy and a delegation of New Jersey elected officials and advocates will travel to Puerto Rico on Friday, a trip planned by the incoming administration to survey damage and recovery efforts on the island since Hurricane Maria struck in September.
Alyana Alfaro, Observer Read more
NJ Assemblyman To Introduce Bill Counteracting Net Neutrality
Assemblyman Tim Eustace (D-Bergen) plans to introduce legislation pushing back against Thursday's net neutrality repeal and protect New Jersey consumers from a vote by the Federal Communications Communication to scrap existing regulations that bar Internet service providers from charging based on use, website or application.
Alyana Alfaro, Observer Read more
One Percent of NJ Tobacco Tax Revenue Will Go to Anti-Smoking Initiatives
Gov. Chris Christie on Friday approved legislation to divert one percent of all tax revenue from sales of cigarettes and other tobacco products to the State Department of Health to fund programs to combat use.
Alyana Alfaro, Observer Read more
Frelinghuysen has lots of power in D.C. But his pro-Trump votes could cost him big in N.J.
It was supposed to be a game-changer for New Jersey, a state so long absent from having any real power on Capitol Hill. After waiting for years, Rep. Rodney Frelinghuysen had finally ascended to the chairmanship of the House Appropriations Committee, a panel that truly wields clout because it doles out dollars. But the big job could cost him dearly back home in New Jersey.
NJ.com Read more
Amtrak officials say NJ Transit owes $121 million for use of tracks from Trenton to N.Y.
NJ Transit owes Amtrak $121 million for its use of the Northeast Corridor for commuter trains, $30 million more than it owed at the end of September.
The Record Read more
Ex-Gov. resigns from hospital board amid questions about friend's 'low-show' job
Former Gov. Donald DiFrancesco said Sunday he will step down at the end of the month as board chairman of New Jersey's only public acute-care hospital, amid revelations he had promoted a friend to serve as his assistant in a "low-show" six-figure job.
NJ.com Read more
Christie: Murphy posing for photo sends a 'terrible message'
Gov. Chris Christie isn't amused about his successor's latest photo-op in New Jersey.
The Record Read more
Christie: Murphy's support for renewing arbitration salary cap 'sorely needed"
Gov. Chris Christie is again calling on Gov.-elect Phil Murphy to support renewal of the interest arbitration salary cap, warning that pension costs will soar if the cap is allowed to expire at the end of the year and telling Murphy his leadership on the issue is "sorely needed."
Politico Read more
Stile: 'Ambassador' Phil Murphy adopts diplomatic tone during rocky transition
Phil Murphy is not yet the governor of New Jersey but he remains very much the ambassador. In a wide ranging interview with the Record on Tuesday, one of his first since his election last month, the former U.S. ambassador to Germany spoke very much in the cautious, yet upbeat language of diplomacy.
The Record Read more
What Does a Transition Team Do?
Activity in Trenton — other than lame-duck legislation and announcements of a few commissioners in the newly elected Murphy administration — has been relatively quiet this month. But under the surface, the state's cognoscenti have been busy working on the transition.
NJSpotlight Read more
Booker doubles down on call for Trump's resignation, citing 'cultural shift' on harassment
It was not hard for U.S. Sen. Cory Booker, the New Jersey Democrat who is now being touted as a possible presidential candidate in 2020, to ask the current resident of the White House to resign and move out.
The Record Read more
Police giving extra security after threat to Cory Booker
The mayor of Newark, New Jersey, says the city is helping to provide extra security following a threat on the life of U.S. Sen. Cory Booker. Democratic Mayor Ras Baraka said Newark police were notified by U.S. Capitol police about the threat against the former mayor and his family.
Associated Press Read more
In One New Jersey Town, Pending Tax Changes Create Anxiety
Politically speaking, Livingston is not the bluest of the suburbs surrounding New York City. But there are few places where people are feeling any more anxious about the potential impact of the federal tax bill proposed by Republican leaders in Washington.
New York Times Read more
NJ town votes to retain ban on bear hunting
A New Jersey town where bear hunting isn't allowed has decided against changing that policy.
The Inquirer Read more
NJ's minimum wage rises in January, with bigger jumps to come
In two weeks, New Jersey's minimum wage increases by its largest amount in a few years – although at an extra 16 cents an hour, bringing the minimum to $8.60 for 2018, the impact is expected to be limited.
NJ101.5 Read more
EDITORIAL: Halt fast-track pension fix
Gov. Chris Christie's most complicated legacy from his eight years in office is his work on pension reform. It therefore seems fitting that in the lame-duck legislative session ushering Christie to the end of his gubernatorial reign, a pension bill has suddenly emerged to stir controversy.
Asbury Park Press Read more