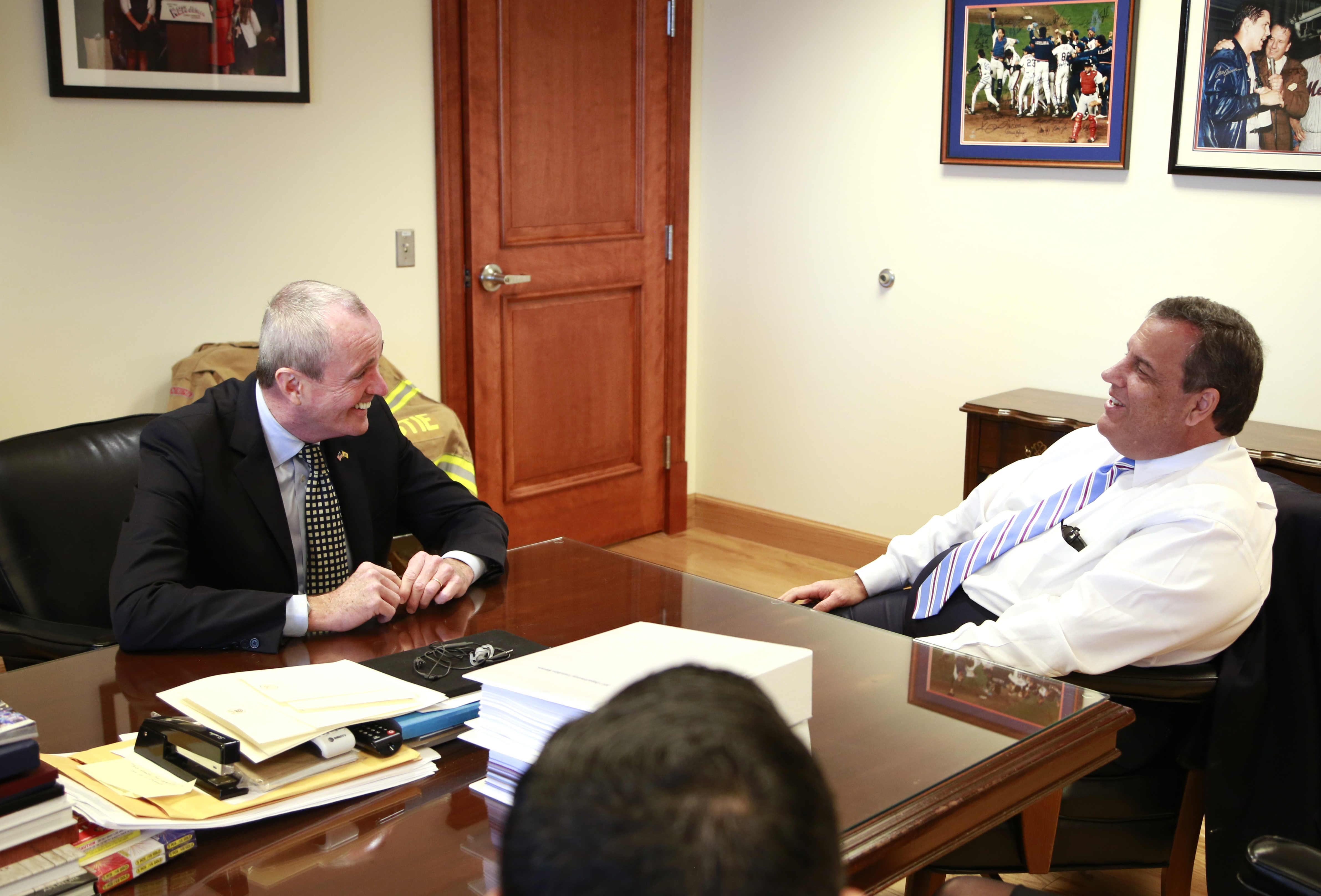 The incoming and outgoing governors of New Jersey are squabbling over the state budget, with Governor-elect Phil Murphy warning of a massive budget hole and Gov. Chris Christie accusing Murphy of using faulty math.
It all started when Murphy asked Christie to freeze discretionary spending to ensure the state's fiscal woes aren't made worse, according to Politico. Christie didn't take that well. In a sarcasm-filled response, Christie disputed Murphy's budget figures and mocked him over his use of non-disclosure agreements.
"I thank you for your letter and for the opportunity to clear the erroneous, second-hand information you received from your very new staff," Christie wrote.
Murphy, meanwhile, met with Senators Bob Menendez and Cory Booker on Monday. During a news conference afterward, Booker called for more rail security officers after the attack in Manhattan near the Port Authority Bus Terminal. Booker was back from Alabama, where he campaigned over the weekend for Democratic Senate candidate Doug Jones.
Quote of the Day:  "As you might imagine, I was shocked to be informed that your personal letter to me (along with a wonderful handwritten note at the bottom) has come into the possession of the press before I was even able to craft a reply. I assume you were not involved in this action; it must just be the fault of your elaborate non-disclosure agreement process which I am confident you will attend to immediately." — Gov. Chris Christie in a letter to Governor-elect Phil Murphy.
RIP: Paul T. Fader, a former Englewood mayor and chief counsel to former Governors Richard Codey and James McGreevey, has died. "Paul was more than just a trusted advisor to me over the years — he was a friend. He spent countless hours in service to our state as both a mayor and as the governor's chief counsel; he was a true professional in every sense of the word," Codey said in a statement.
CD11 News: Passaic County Freeholder John Bartlett announced he is suspending his campaign for Congress in the 11th district and will instead seek a third term on the freeholder board. There is still a crowded field of candidates challenging Rep. Rodney Frelinghuysen.
Vitale Bill Would Standardize Drug Overdose Data for Medical Examiners
Two prominent state lawmakers have introduced a bill to create statewide standards for medical examiners testing and reporting drug overdoses, something Gov. Chris Christie has said is needed to help combat the opioid epidemic.
Christian Hetrick, Observer Read more
After Times Square Explosion, Booker Calls for More Rail Security Officers
Sen. Cory Booker said the federal government should "beef up" security at rail stations, responding to a Monday morning attack at a station near the Port Authority Bus Terminal in Manhattan.
Alyana Alfaro, Observer Read more
Booker Campaigns for Jones in Alabama
Sen. Cory Booker traveled to Alabama over the weekend to stump for Doug Jones, the Democrat running in the state's special Senate election against Roy Moore, the Republican candidate accused of sexual misconduct with underage girls.
Alyana Alfaro, Observer Read more
Cory Booker Hits the Campaign Trail for Alabama's Doug Jones — and Maybe Himself in 2020
On Sunday afternoon, a Newark, New Jersey, politician found himself some 950 miles away from home in Birmingham, Alabama, in service to others and, it sure sounded, to his own presidential ambitions.
New York Magazine Read more
Phil Murphy calls Gateway rail tunnel 'top' priority after meeting with Booker, Menendez
Gov.-elect Phil Murphy and the state's two U.S. senators presented a unified front in pleading their case with the Trump administration for federal funding for a new train tunnel under the Hudson River, seven years after Gov. Chris Christie put the brakes on the what would have been the most expensive transit project in the country.
The Record Read more
Murphy's fear of a major budget deficit raises Christie's ire
After laying out an ambitious and costly agenda for his administration, Gov.-elect Phil Murphy is now warning of a potentially massive budget gap and has asked Gov. Chris Christie to immediately freeze discretionary spending before his inauguration next month.
Politico Read more
Former N.J. governor supervised friend in 'low-show' job at hospital, investigator says
A former governor who is chairman of the board at University Hospital in Newark recommended the hospital hire a friend, made her his personal assistant and signed off on a promotion and a pay raise for what was later deemed a "no-show or low- show" job, NJ Advance Media has learned.
NJ.com Read more
ICE Arrests in N.J. Courthouses Surging, Lawyers Say
A survey of attorneys and immigrant advocacy groups indicates that arrests of undocumented immigrants inside New Jersey courthouses have spiked since President Trump took office.
WNYC Read more
Garrett Ex-Im appointment in doubt as vote approaches
Former Rep. Scott Garrett hasn't locked down the backing he needs to be confirmed as the head of the Export-Import Bank, with a critical Senate committee vote expected soon.
Politico Read more
Assembly speaker-elect: We can make N.J. the new Silicon Valley
They all came from the same place — the transistors that powered radio to the digital cellular that powers our smartphones, fiber optics to LCD technology, groundbreaking computer programming language to the now ever-present barcoding. Surely these historic technological breakthroughs came from Silicon Valley, right? No. They were all born right here in New Jersey.
NJ.com Read more
Fed Tax Reform Focuses New Attention on NJ's Property-Tax Deduction
The ongoing debate in Washington, D.C., over the fate of a longstanding federal tax write-off for property taxes is generating new interest in a New Jersey tax policy that for the past two decades has allowed homeowners to deduct at least some portion of their property-tax bills.
NJ Spotlight Read more
Report: Firm buying Revel casino for $200M; Straub denies it
A Wall Street ratings firm said Monday that a Colorado company is buying Atlantic City's former Revel casino for $200 million, but the mercurial owner of the shuttered casino insists there's no deal.
Associated Press Read more