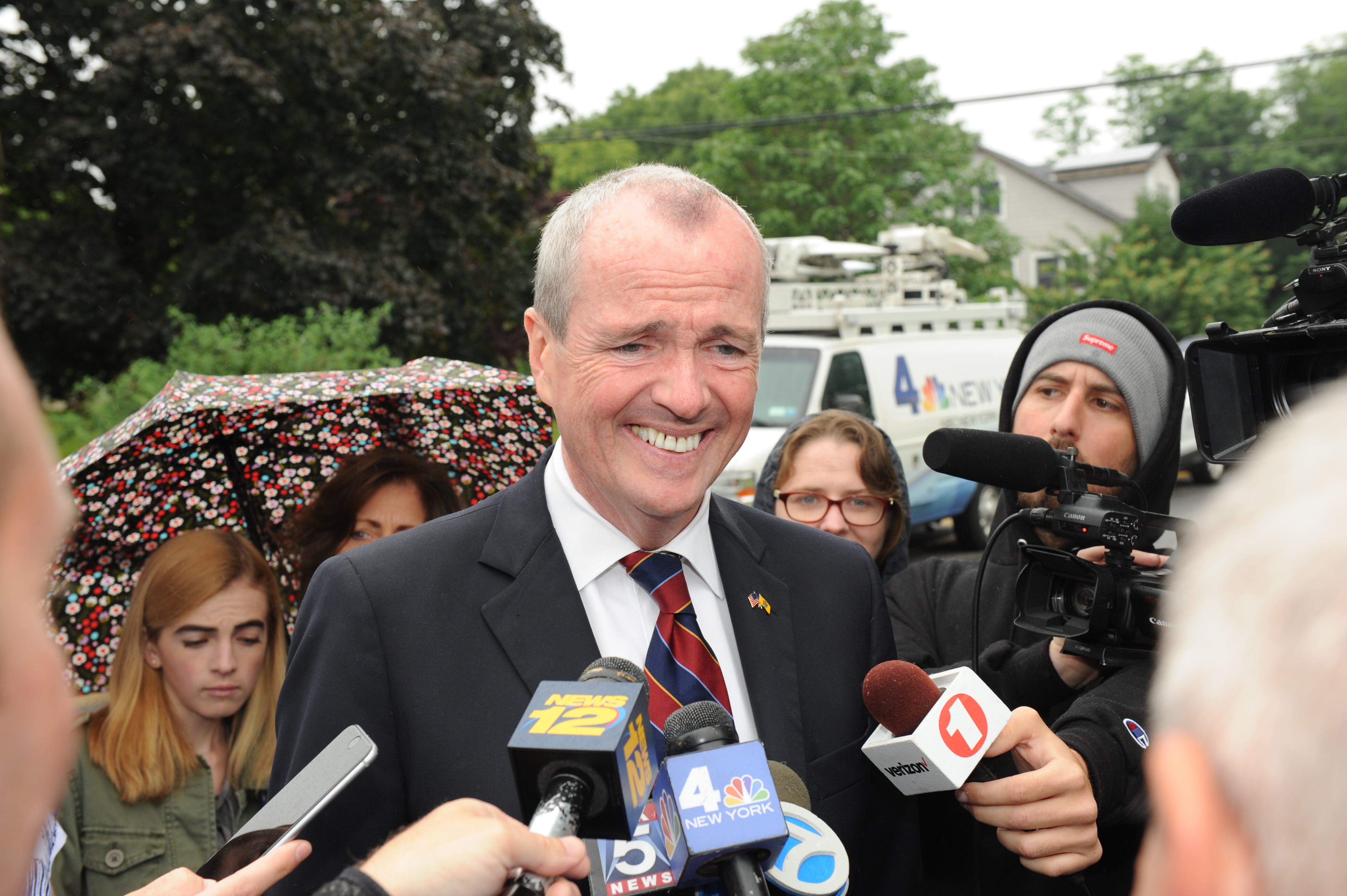 Governor-elect Phil Murphy is starting to fill out his cabinet with a little more than a month to go before taking office.
Murphy announced Tuesday that he will nominate Bergen County Prosecutor Gurbir Grewal as the state's next attorney general. If confirmed, Grewal would make history as the first Sikh attorney general in the United States.
Murphy is scheduled to make another "major personnel announcement" at noon today, according to his office. Politico reports that Murphy is going to nominate Assemblywoman Elizabeth Muoio (D-Mercer) to be state treasurer.
Most New Jerseyans are enthusiastic about Murphy becoming governor, according to a Rutgers-Eagleton poll released Tuesday. There is also large support for many of his policy proposals, including providing a minimum number of paid sick days (80 percent), restoring state funding for Planned Parenthood (75 percent) and raising the minimum wage to $15 an hour (68 percent).
Quote of the Day: "Have you seen the movie Casablanca? 'My Lord, there's gambling going on in the back.' This is New Jersey. We come into this with our eyes open." – Governor-elect Phil Murphy on whether he's upset about the Senate confirming a massive list of nominations before he takes office.
Murphy to Nominate Gurbir Grewal for Attorney General
Governor-elect Phil Murphy announced Tuesday that he will nominate Bergen County Prosecutor Gurbir Grewal as the state's next attorney general.
Christian Hetrick, Observer Read more
Federal Case Could Upend New Jersey's Campaign Finance Law
On Nov. 28, the U.S. Court of Appeals for the District of Columbia ruled that limits on individual contributions to candidates for a single election are constitutional.
Jeff Brindle, Observer Read more
MacArthur argues tax bill will help NJ residents
Rep. Tom MacArthur is the only New Jersey congressman or senator who supports the GOP tax reform effort. Governor-elect Phil Murphy and Sens. Bob Menendez and Cory Booker have been railing against the House and Senate versions of the tax reform bill and did so again at a news conference Monday. MacArthur says they are dead wrong.
NJTV Watch
Rodney Frelinghuysen's support for pro-gun law repels longtime donor
Signaling possible challenges ahead for U.S. Rep. Rodney Frelinghuysen's reelection, a deep-pocketed, longtime donor said Tuesday that he'd rather support Mikie Sherrill, a Democratic candidate in the race for New Jersey's 11th Congressional District – and that he won't be the last donor to jump ship.
The Record Read more
Atlantic City firefighters say State hired private eye to track them at their homes
The union representing Atlantic City firefighters says a Gov. Christie-appointed state overseer has hired a private investigator to track firefighters who are out on leave at their homes.
The Inquirer Read more
Debate Over EV Charging Stations Fire Up
There are only several hundred electric-vehicle charging stations in New Jersey, and the discussion about who will build out that infrastructure is not surprisingly beginning to heat up.
NJSpotlight Read more
Part-time mayor of this N.J. town just got his salary more-than doubled
The Plainfield council voted Monday to more than double the salary of its part-time mayor and hike council salaries by 50 percent despite chants of "shame on you" from disgruntled residents who packed the council's chambers.
NJ.com Read more
Trump administration appoints Morris County freeholder to federal business post
The Trump administration has appointed Morris County Freeholder Christine Myers regional advocate for the U.S. Small Business Administration.
The Record Read more
WHITEN: Fix New Jersey's broken tax code
As congressional Republicans' disastrous tax plan inches closer to reality, New Jersey's legislative leaders are getting cold feet about the Garden State's own tax plans that would boost working families, clean up the tax code and allow policymakers to invest in the assets critical to the state's future. But the GOP tax plan is no reason for lawmakers to shelve these plans — it actually gives them more reason than ever to move forward.
Asbury Park Press Read more