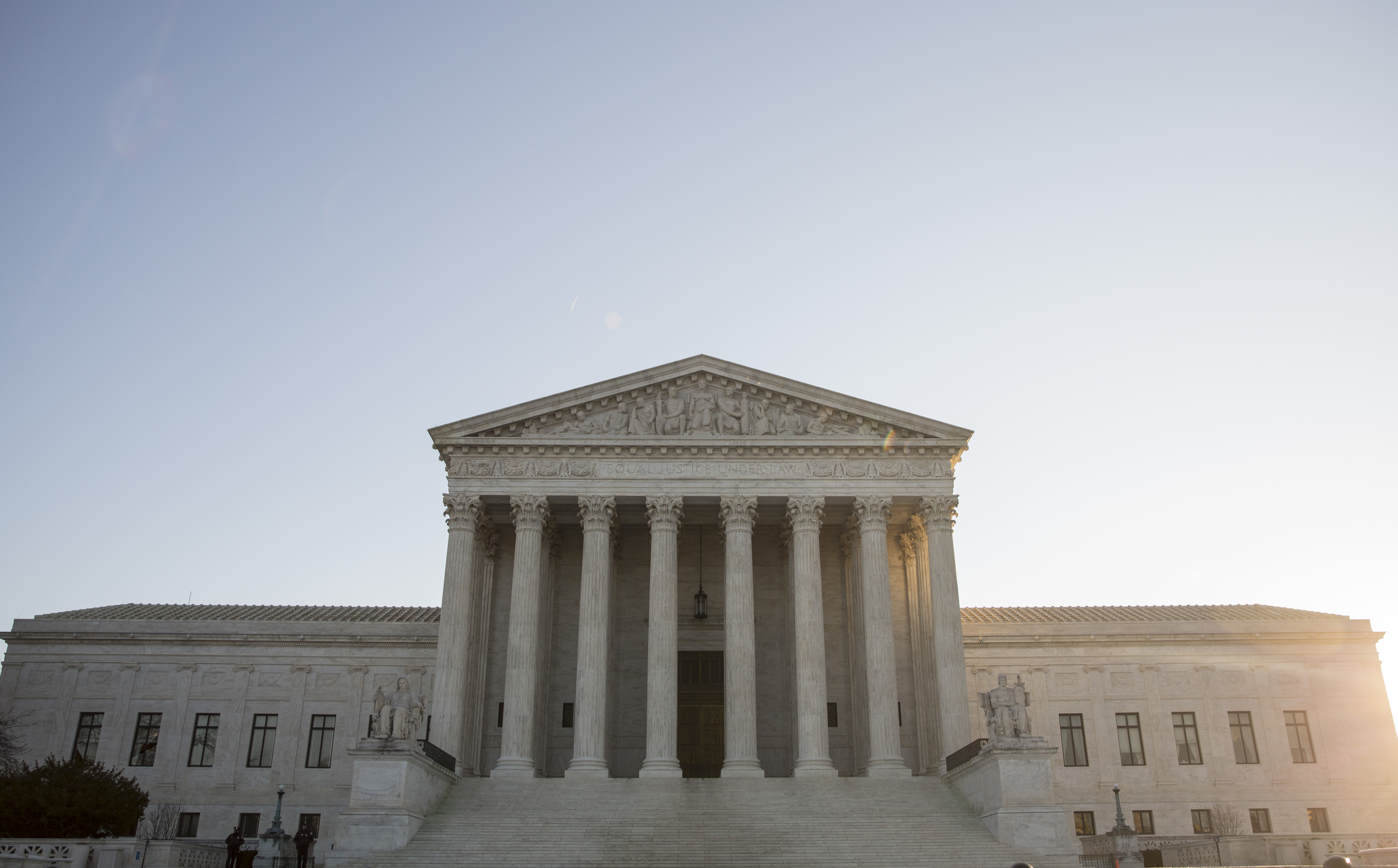 New Jersey's pursuit of legalized sports gambling heads to the U.S. Supreme Court today, five years after the state was sued by the major professional sports leagues.
The high court is scheduled hear arguments at 10 a.m. over New Jersey's challenge to a federal ban on sports betting in most states. The 1992 federal law has stymied New Jersey's efforts to bring sports wagering to its casinos and racetracks.
State officials argue the sports betting ban is unconstitutional because it exceeds the authority of Congress. Big sports leagues, such as the NFL and NCAA, have claimed expanding gambling would damage the integrity of their games. Lower courts have ruled against New Jersey, but a win at the Supreme Court could give Gov. Chris Christie a legacy-defining victory.
Quote of the Day: "I will say, generally, I think a lot of people took a political vote. I get why it's not an easy vote." – Rep. Tom MacArthur (R-3) on being the only New Jersey Republican in Congress to vote for the GOP tax bill.
The NJEA's Battle With Sweeney Cost $18.7 Million, Likely a U.S. Record
The battle between Senate President Steve Sweeney and the New Jersey Education Association over his 3rd district Senate seat cost $18.7 million, likely making it the most expensive legislative race in American history, according to the state's campaign finance watchdog.
Christian Hetrick, Observer Read more
Christie Nominates DuHaime for Rutgers Trustee, McCabe for Port Authority
Gov. Chris Christie on Thursday nominated his top political strategist to serve on a Rutgers University governing board and proposed a Democratic Party chairman for a position at the Port Authority of New York and New Jersey.
Alyana Alfaro, Observer Read more
High court betting case pits states against sports leagues
If the Supreme Court strikes down the law, giving sports betting the go-ahead, dozens of states could quickly make it legal. Monmouth Park is gambling on a win for New Jersey and has already spent $1 million on its sports lounge, ready to turn it into a sports betting parlor in short order.
Associated Press Read more
Christie Looks to Sports Gambling for a Rare Second-Term Victory
Finishing a second and final term marred by scandals and plunging popularity, Gov. Chris Christie of New Jersey will arrive here on Monday looking to sports for something else: a legacy-defining victory. Christie is coming to Washington for oral arguments before the Supreme Court in a case that could legalize sports betting in New Jersey, and the governor made clear last week that the stakes give this trip special, personal meaning.
New York Times Read more
Moran: MacArthur's lonely crusade to help red states loot Jersey
If you're looking for someone to blame for this monstrous Republican tax plan, consider Rep. Tom MacArthur, the rich and ambitious Congressman from South Jersey who is fast climbing the ladder within the GOP camp.
NJ.com Read more
Who Gets Hurt By GOP Plan to Kill Higher-Ed Deductions
Several hundred thousand New Jerseyans stand to lose one or more federal tax benefits set aside for higher education under the current tax-reform proposal that has passed the U.S. House of Representatives.
NJSpotlight Read more
Report: New Jersey pays double for Trump's immigration plans
New Jersey would contribute millions more dollars to pay for the Trump administration's immigration enforcement priorities if White House budget plans become law, while potentially losing twice as much in taxes paid by immigrants lacking legal status, according to a report released Friday.
Asbury Park Press Read more
Trump family among biggest taxpayers in Monmouth County — See the list
President Donald Trump and his family don't live in Monmouth County but their companies are among the biggest property taxpayers around.
NJ101.5 Read more
9 big things Christie and Democrats could change (or fight over) in his final month
The next five weeks are the last chance Republican Gov. Chris Christie has to negotiate — or argue — with the Democrat-controlled state Legislature to enact laws in New Jersey.
NJ.com Read more
Legislation calls for 'drugged drivers' tests if marijuana is legalized
Two Republicans representing Morris County in Trenton are pushing back against the promise by Governor-elect Phil Murphy to sign a bill legalizing marijuana in the first 100 days of his administration.
Daily Record Read more
Q&A with the president of the United Nations
What keeps the president of the United Nations General Assembly up at night? The possibility of the United Nations becoming obsolete. That's what Miroslav Lajcak, president of the 72nd session of the United Nations General Assembly, told a packed room of aspiring diplomats, international studies professors and global affairs leaders at Seton Hall University's Chancellor's Suite on Friday.
The Record Read more
The $1.7B PATH extension to Newark airport: A timeline
For decades since a newly created public entity known as the Port Authority Trans-Hudson Corporation began operating the former Hudson & Manhattan Railroad in 1961, there has been sporadic talk of extending the commuter rail line to Newark airport.
NJ.com Read more
Menendez 'I won't forget you' warning inspires gift for N.J. political mavens
The now-infamous words uttered by U.S. Sen. Bob Menendez after his corruption case ended in a mistrial last month have inspired the holiday season's must-have gift for New Jersey political mavens.
Jersey Journal Read more
Hefty Tax Breaks for Growth Zone Near AC Airport
There's been an ongoing effort over the last few years to diversify the Atlantic City economy in response to the sagging gaming industry, and the state has stepped in by offering lucrative growth-zone tax incentives to lure businesses to the seaside resort.
NJSpotlight Read more