"I don't necessarily want to be famous," Noël Wells told Observer ahead of the premiere of her new dramedy, Mr. Roosevelt, on Netflix later this month. While she may not lust after fame, Wells very well may have to put up with a touch of it. The Master of None star is making her directorial debut with Mr. Roosevelt, on top of writing and starring, as she enters a new phase of her career. You might ask why someone would launch themselves into the entertainment industry if they didn't want to be famous. But for Wells, it's not about the attention and her billing in the credits, it's about working towards a position where's she able to say something and others listen.
"It's complicated," she said of reconciling her Hollywood career and personal ambitions. "I saw this documentary with Bill Nye in it, and his friends were saying, 'Bill Nye always wanted to be famous' and then in the Q and A, he addresses it and he says, 'It wasn't that I wanted to be famous, it was that I wanted to be influential.' I think that's basically the line—I have a lot I want to express and I definitely want to wield a level of power so that I can get those things done, but the end game is not so that people are like, 'you're famous!'"
The first step on the path to that vaunted famous-influential pedestal in entertainment is to book quality gigs. As a former Saturday Night Live cast member and a breakout on the first season of Master of None, we'd say mission accomplished for Wells on that front. The second step is to prove your unique worth. Sure, you were great on that Netflix show that one season, but what can you do that no one else can? Enter Wells' triple-threat phase.
The 30-year-old entertainer first began writing Mr. Roosevelt, which follows struggling comedian Emily as she returns to her hometown to bury her cat alongside her ex-boyfriend and his amazing new girlfriend, back in college. So it has been a long road to setting up this three-pronged attack strategy as a writer, director and actress. In the film, she flips the common comedic narrative of the man-child finding himself in life by putting the insecure and quasi-hipster adult Emily on the road to self-realization. Wells pieced the genuine character together from strips of different people in her life.
"I wanted her to feel real. I like exploring things that are happening around me, I like capturing something that's authentic. I don't really like the fairytale version of reality, but this character specifically sort of lives in a fairytale version of reality in her head. Any time she goes into one of those mini-movie fantasies, she gets kicked in the back of the legs because that's life…So, yeah, I just took parts of me and put them in her, parts of other people that I know, men and women, and created this character. She's not me, but there are dark elements of myself in there."
The film's vibe, much like Wells' own energy, is cleverly unpredictable. It's also more difficult to categorize and define than your typical comedy, which seems to be the point. With Greta Gerwig's efforts on Lady Bird and Kelly Fremon Craig's The Edge of Seventeen, there's a new phase of recent female-fronted work that refuses the lazy classifications the film industry is used to assigning in these cases. It's a point Mr. Roosevelt seems to acknowledge after a guy describes Emily as quirky and she retorts that the word "recognizes [a girl's] uniqueness but at the same time devalues her intelligence." It's all part of Wells' strategy to break in as a storyteller and get closer to that place of influence.
"I think art maybe has just become very consumer-oriented and maybe it's always been that way because it is a business. But I think through the entire history of cinema, creatives—the ones that you remember—take their movies into their own hands and they're writing their own scripts or they're working with a group of people that they came up with. I think, if anything, hopefully with the female aspect of it, people are willing to invest in untested talent that might have a stronger voice than just wanting to write a huge, big blockbuster."
Mr. Roosevelt isn't a perfect movie and Wells' inexperience behind the camera shows at times. But it is an endearing take on the running-in-place theme we've seen so often and it proves that Wells is more than deserving of a follow up. Filming the movie was a holistic learning experience; from working with strangers to calling the shots herself and commanding a cast and crew of 100. "I'm learning how to coach people," she said of being the head honcho. She knows that she is a better storyteller because of it, which brings us to the third step on the path to influence: learning from your mistakes and improving. It's something Wells has done her entire life.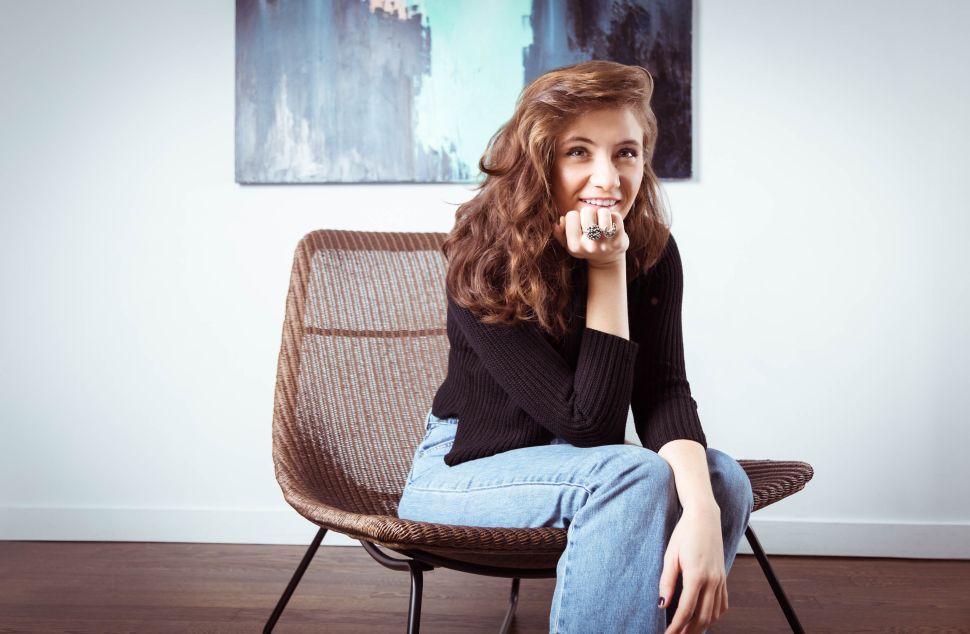 "That has been my whole experience of growing up, is testing what I think is going to happen and seeing what really does happen. There's something quite beautiful about the disappointments. I guess there's something cinematic or worth telling a story about even when things aren't living up to what you imagine."
Funnily enough, it is through the lens of failure by which Wells has come to her central understanding of her own storytelling. If there's one thing she wants audiences to take away from her projects, it's that it's okay for us to be flawed individuals. And that's the final step: finding your own voice.
"I just think that we're all humans, we all mess up, it's okay, we should give people room to learn from their mistakes. That's how evolution happens. I think we're in a very strange time where punitive culture has sort of infected everybody, where everybody likes to see people fall and likes to punish people and I think that's perverted. I'm a little more about exploring the human condition and finding humanity in people's mistakes."
Noël Wells doesn't necessarily want to be famous. But if a little additional spotlight is the cost of telling authentic stories that perk people's ears up, we think she'll be okay with that.