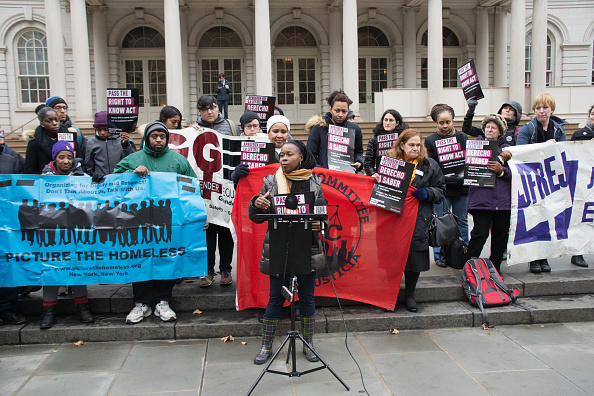 The City Council passed the Right to Know Act, a package of police reform bills, despite opposition from some Council members over a last-minute compromise made to appease the NYPD.
One bill, sponsored by Bronx Councilman Ritchie Torres, a speaker candidate, mandates that cops to identify themselves when making a stop. This bill was changed to have the identification requirement only cover stops involving suspicion of criminal activity. The other bill, sponsored by Brooklyn Councilman Antonio Reynoso, requires cops to ask for permission before searching an individual.
The Council passed Torres' bill by a vote of 27-20, with three abstentions, and Reynoso's bill by a vote of 37-13. The mayor said he would sign the bills, and City Council Speaker Melissa Mark-Viverito called the revised legislative package a "fair compromise."
Police reform advocates, including Communities United for Police Reform, along with some  members were against Torres' bill, because it does not include officer identification requirements for all non-emergency investigatory encounters and traffic stops and gets rid of the requirement that officers explain non-emergency encounters.
Torres said his bill is "the most comprehensive police reform that the City Council has ever undertaken." He argued the Council is inevitably dependent on agencies like the NYPD to implement laws and that they have to legislate as much police reform in the short term as possible. He noted the next Council, as well as the overall political landscape, will be more conservative.
"There are those who might be wondering why I've chosen to proceed with a compromise, why did I not discharge or why did I not delay the bill into the next legislative session," he said during the last stated meeting of the year on Tuesday. "Here is the reason I chose otherwise: progress in the present does not foreclose on even more progress in then future. If there are imperfections in Intro 182, there is nothing in a compromise that prevents a Council member from introducing a new bill that corrects those imperfections."
He said he stands by his bill, even if it means "I'm no longer beloved in progressive circles."
"Advocates for police reform have every right to expect a seat at the table…but no advocate should ever have veto power over the legislative agenda of the New York City Council," Torres continued.
Manhattan Councilman Corey Johnson, also a speaker candidate, was among the supporters of Torres' bill.
"I know there are disagreements, I know there is disappointment but I also know that there is good intention on all sides here," Johnson said. "I respect their character, I respect their integrity, I respect the negotiations and I look forward to voting in favor of the bill."
Queens Councilman Jimmy Van Bramer, another speaker candidate, said he hopes the Council can achieve more profound reform in the future.
"The bill is not all that I wish it was and I wish it went further but I want to stand with Council member Torres and I want to speak in favor of this piece of legislation, which is not all that we need but that is a step forward and while it is frustrating to some, I am not going to join the chorus of those attacking this young man," Van Bramer said.
In July 2016, Mark-Viverito said the bills would instead be handled internally by the NYPD. De Blasio vowed to veto the package, and then-Police Commissioner Bill Bratton called the bills  "unprecedented intrusions." In August 2016, Police Commissioner James O'Neill promised to stick to the agreement between Bratton and Mark-Viverito.
During the pre-stated meeting, Mark-Viverito said that through her years as a member and as speaker, the Council has had numerous conversations with the NYPD, the de Blasio administration and the community in their efforts to reform public safety.
"Right before I became speaker, stop and frisk was at an all time high," she said. "Four years later, this Council has passed historic legislation with the Criminal Justice Reform Act to make this a more fair and just city. Right to Know, in its current form, comes after hundreds of hours of negotiations with the advocates and NYPD."
At the stated meeting, she praised Torres, saying that he showed a "level of courage that's exemplary."
"He took a tough decision…he knew that he was going to get knocked and as mentioned, unfairly so," she said.
CPR said Torres reneged on his public pledge to the Right to Know Act coalition that he would not pass a version of the legislation it does not support. They support Reynoso's bill. In response to opposition to his bill, Torres said he was "baffled" by the opposition coming from a "fanatical few" and that politics involves compromise.
Reynoso said that the road to bring the legislative package to fruition "has not been easy." But he said he would vote in favor of Torres' bill.
"It protects us and prevents discriminatory-based interactions with the Police Department," he said of his own bill. "We have to defend ourselves against the [Trump] administration and their attacks on the immigrant community."
On Thursday, Brooklyn Councilmen Jumaane Williams, a speaker candidate, and Brad Lander announced their opposition to Torres' bill. Williams voted against both bills during the public safety committee meeting.
On Tuesday, ahead of the vote, Brooklyn Councilman Robert Cornegy — who voted for both bills at the public safety committee meeting — Manhattan Councilwoman Rosie Mendez and Queens Councilman Donovan Richards also expressed their opposition.
Williams said Torres was "sincere in what he is saying." He tried to continue speaking past his time limit but Mark-Viverito cut him off.
"This is a sham and it's a shame," he yelled.
Richards said he struggled with whether to support Torres' bill but that ultimately, his own experiences influenced his decision.
"My own personal interactions as a young black man and even as a Council member with DWB — driving while black — and stop and frisk has me concerned that this compromise won't lead to addressing the underlying causes that have sown mistrust between communities and the Police Department," he said.
More conservative members on the Council also opposed to the bill: Bronx Councilman Fernando Cabrera, Staten Island Councilman Steve Matteo, Queens Councilman Paul Vallone, Staten Island Councilman Joe Borelli, Queens Councilman Eric Ulrich and Brooklyn Councilman Chaim Deutsch. Matteo, Ulrich and Borelli are Republicans, while Vallone and Deutsch are Democrats.