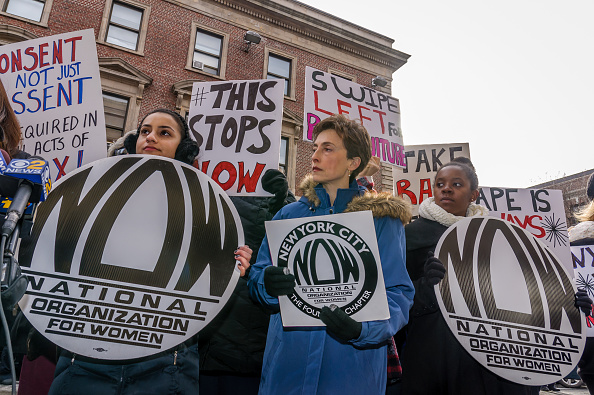 New York City held its first hearing on sexual harassment in the workplace in more than 40 years amid a wave of sexual assault allegations against high-profile public figures.
In the 1970s, then-Human Rights Commissioner Eleanor Holmes Norton, a 14-term D.C. Democratic congresswoman, held the first public hearings on issues related to women in the workplace in the country. That subsequently propelled a national movement to recognize sexual harassment—a term coined during the hearings—and to fight gender-based discrimination.
Those hearings led to stronger enforcement policies against sexual harassment in the city, the establishment of women's organizations specifically tackling and informing people about the issue and the issuance of U.S. Equal Employment Opportunities Commission's guidelines acknowledging sexual harassment as sex discrimination.
The New York City Human Rights Commission—which enforces the city's anti-discrimination law—held the nearly four hour-long hearing in Long Island City. The commission will accept written testimony until Dec. 31 to be considered for a report it will put together summarizing the hearing with key findings, policy recommendations, guidance and next steps in the first half of 2018.
Human Rights Commissioner Carmelyn Malalis said the nation is in a "watershed moment" in which people are sharing their stories of sexual harassment and assault across industries, pointing to the #MeToo hashtag movement started by activist Tarana Burke.
She noted low-wage workers, LGBTQ workers, workers of color and immigrant workers experience sexual harassment at extremely high rates—and that sexual harassment not only happens in the workplace but in locations such as schools, jails and immigration detention centers.
"It is my hope that tonight's hearing allows even more voices to be heard, even more stories to be surfaced," Malalis said, noting the significance of the meeting. "This is a historic hearing."
The New York City Human Rights Law bans discrimination in housing, employment, public accommodations and protects New Yorkers against discriminatory harassment and biased-based profiling by law enforcement, according to the commission.
The commission said federal courts say sexual harassment must be "severe or pervasive" to be unlawful, while the NYC Human Rights Law includes any unwanted sexual behavior such as sexual comments or jokes, gestures, touching, texts or emails that create a "hostile or offensive work environment."
The commission has the authority to fine violators with civil penalties of up to $250,000 for "willful and malicious violations of the law" and can award unlimited compensatory damages to victims, including emotional distress damages and other benefits. The commission can also start its own probes into sexual harassment and discrimination on behalf of the city.
Investigations into sexual harassment have increased by nearly 50 percent at the commission over the last two years, with 109 claims filed in the 2015-2016 period, up from 73 in the 2013-2014 period, according to the commission. The commission is currently investigating 340 complaints of gender discrimination, of which 40 percent—or 123—are claims of sexual and gender-based harassment, 85 percent of which are in the workplace.
Overall, gender-based discrimination claims made up the third largest area of complaints at the commission in 2016—about 12 percent of claims.
Norton, who also served as the first woman chair of the U.S. Equal Employment Opportunity Commission from 1977 to 1981, spoke about Title VII of the 1964 Civil Rights Act, which bans employers from discriminating against employees on the basis of sex, race, color, national origin and religion.
Key feminists such as Dorothy Height, president of the National Council of Negro Women; anthropologist Margaret Mead; and activist Betty Friedan testified at her hearings. After the hearings took place, the New York State Legislature placed household workers under the minimum wage law of New York State for the first time.
"Hearings matter, my friends," Norton added. "I believe these hearings will matter because New York City Commission hearings are right on time to produce important results. They may or may not involve changes of law. We already have a strong law. Today's hearings, though, do show that the baton has been handed."
She said roughly 7,000 women come forward with sexual harassment complaints per year.
"Are women condemned to await episodic, high-profile scandals as a way to get attention to widespread sexual harassment in the workplace of every sector of the American economy," she said. "Yes, women have found strength in numbers. Not a movement but individual women coming forward one after another coming forward. But in turn having done that, they have now passed the ball to where? Well I think the ball is with legislatures, at the Congress and enforcement agencies like the New York City Commission on Human Rights."
Last week, Congress passed a bill requiring the posting of employment discrimination rights and training for members of Congress and staff.
The commission heard from advocates and individuals working in New York City-based industries, including hospitality, retail, domestic workers, construction, fashion and entertainment about sexual harassment and the challenges in reporting it. The hearing focused particularly on women in male-dominated industries, women of color, immigrant workers and LGBTQ workers.
Public Advocate Letitia James applauded Sen. Kirsten Gillibrand for urging Sen. Al Franken (D-Minn.) to step down. Senate Majority Leader Charles Schumer followed suit. On Thursday, Franken announced that he will resign in the coming weeks.
"What we do not and we can never know is what we have lost," James said. "How many women were forced to quit jobs or pushed out of careers they excelled at? How many women left entire industries? How many women have shelved their ambitions, their hopes and their dreams, lost their livelihoods because of retaliation?"
She called for reinforced arbitration, more transparency and oversight over disclosure agreements used to cover up sexual harassment or sexual discrimination and urged the commission to focus on additional staffing in the next round of agency budget requests.
Amy Hong, a staff attorney with the Legal Aid Society suggested the commission develop a unit to handle sexual harassment complaints in an expedited fashion, giving the state Labor Department's anti-retaliation unit as an example.
"The flood of sexual misconduct allegations in recent weeks has come largely from women in white-collar professions," Hong said. "However, low wage workers are often the most vulnerable workers and are therefore less likely to speak out. Low wage workers can't afford to lose their jobs. Moreover, often low wage workers don't speak English and don't know the procedure for reporting abuse."
Carey Castro, a union carpenter, told the commission she has been experiencing sexual harassment in the workplace since the time she got her first job at the age of 13 nearly 30 years ago.
"My first job was working at a supermarket where a manager would send me to a stock room in the basement and follow me," Castro recalled. "Multiple times he tried to kiss me and finally I let him for fear of losing my job. He said if I was nice to him, I could be assistant manager within a year. I remember being confused and naively flattered. Years later, thinking back to that time, I realize I how predatory his behavior was as a 32-year-old."