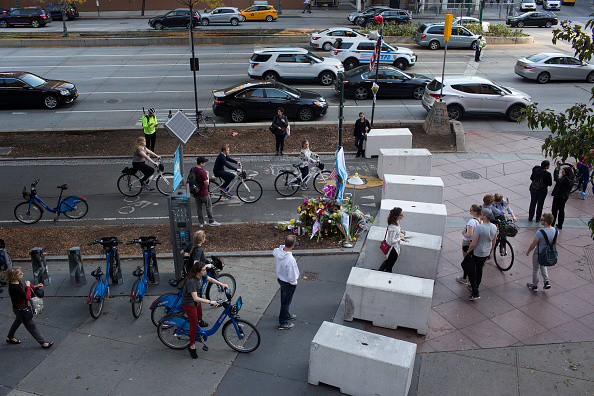 The City Council passed legislation that will require the city to install bollards on sidewalks to ensure pedestrians' safety in the aftermath of a vehicle terror attack in Lower Manhattan in October.
The legislation, introduce by Upper Manhattan Councilman Ydanis Rodriguez, requires the city's Department of Transportation and the city's Parks Department to report the number of bollards installed throughout the city annually. They would also be required to report the number of authorizations issued to third parties for the installation of the bollards.
At the end of October, a "lone wolf" attacker in a rented pickup truck struck and killed eight people in Lower Manhattan and injured 11 others in a terror attack — the deadliest in the city since the September 11, 2001 terror attacks.
"After the previous terror attacks using vehicles as weapons of mass destruction in major cities in France, Berlin, London, Barcelona and the Halloween terrorist attack this year in New York City when the terrorist drove into the Hudson River Greenway, killing eight people and injuring 11 others, I have been fighting to expand more pedestrian safety bollards to protect our city from the use of vehicles as weapons of mass destruction," Rodriguez, chairman of the Council's Committee on Transportation, said during the pre-stated meeting on Tuesday.
He said the October terrorist attack demonstrated the necessity of mandating the installation of bollards across the board.
"After the downtown terrorist attack, we have learned the lesson that pedestrian bollards should be installed in every sidewalk with a high volume of pedestrians and cyclists," Rodriguez continued. "Long before the Times Square and World Trade Center terrorist attacks, I asked the city for stronger safety measures to secure pedestrians. With this bill, we showed one more time our commitment in making New York City safer for everyone."