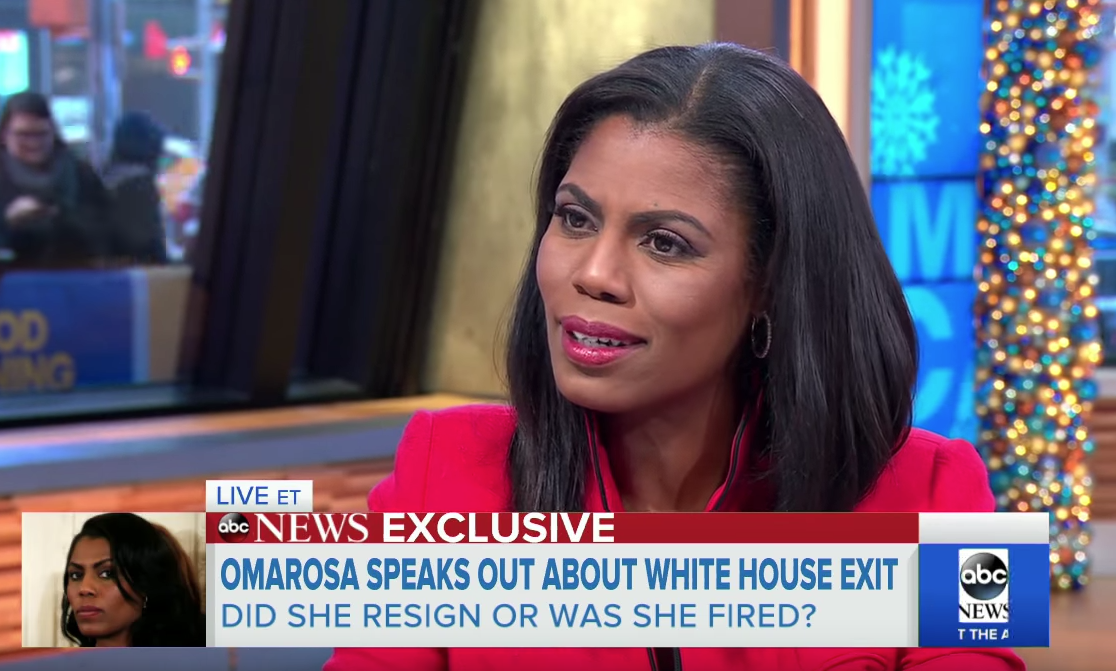 To stake a narrative after breaking from the West Wing, former White House aide Omarosa Manigault is courting media appearances. A day after announcing her resignation from President Donald Trump's administration, Manigault sat down with ABC News' 'Good Morning America' to discuss her year at the White House.
"I resigned and I didn't do that in the residence as reported," Manigault said to address reports she was fired by White House chief of staff John Kelly. "John Kelly and I sat down in the Situation Room…I wanted to make the one-year mark and then get back to my life."
Though Manigault claimed her departure was civil and in every party's interest, she took a harsher tone towards this year's controversies from the White House.
"There were a lot of things that I observed during the last year that I was very unhappy with, that I was very uncomfortable with, things that I observed, that I heard, that I listened to," said Manigault, responding to a Washington Post report in which sources claimed she was outraged over the president's response to August's 'Unite the Right' rally in Charlottesville, VA. "I have seen things that have made me uncomfortable, that have upset me, that have affected me deeply and emotionally, that has affected my community and my people."
"And when I can tell my story, it is a profound story that I know the world will want to hear," the former aide added.
Although Manigault's resignation is slated for January 20, exactly a year since Trump's inauguration, Secret Service tweeted that her White House pass had been deactivated. But with an influx of media appearances lined up, the former Apprentice star is choosing fame over policy in the vein of former White House staffers Anthony Scaramucci and Sean Spicer. The tell-all will surely be both salacious and predictable.