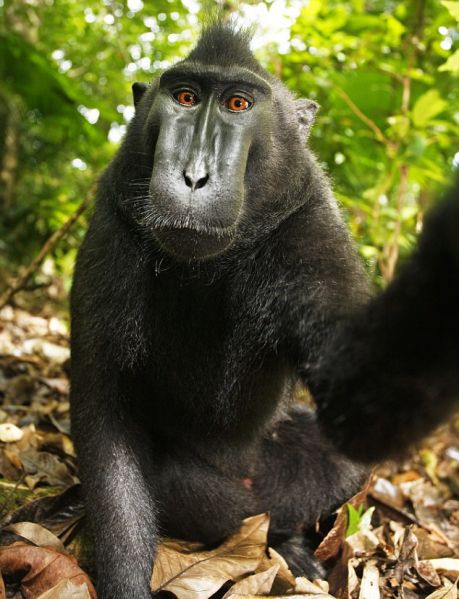 PETA just gave "monkeying around" a whole new meaning.
The animal rights group announced today that Naruto the crested macaque had been named its "Person of the Year." The monkey gained notoriety this year after a California court case in which PETA claimed the ape was the legal copyright holder of a series of selfies.
It all started in 2o11, when British nature photographer David Slater traveled to Indonesia to photograph a group of crested macaques, including Naruto. Slater wrote on his blog that he struggled to get the monkeys to keep their eyes open for a close-up, so he coaxed Naruto to press the shutter while looking into the lens. Hence, while the monkey took the photos, Slater claims he had human help.
Slater published a book featuring the monkey selfies, but he never officially licensed them. So when the images ended up on Wikipedia in 2014, Slater asked the site to take them down. The online encyclopedia argued, however, that the photo couldn't be copyrighted since it wasn't created by a human. The U.S. Copyright Office agreed, ruling anyone could use the images for free.
PETA, however, argued that the photos weren't fair use because the monkey owned the copyright. The case played out in a California courtroom in July: PETA's lawyer argued that Naruto was accustomed to cameras and took the selfies when he saw himself in the reflection of the lens, while Slater's lawyer said it was absurd to give a copyright to an animal who wasn't even aware of the legal fuss.
But in September, Slater decided to settle with PETA. He agreed to donate 25 percent of any future revenue from the selfies to charities that protect Naruto and other crested macaques.
PETA said the legal ramifications of the case led to Naruto being chosen for the end-of-year honor. The group's previous Persons of the Year have all been human beings, including Pope Francis, Oprah Winfrey and Bill Clinton. But PETA assistant press coordinator Megan Wiltsie said Naruto's selection still made sense.
"Like humans, animals are people," Wiltsie told Observer in an email. "They have unique needs and wants, many have complex social systems and they communicate in languages that we Homo sapiens are only beginning to understand. Animals are 'just like us' because we are all animals."
And if you thought shot glasses and watches featuring Harambe were the most absurd monkey memorabilia around, look out: PETA is now accepting pre-orders for a (very scary) commemorative T-shirt featuring Naruto's toothy, smiling face.