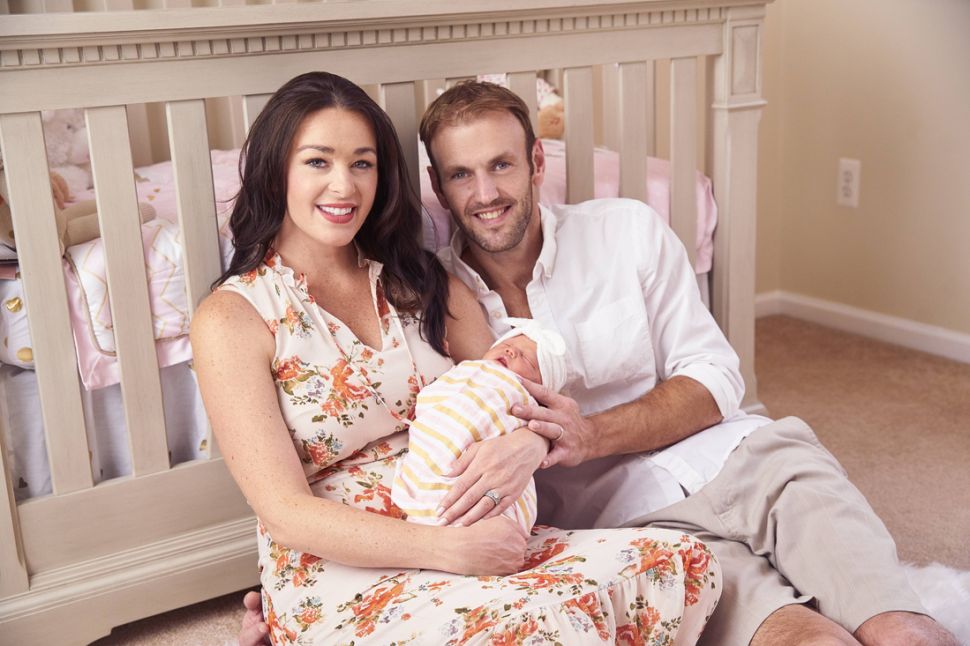 As she was walking down the aisle toward her groom, Jamie Otis cringed. Sure, she'd signed up for this, but this was not the man she expected to see waiting for her.
Doug Hehner was standing there, absolutely ready to enter into a legally binding marriage with Otis.
This was the very first time that Otis and Hehner had ever laid eyes on each other, and yet they were getting married right this very minute.
As participants on the series Married at First Sight, the couple were matched up by relationship experts.
While Jamie wept after exchanging her vows, saying that she thought this was a big mistake, Doug rallied, convinced that once she got to know him, Jamie would fall in love with him.
Doug was right.
Now, three years later, the duo is still married and embarking on another milestone—having a baby.
In their new series Married at First Sight: Jamie and Doug Plus One, the couple take on parenthood with the arrival of their daughter, Henley.
Jamie said that although their journey to the altar wasn't traditional, the way they tend to their marriage is. "Yeah, it wasn't like we clicked magically overnight. It was a work in progress. I've learned that my husband is very patient and I think one of the keys is that we work on our marriage every day."
About that unconventional start, Jamie reveals, "Yes, it's a little strange the whole thing of getting married when you first see each other. But, we decided that we wouldn't be mad at ourselves or each other if we ended up getting divorced because it's an experiment. As much as we value the sanctity of marriage, this is, after all, an arranged marriage."
She said that she thinks viewers are drawn to their journey because, "We don't change who we are on camera from who we are off camera and I think people can sense that. We're not putting on a show for the camera. We've learned that we all have our flaws and ugly moments and if we can own those that not only helps us it helps other people."
"It's not just that," added Doug, "it's our entire relationship really. People can watch it from day one. It doesn't get more real than watching from us meeting to right now and watching us struggle as new parents. It's unique because we're letting everything unfold in front of everyone, every milestone, every high, every low."
That everything includes the loss of their first baby, a little boy.
This loss has helped Jamie redefine part of her personal calling, she said. "I'm passionate about helping women who've suffered from a loss. I Lost my baby in my second trimester. I was in the dark hole I wasn't sure I could climb out of. As much as my husband was there for me he wasn't the one carrying the baby. I've made it part of my mission to be open about my experiences. I'm trying to honor and cherish my son's life. I hope it helps at least one person. That makes it worth it."
The couple admit that they sit down together and watch each episode as it airs. In addition to live tweeting and answering fan's questions, they take stock of what transpires between them onscreen. "We see it for the first time with everyone else. So, we don't know what airs until it airs," explained Doug.
"You really learn a lot," added Jamie. "When I watched the first episode where I wasn't attracted to my husband, I cried all over his shoulder and said, 'I'm so sorry. I was so mean.' If everyone had a camera filming them at every moment and you had to then sit and watch it—you'd learn a lot about yourself, really. Then you have a choice—you can own up to your faults and grow or not."
Doug seems to take it in his stride. "It's just fun to watch all the awkward moments." Questions that might be addressed in the coming season? "When can Jamie and I have sex again? Do we have to wait? Can you have sex with a baby staring at your face? These are the things we go through that hopefully will make people laugh," he said.
Both of them are aware that a lot of 'TV couples don't fare well in their relationships and admit this is a concern. "I just think we're different in that we see this as an opportunity to see ourselves, and each other, in a different way," said Jamie. "I mean we have an argument, then it's sort of over, but then it airs on TV and it's there again. That 'replaying' of it gives us a chance to communicate more about that issue that we fought about and how we can handle things better going forward."
The biggest thing Jamie wants people to take away from the series is, "Well, it sounds so cliché, but really, don't judge a book by its cover. That day I met my husband at the altar and I wasn't immediately enamored with him and I thought it wasn't going to work. When people saw that, they called me shallow and that was shown on air and it was embarrassing. But, I learned from it."
"After that happened, we were on The View and Whoopi Goldberg said to me, 'You're doing such a service for women by showing them that it's not about what's on the outside it's what's on the inside. That was very eye-opening for me."
At this moment, Doug chimed in with, "Yeah, and a lot of the time it takes a while to get on the inside, but it's really worth it to get there."
For those viewers who think Jamie and Doug: Married at First Sight Plus One is just a typical show about a married couple having a baby, Jamie said, "it's a lot more than that because we're very open about the loss of our first baby and about family dynamics as well. I come from a rough family background and anyone in their right mind would hide that and shy away from showing that, because it's not pretty, but we've been really open about it because I hope it helps other people."
"This show is more than poopy diapers and sleepless nights," added Doug. "And I think its important to mention that there's no question, topic or scenario that's off the table. We allowed cameras to be there for the birth of our daughter, when we're talking about our intimacy issues and everything, all while trying to figure out how to be parents. I think this it's going to be the best reality show that anyone can ever see."
At this Jamie giggles a little and said, "That's good honey. Way to pat yourself on the back."
Jamie and Doug: Married at First Sight Plus One kicks off with a two and a half-hour special, premiering Tuesday, December 19th at 8 p.m. e/p. Two 30-minute episodes will air on subsequent Tuesdays, beginning December 26th at 10pm e/p on Lifetime.
Anne Easton is a West Coast based writer for Observer. She's an Emmy-award winning writer and producer who has worked in news, sports and children's television for FOX, ABC/Disney and the ReelzChannel. Follow her on Twitter at @anne_k_easton.