Engagement photoshoots tend to be uncomfortable for everyone involved, from the couple forced to pose like the cover of a cheesy '80s romance novel to the Facebook friends who are required to like the cliché creation. But Prince Harry and his fiancée Meghan Markle released their official engagement photos today, and there's nothing cringe-worthy about these regal glamour shots.
The pair posed at Frogmore House this month for the photoshoot, and Markle leaned into her Hollywood lifestyle and her future husband, at the same time. The Suits star opted to wear a couture gown that was last seen on the runway, although her version was lined (and thank goodness, because that certainly would have made for scandalous photos, reminiscent of Kate Middleton's infamous sheer dress).
The former lifestyle blogger chose a gown from Ralph & Russo's Fall 2017 couture runway, according to Fashionista. The British brand is known for their red carpet creations and this gown is rumored to cost about $74,000—plus, it's sure to start a wave of knockoffs. It was a marked difference from Kate Middleton's engagement shoot choice, a simple white Reiss dress.
In the more relaxed shot, Markle wore a light sweater and grabbed Prince Harry's face, which turned out to be the best way to show off an engagement ring.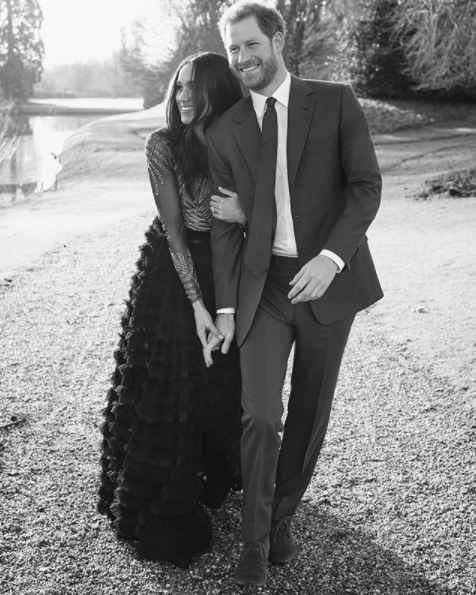 Unlike Wills and Kate's engagement photos, these shots weren't taken by Mario Testino, or pal Chris Jackson, who captured the Duke and Duchess of Cambridge for their annual Christmas card. Instead, Alexi Lubomirksi shot the artsy series. "Not only was it an incredible honour, but also an immense privilege to be invited to share and be a witness to this young couple's love for each other," the photographer shared on his own Instagram.