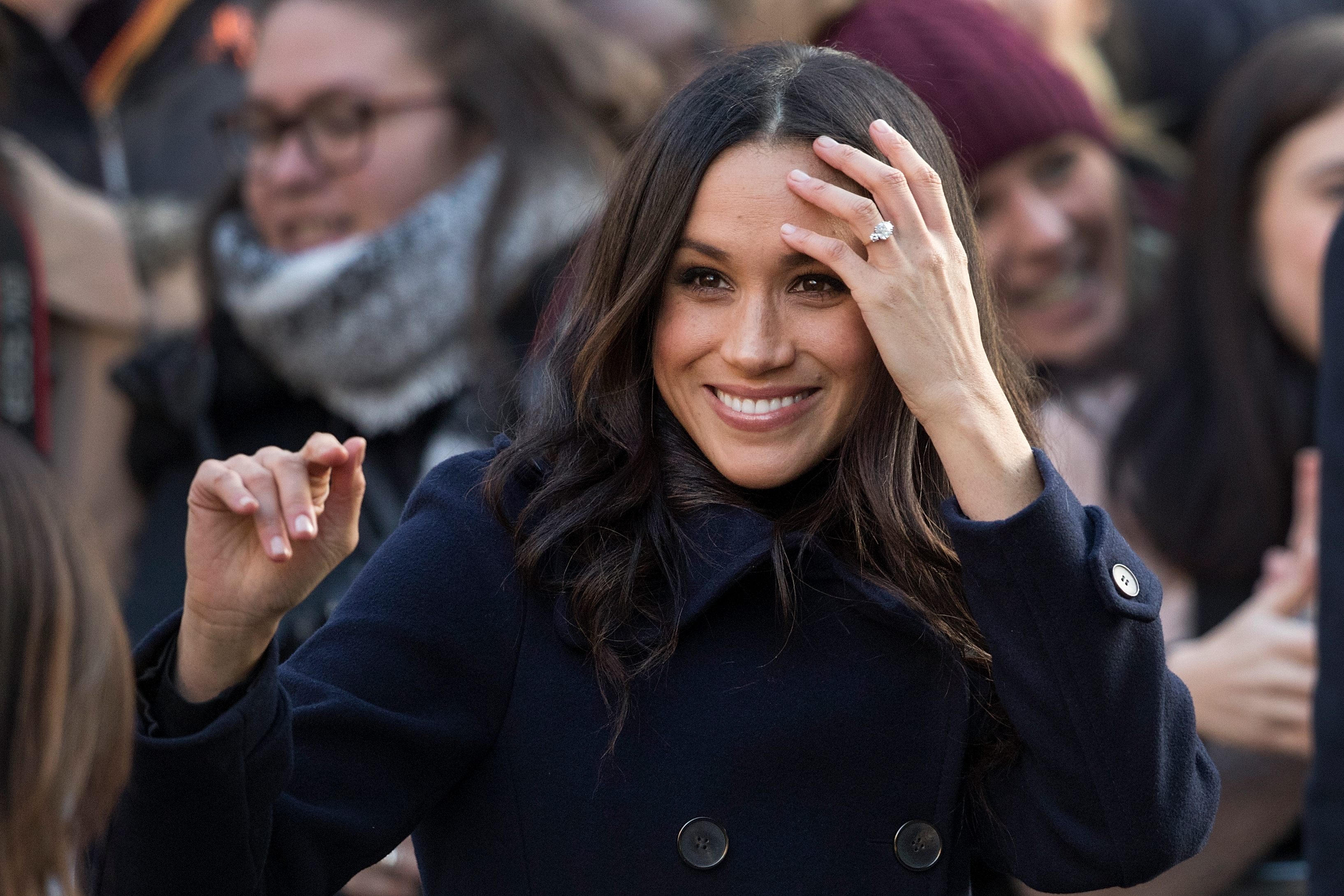 Meghan Markle's first official public appearance since her engagement announcement was as heartwarming as the Hallmark Channel movies she's starred in. Markle joined her new fiancé, Prince Harry, to greet crowds of adoring fans who either watched all seven seasons of Suits or simply wanted to catch a glimpse of the newest addition to the royal family.
As Markle and her personal suitor moved through the crowd, they said hello to well-wishers in Nottingham for over an hour. Despite the cold, Markle eschewed gloves to show off her engagement ring. Luckily, she kept warm in her Mackage jacket—and by holding hands with Prince Harry in a show of PDA his brother, Prince William isn't allowed. Markle also opted for a pair of Kurt Geiger boots, which are almost completely sold out now.
The couple was on their way to a World AIDS Day appearance, hosted by the charity Terrence Higgins Trust. On the way, they were gifted with flowers, chocolates and custom cards. And while most people would cling to their significant other in a crowd of strangers, or even while meeting their family for the first time, Markle proved she's well-suited for her brand new job by branching off and thanking her adoring fans while beaming and looking decidedly loved up.
Prince Harry even found time to interact with the crowd. When one red-headed gentleman asked, "How does it feel being a ginger with Meghan?" the royal replied easily, "It's great, isn't it? Unbelievable!" After their lengthy meet-and-greet, the newly-engaged couple visited the charity, where they met with teachers and volunteers and watched a hip hopera, which yes, is a hip-hop opera.
Perhaps Markle's ex-husband will include this first major appearance in his scripted show about his former wife. Or maybe, the Hallmark Channel will make an entire movie devoted to the subject. Unfortunately, it looks like Markle is a bit too busy to star in either production.