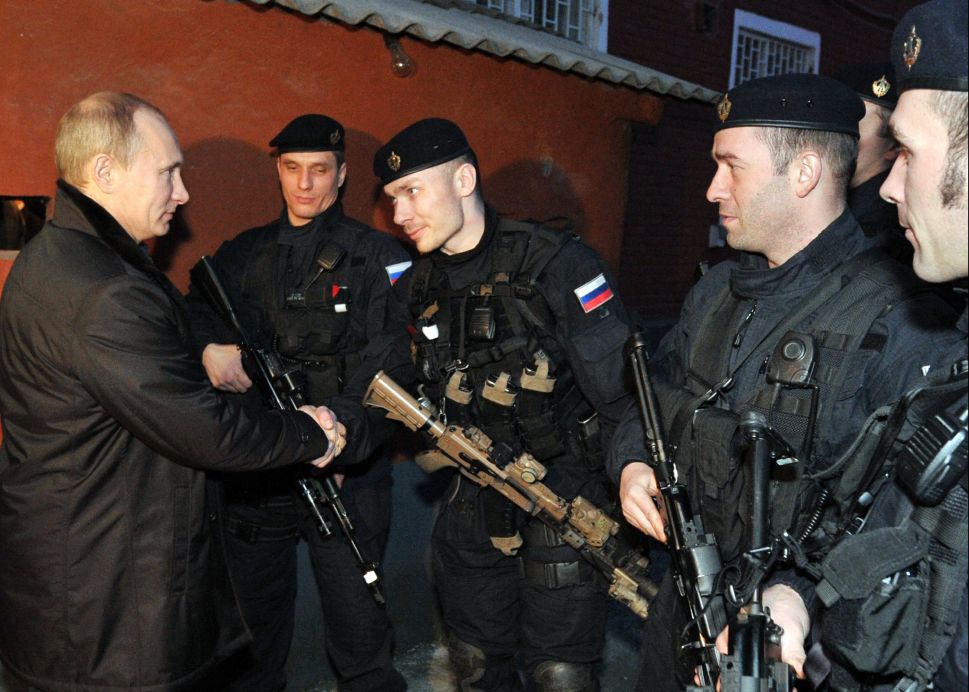 Russia celebrated a grim centenary this week. On December 20, 1917, the newborn Bolshevik dictatorship established its secret police force to crush opposition. It received the wordy title of the All-Russian Emergency Commission for Combating Counterrevolution and Sabotage, which got shortened to VChK. From the outset this new body was termed the more pronounceable Cheka.
Headed by Felix Dzierżyński, a hard-bitten Polish revolutionary, the Cheka cultivated an elite mystique. Its operatives, who proudly called themselves Chekists, were clad in long black leather coats as they tracked down enemies of the people for rough justice. There was a semi-religious aura around Dzierżyński, whom the Bolsheviks hailed as "Iron Felix" and portrayed as some sort of Red saint. He famously claimed that the ideal Soviet secret policeman possessed "clean hands, a cool head and a warm heart."
The reality, Dzierżyński expressed more concisely in an interview with Novaya Zhizn in July of 1918:
We stand for organized terror—this should be frankly admitted. Terror is an absolute necessity during times of revolution. Our aim is to fight against the enemies of the Soviet government and of the new order of life. We judge quickly. In most cases only a day passes between the apprehension of the criminal and his sentence.
From its birth, the Cheka engaged in terror against enemies, real and imagined. Mass executions were a daily affair and Dzierżyński's men served as judge, jury and executioner of those deemed by the Bolsheviks to be enemies of progress. This included vast swathes of Soviet society. To house them all, the Cheka invented the GULAG, the vast empire of labor camps that stretched across the Soviet Union and imprisoned millions. Under appalling camp conditions, many never completed their sentences, succumbing to malnutrition and disease.
Dzierżyński died early, in 1926, but Chekists revered his memory and continued his bloody work. In the early 1930s they killed millions in the Ukrainian hunger famine (or Holodomor), on Stalin's orders. Later that decade, Chekists executed the Great Purge to rid the Bolsheviks of foreign spies—nearly all of them imaginary. In the process they murdered as many as two million people, including most of the old cadres of Chekists too, whom Stalin suspected of disloyalty.
During WWII, the Cheka established the most coercive counterintelligence apparatus in human history, spreading their tentacles into every aspect of Soviet society. While this program, infamously termed "Death to Spies," rooted out some Axis operatives, it also enslaved and deported millions of perfectly innocent Soviet citizens who were of suspect background or ethnicity.
After Stalin's death in 1953, the Cheka shrunk its slave labor empire and even gradually gave up assassinating enemies of the people abroad. But to the end of the Soviet Union in 1991, it never abandoned its role as the shield and sword of the revolution. In its later decades, the secret police sentenced dissidents to insane asylums rather than death with a bullet to the base of the skull. Anyone who disagreed with Communism was ipso facto mentally unwell, the logic went. The essential disregard for basic human rights and legality continued, unaltered.
The Cheka underwent a bewildering number of name changes: GPU in 1922, OGPU in 1923, NKVD in 1934, NKGB in 1943, MGB in 1946, MVD in 1953 and finally KGB in 1954—the name it would keep until it all fell apart in late 1991. Throughout, Soviet secret policemen proudly called themselves Chekists. They got paid on the twentieth of every month (a date chosen to commemorate the Cheka's birth) and celebrated Chekist Day, a Soviet holiday, on December 20. Their role in the Bolshevik apparatus was never in doubt. At the Yalta conference in February 1945, Stalin stated to President Franklin D. Roosevelt regarding Lavrenty Beriya, the top Chekist: "That's Beriya. My Himmler."
When the Bolshevik empire began to collapse in the late 1980s, the Chekist apparatus was the first target of dissidents and activists demanding freedom. Under perestroika, party boss Mikhail Gorbachev allowed a bit of public discussion of the Soviet past, including some revelations of the extent of Chekist crimes, which shocked the public. In late 1989, activists in Warsaw took down the city's statue of "Iron Felix." He soon fell all over the Soviet bloc. The end came in August 1991, when the premier Dzierżyński statue, located at the KGB's headquarters, the Lubyanka in Moscow, came down as well.
For a brief while, it seemed that Russia had left its Chekist horrors behind it. In the 1990s, serious historical inquiry into Soviet crimes unmasked just how awful the Cheka had been. The country was covered in mass graves, many of them entirely unknown. Although an exact tally remains out of reach, most estimates put the number of Soviet citizens killed by the Cheka around 20 million. Practically every family could name at least one member who fell victim to Iron Felix or one of his successors.
However, the necessary confronting of this unprecedented horror was cut short by the rise of Vladimir Putin, the former KGB major and convinced Chekist. The secret police never went away, they simply became the Federal Security Service or FSB, which absorbed the lion's share of the old KGB. After Putin took over the Kremlin in 1999, public inquiry into Chekist crimes was shut down and eventually criminalized.
Instead the FSB has proudly taken on the traditions of the Cheka. December 20 is again a holiday and Russian spies still term themselves Chekists. Putin has repeatedly cited his pride in his KGB service, and he has created a reborn Chekist cult in Russia, where the secret police are viewed as guardians of the state, a semi-sacred elite as in Dzierżyński's time. As the Russian president famously explained, "There are no 'former' Chekists."
Although Putin at times has sharply criticized the crimes of Lenin and Stalin, he has been careful to never let those besmirch Chekism, the state security cult that forms the cornerstone of the current regime. This week, for the Cheka's centenary, Putin addressed Russia's security services on their "birthday," praising them and their work: "The absolute majority of the people who choose this difficult profession have always been true servants of the state and patriots who went about their duties with dignity and honesty."
Aleksandr Bortnikov, the FSB director, went further still this week, portraying those who serve in his force as heroes who defend Russia from the foreign spies surrounding it, just as they did under Lenin and Stalin. He even defended Stalin's Great Purge: "Although many associate this period with the mass fabrication of charges, archive materials show a significant number of criminal cases were based on factual evidence."
None of this bodes well for democracy or the rule of law in Russia. There's even talk of bringing the notorious statue of Iron Felix back to the Lubyanka. Earlier this month, the Communist Party officially petitioned President Putin to bring the statue back to its "rightful" place. It seems doubtful that Putin will do that, knowing it will be a lightning rod for the few human rights activists remaining in Russia after years of persecutions and assassinations. Yet the Cheka-worship already present with regime imprimatur ought to be a source of shame. Berlin has no statues of Heinrich Himmler, which is one reason why Germany today is a healthy and prosperous democracy. Until Russia honestly confronts the Cheka's crimes and legacy, it cannot be a free country.
John Schindler is a security expert and former National Security Agency analyst and counterintelligence officer. A specialist in espionage and terrorism, he's also been a Navy officer and a War College professor. He's published four books and is on Twitter at @20committee.