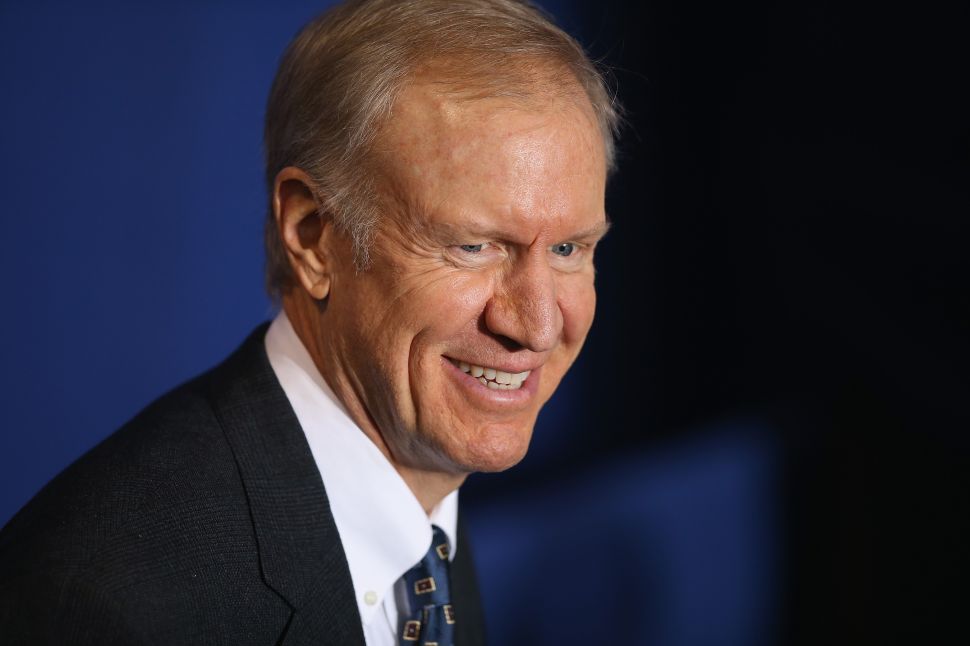 The 2018 election will matter as much in every state's governor race as it will in Washington D.C. Governors have a hand in the budgetary process, and the laws they sign often affect residents more closely than what happens in our nation's capital. On issues of expanding Medicaid, raising the minimum wage, and legislation concerning guns and crime, the states are where the action is.
Also, governors will play a huge role in redistricting after the 2020 census, helping determine control of the House of Representatives and state legislatures. That Democrats didn't perform well in 2010 cost them dearly in the redistricting process. We'll see if they learned their lesson for 2018.
Illinois: The Land of Lincoln has a Republican governor, but perhaps not for long. Not only has he attracted several tough Democratic opponents, but he also faces some primary opponents who could either oust him or drain his support.
Bruce Rauner, a former businessman who defeated Democratic Governor Pat Quinn four years ago, has struggled to make in-roads the way the GOP has in state houses in Maryland and Massachusetts. He has feuded frequently with the state legislature, as well as members of his own party. He faces TV producer and media strategist William Kelly, as well as State Representatives Jeanne Ives and Richard Morthland, in the GOP primary.
Should Rauner survive, he'll face a strong Democratic opponent; the only question is who it will be. Will it be the son of Robert F. Kennedy, businessman and University of Illinois Trustee Chris Kennedy? Or Hyatt heir J. B. Pritzker? Or perhaps Dan Biss, a veteran of the state legislature and the college classroom? Or will Bob Daiber, the Madison County Superintendent of Schools, prevail against them all? While the state's Democratic leanings and Rauner's approval ratings should help the Democrats, a nasty primary could cost the party unless they find a way to unite around the nominee. 
Georgia: In 2017, Georgia took center stage during the special election season, as Karen Handel and Jon Ossoff battled for a suburban congressional seat. The reason the race got so much attention was because it showed a trend of a Southern red state looking to possibly go purple. This trend will continue into 2018 as the state's gubernatorial race becomes a battleground.
It will be a crowded field for Republicans seeking to succeed term-limited Governor Nathan Deal. The biggest names in the ring include Lt. Governor Casey Cagle and Secretary of State Brian Kemp. Though both talk conservative, there are others who are far more conservative in the race. Most prominent on this list is State Senator and Trump activist Michael Williams, best known for appearing with the III% Militia at a march and auctioning off a bump stock in the wake of the Las Vegas shooting. Other conservatives include former State Senator Hunter Hill, an Afghanistan War veteran who came up short in his bid to win that 6th District Special Election.
On the Democratic side, it will be the battle of the Staceys. Stacey Abrams, the former State House Minority leader and attorney, will square off against Stacey Evans, also a former State Representative and attorney. One may be better served by dropping out and entering the Attorney General race, which has no Democratic candidate. The GOP has the advantage, but if a candidate like Williams wins, or if the GOP has a divisive runoff, one of the Staceys could pull off a surprise.
Florida: Republicans will fight hard to keep term-limited GOP Governor Rick Scott's seat in conservative hands. Scott only won by narrow margins in otherwise strong GOP years, so the party can't take this race for granted. The front-runner is likely Adam Putnam, a former congressman and the State Agricultural Commissioner, as well as a veteran of the state legislature. He'll face State Senator Jack Latvala and businessmen Angel Rivera, Bruce Nathan and Bob White. Rep. Ron DeSantis is also eyeing the contest.
Democrats have their own list of strong challengers. The biggest name is Gwen Graham, a former congresswoman and daughter of the well-respected Governor and Senator Bob Graham. But first she'll have to get by Attorney John Morgan, Tallahassee Mayor Andrew Gillum, and maybe former U.S. Congressman Patrick Murphy, if he runs. If 2018 is a good year for Democrats, look for Graham to follow in her father's footsteps, especially if her party is more united than the Republicans.
California: Thanks to the rules allowing the top two vote-getters to fill the top two spots in a runoff (if there is no majority winner), expect this to be an all-Democratic affair. The biggest name on the list is former Los Angeles Mayor Antonio Villaraigosa, who boasts experience as a State Assembly Speaker and L.A. City Councilman. He will battle Lt. Governor Gavin Newsom, a former San Francisco mayor, as well as John Chiang, the State Treasurer and former State Controller. A wildcard in the race is Tom Steyer, the hedge fund manager, philanthropist, environmentalist, and major Democrat donor (though he may go for Dianne Feinstein's Senate seat).
Few Republicans have a chance. Former Congressman Doug Ose and businessman John Cox are the most likely to make it. However, there are a pair of intriguing candidates throwing their hat into the race. One is former Los Angeles Rams star football player Rosey Grier, while the other is MMA fighter Mavrick von Haug. Both have Hollywood connections, sure to get the voters' attention. Klement Tinaj provides the same star power for the Democrats.
Ohio: You won't see Ohio Governor John Kasich on the ballot because of term limits. But both parties have good nominees to replace him, like Attorney General and former Senator Mike DeWine on the Republican side, but he'll face primary challenges from Lt. Governor Mary Taylor, Rep. Jim Renacci and Secretary of State Jon Husted. If State Supreme Court Justice Bill O'Neill continues to falter as the Democratic Party nominee, look for Dayton Mayor Nan Whaley or former Congresswoman Betty Sutton. But imagine if former TV Talk show host and Cincinnati Mayor Jerry Springer runs, or colorful former Ohio Rep. and presidential candidate Dennis Kucinich jumps into the contest?
Other Races To Watch: Massachusetts GOP Governor Charlie Baker won in an upset, but he hasn't drawn a big-name opponent. The open 3rd congressional seat seems to be generating more attention. Additional intriguing contests can be found in the Midwest. Term-limited Governor Rick Snyder won't be on the Michigan ballot, but GOP Attorney General Bill Schuette will be, and he will face Detroit Doctor Abdul El-Sayed, Xerox VP Bill Cobbs, or State Senate Minority Leader Gretchen Whitmer, all Democrats. Nearly 20 Democrats are lining up to face Wisconsin GOP Governor Scott Walker, a former presidential candidate, but none of them are state officials or congressional representatives.
Several candidates are preparing to go for the open Minnesota governor seat, once held by retiring Governor Mark Dayton. His Lt. Governor Tina Smith is also retiring, but Democrats have a strong candidate in Rep. Tim Walz of the state's first congressional district. They also have several state legislators running, as well as the former St. Paul Mayor. Republicans lack the big names of the Democrats, but State Rep. Matt Dean looks like the GOP nominee. Pennsylvania Governor Tom Wolf should win renomination in the Keystone State, but he will face a strong challenge from either State House Speaker Mike Turzai or State Senator Scott Wagner.
John A. Tures is a professor of political science at LaGrange College in LaGrange, Georgia. He can be reached at jtures@lagrange.edu. His Twitter account is JohnTures2.