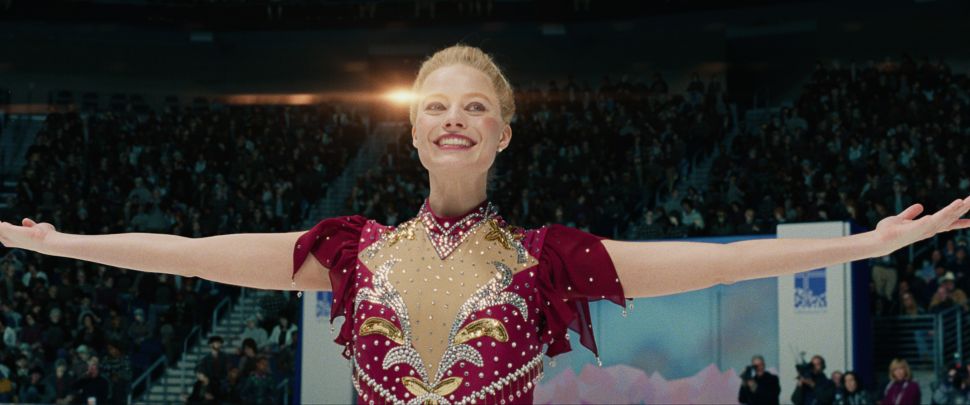 At the movies, I can think of nothing more pleasing than going in without much interest and ending up being unexpectedly dazzled. Such is the delight with which I have been thrilled and entertained by I, Tonya. Starring Australian-born Margot Robbie (who also served as producer on the film), the story follows tabloid sensation and disgraced Olympic figure skater Tonya Harding, about whom so much has been written and speculated, but so little has been revealed with accuracy, fairness or truth. This remarkable movie—factual and funny, always surprising and unconventionally written, directed and acted—sets the record straight with an adrenalin rush that overwhelms the senses.
Told in a semi-documentary style with a fresh screenplay by Steven Rogers and smooth-sailing direction by Craig Gillespie that features excerpts from actual interviews with Tonya, her abusive ex-husband Jeff Gillooly, her chain-smoking, foul-mouthed mother, her exasperated coach and everyone else closely involved in the brilliant career and self-destructive lifestyle of the girl who was accused of orchestrating the headline-making "incident" that crippled Olympic skater Nancy Kerrigan in 1994 and reduced the glamorous sport of ice skating to crisis mode.
According to this film (along with everyone connected with "the incident" who has ever been interviewed on the subject), Tonya Harding had nothing to do with what happened. It was her husband's idea to send Kerrigan life-threatening letters that would make her nervous enough to blow the competition, but it was really Shawn Eckhart, one of Jeff Gillooly's idiot friends (played with stunning dumbness by Shawn Walter Hauser), who carried out the physical attack that broke Kerrigan's knee. What landed Tonya in court and got her banned from figure skating for life was her failure to disclose what she knew after she found out what Jeff had done. Her breakdown before the judge and wrenching plea for a jail sentence if it would clear her name and restore the right to continue the only thing in life she really loved is a wrenching moment that touches the heart, thanks to Margot Robbie's sensational, many-faceted success in making Tonya real and human.
---

I, TONYA ★★★★
(4/4 stars)
Directed by: Craig Gillespie
Written by: Steven Rogers 
Starring: Margot Robbie, Allison Janney, Sebastian Stan, Caitlin Carver and Bobby Cannavale
Running time: 120 mins.

---
To fully understand her, Australian director Craig Gillespie (Lars and the Real Girl) covers 40 years in the life of a girl who, despite her great talent on ice, never really had a chance to make something of herself in the first place. Deserted by her father in childhood and furiously goaded into skating by her mean-spirited, crude and heartless mother LaVona (a fabulous, scene-stealing white-trash performance by Allison Janney), Tonya was, by her own definition, a poor redneck who was doomed from the start. Her early life in Oregon is an ugly picture of nasty, lowdown America, from which she sought escape by marrying Gillooly (a career-changing performance by Sebastian Stan). Slapped around by a mother from hell who was one step away from a jail sentence herself and then bashed repeatedly by a sexy, violent husband, Tonya learned early how to give the finger to the rules, make up her own, then break those, too.
Her mother paid spectators to boo her in the bleachers, yet she became the first American woman to master a triple axel in figure skating—a triumph that turned her more arrogant and hateful than ever. While she was knocking herself out to get into the Olympics, she was eating up her time filing restraining orders against Jeff, who once slammed a car door on her fingers. Both her long-suffering coach (another first-rate job by Julianne Nicholson) and the Olympic Committee wanted a wholesome American image, but she was the total opposite of an Ivory soap ad. She had appalling bad taste, made her own tacky costumes that made TV viewers laugh, treated the press and the contest judges rudely, and never won the adoration of the public. Love is the missing element that ruined her life. After all she went through, there's a harsh and shocking confrontation scene when Tonya asks her mother at last: "Did you ever love me?" And the answer has the sting of a stun gun: "Did Sonja Henie's mother love her?"
At 23, she made the Olympic team, and on the verge of realizing her dreams, wrecked her future through her own stupidity. The tragedy of Tonya Harding is that she was a winner who constantly lost, and in the end she became the biggest loser of them all. In her own words, "I was loved for a minute, then I was hated. Then I was just a punch line." The facts unravel from so many different viewpoints it's sometimes hard to know which version to believe. But this is a movie that keeps you on the edge, unflagging and refusing to whitewash its subject. It has been directed with a brittle, neo-journalistic style, using taped interviews with the real participants as a basis for profound performances that look improvised. Although Margot Robbie turns the screen into art re-lived as the bruised, trampy Tonya and Allison Janney is the meanest mother since Medea, it's the dedicated group efforts of a perfect ensemble that make I, Tonya one of the best movies of 2017.