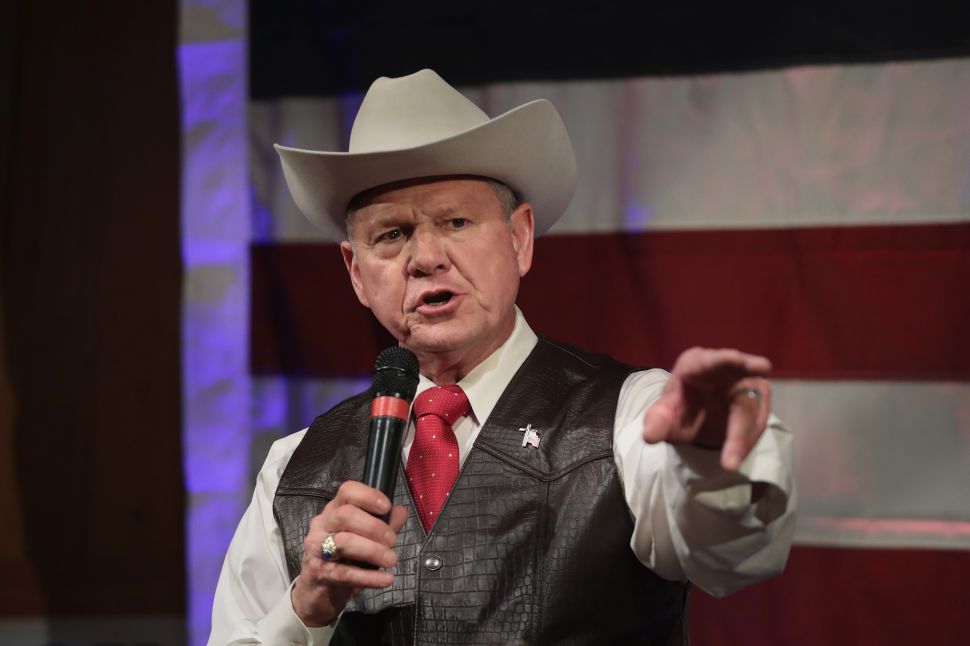 On December 12, the citizens of Alabama will vote in a special election to decide who will fill Attorney General Jeff Sessions' former U.S. Senate seat.
President Donald Trump's preferred candidate, Luther Strange—who would have easily won the general election—was defeated in the primary by Roy Moore, the candidate Steve Bannon, Trump's former chief strategist, supported.
Who is Roy Moore?
Roy Moore slept on sandbags in Vietnam out of fear that a fellow soldier might kill him. He was nicknamed "Captain America" for his strict attitude toward discipline. Yep, he's that guy.
In civilian life, he became one of those "lawd-gawd-almighty" small town Alabama prosecutors. A champion of law enforcement, he convened a grand jury to probe what he claimed were funding shortages at the sheriff's office.
The problem wasn't just discretionary spending by elected officials, you see. Criminals ran free because elected officials illegally shortchanged the sheriff. Roy Moore was investigated for misusing the grand jury.
Then he ran for circuit judge and accused his opponents of granting probation and continuances to criminals based on favoritism and cronyism. None of it was true and he lost. But he was gaining a reputation as someone who at least had the guts to say it.
Somewhere in all of that, he started putting on his Sunday best and cruising the Gadsden Mall for high school dates. Two of the young women would grow up to tell of sexual assault.
One waited on him at The Olde Hickory House Restaurant and, in her account corroborated by a contemporaneous writing, he wished her Merry Christmas and called her pretty in her yearbook. Then, she claims, he attacked and groped her when he talked her into his car.
If Flannery O'Conner were writing this short story, Roy Moore would have blinded himself with lye right there in front of the Orange Julius and finally seen himself clearly.
Instead, the story took a too-unbelievable-for-fiction twist: He moved to Australia, became a kickboxer, moved back, changed his registration from Democrat to Republican, and got himself appointed to the Circuit Court by the governor.
That's when he purchased a small wooden Ten Commandments and hung it in his courtroom. He later told The Atlantic, "I wanted to establish the moral foundation of our law." He started to lead the jury pool in prayer. He won reelection in a landslide.
Finally, the citizens of Alabama had found a Godly judge. He cashed in his newfound fame to run for Chief Justice of the Alabama Supreme Court.
On announcing his run, he promised to restore "God to our public life and restore the moral foundation of our law." His campaign posited that Christianity's removal from public life "corresponded directly with school violence, homosexuality, and crime."
One month into his tenure on the Court, he designed a large granite monument that featured the Ten Commandments and had it placed in the Court's central rotunda. Artistically, Moore's sculpture was lowbrow camp of the so-bad-it's-good school, like a velvet Elvis or a teenage mugshot of Axl Rose.
He declared in a speech that followed the unveiling, "Today a cry has gone out across our land for the acknowledgment of that God upon whom this nation and our laws were founded… May this day mark the restoration of the moral foundation of law to our people and the return to the knowledge of God in our land."
While the Constitution allows for the free exercise of religion, it does not permit the state authorities to establish a religion. A federal judge concluded that when the Chief Justice of the Alabama Supreme Court places the Ten Commandments in the rotunda of the courthouse upon the premise that he was re-establishing the connection between Judeo-Christianity and civil law, it violated the Establishment Clause.
The judge ordered the monument to be removed. Justice Moore disobeyed the judge's order and got expelled from the Court for disciplinary reasons.
In 2012, he ran for and won, for a second time, the position of Chief Justice of the Alabama Supreme Court. He did not bother with a clunky Ten Commandments monument this time. No, he disobeyed a federal Supreme Court order declaring same sex marriage to be constitutionally protected.
Conservatives overwhelmingly disagreed with the legal reasoning in the decision in Obergefell v. Hodges. Few, however, thought it was a good idea to express that disagreement by ordering ministerial court personnel to violate the law by not issuing marriage licenses to gay couples.
Chief Justice Moore was okay with moving his pawns in this manner to castle his king. He was, again, expelled from the Court.
Republican strategists who support Roy Moore for the Senate seat in Alabama fundamentally misunderstood the 2016 election.
Midwestern blue collar workers, who are the core of Trump's support, don't come across many Roy Moores, except in television and movie depictions of Southern religious hucksters. They believe that when he refers in his autobiography to "Islam or any other foreign religion" he is including in his description their cassocks, mitres and monstrances.
The Trump phenomenon saw voters in South Carolina willing to accept a New York reality show host to carry their message. Given that concession, there was no reason to make Roy Moore even the temporary face of the party for voters in Pennsylvania, Ohio and Michigan. It undermines the winning coalition.
Whatever the results of the special election, the promotion of Roy Moore over Luther Strange—even based on facts known at the time—was an unforced strategic error.
Thomas J. Farnan is an attorney from Pittsburgh, Pennsylvania. He can be contacted at http://www.farnanlawoffice.com and at tfarnanlaw@gmail.com