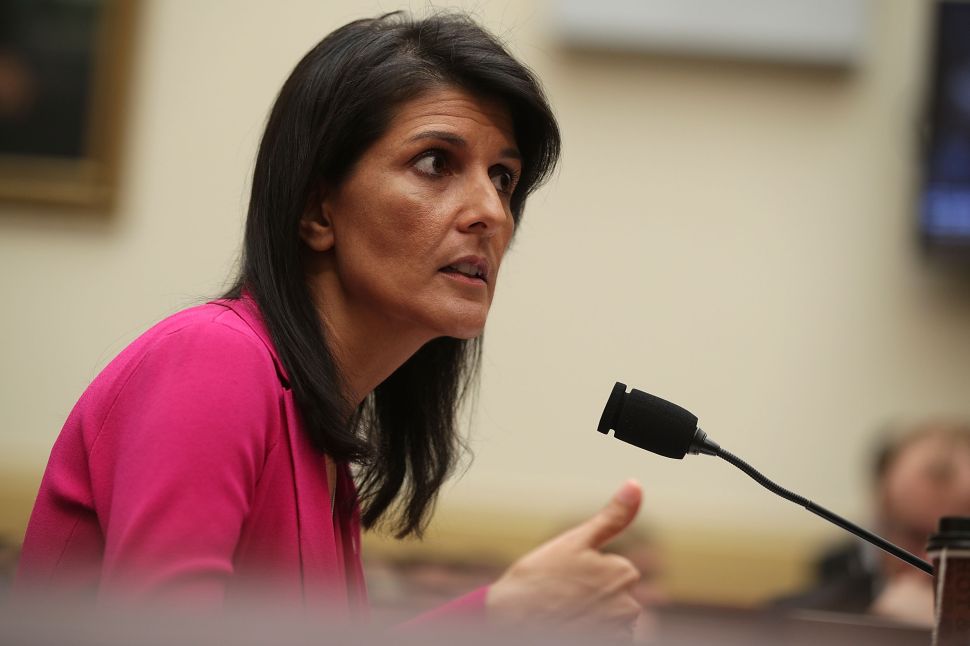 Moscow is laughing at the United States… literally. Two Russian comedians impersonating the Polish prime minister prank-called U.S. Ambassador to the United Nations Nikki Haley. After getting through to the ambassador, the duo maintained a 22-minute conversation discussing world affairs before uploading the audio to YouTube.
"Let me start with very much thanking you for the support we received on the vote today," Haley said, referencing Poland's neutrality during a U.N. vote to condemn President Donald Trump's recognition of Jerusalem as Israel's capital. "We will never forget it."
After a brief conversation on the vote—which Haley suspected "was more of a push by the Arab league" than from Moscow—the comedians asked about the fictional island "Binomo" located in the South China Sea.
"You know Binomo?" one of the pranksters asked, to which Haley replied "yes, yes."
"They had elections and we suppose Russians had its intervention," the man said.
"Yes, of course they did, absolutely," Haley replied. "We've been watching that very closely, and I think we will continue to watch that as we deal with the issues that keep coming up about the South China Sea."
When asked what the United States planned to do about a Russian disinformation attack that never occurred, on an island that doesn't exist, Haley decided to relay the message to her colleagues.
"Let me find out exactly what our stance is on that, and what if anything the U.S. is doing or thinks should be done, and I will report back to you on that as well," said the ambassador.
Besides the U.N. ambassador, the Russian comedians have prank-called Secretary of Energy Rick Perry, Senator John McCain (R-Ariz.), Congresswoman Maxine Waters (D-Calif.), and singer Elton John.
"We have nothing to share on that at this time," a spokesperson for Haley told The Post and Courier.