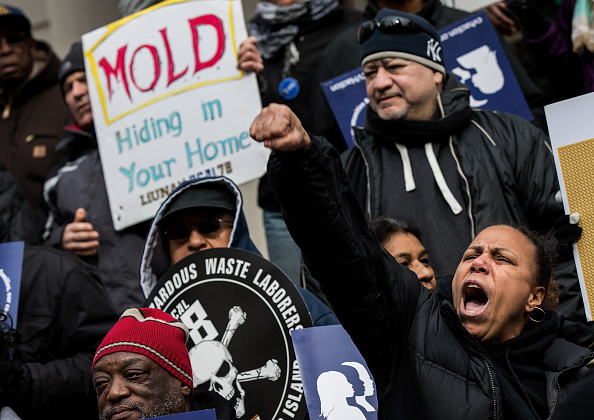 The head of the New York City Housing Authority said she regrets signing documents falsely claiming the agency completed lead paint apartment inspections, but she maintained she did not commit perjury.
A Department of Investigation report released last month found NYCHA failed to conduct required safety inspections for lead paint during a four-year period starting in 2013, but provided false documentation to the U.S. Department of Housing and Urban Development stating that NYCHA was obeying federal laws that require the inspections to be carried out.
Despite its senior staff being informed NYCHA was not adhering to city lead laws in 2015, and Shola Olatoye, the agency's chairwoman, being informed in 2016 of non-compliance with both city and federal regulations, certifications were still submitted to the federal government, the report concluded.
At the end of November, Mayor Bill de Blasio told reporters he wished he told the public and the 400,000 NYCHA residents despite first becoming aware of it in April 2016.
Olatoye, whom de Blasio appointed to head the agency in 2014, testified before the Council on Monday morning for about four hours. When asked why she certified lead paint inspections were taking place when they were not, she maintained she did what she was supposed to do.
"I signed the certificate of compliance believing that my previous disclosures about the compliance gaps to HUD were sufficient," she said.
The chairman of the Committee on Public Housing, Bronx Councilman Ritchie Torres—who grew up in public housing—asked Olatoye if she spoke to de Blasio or Alicia Glen, deputy mayor of housing and economic development, before signing the documents. Olatoye did not tell the mayor or remember informing Glen.
"I don't recall saying, 'I'm signing a document today, deputy mayor' but given the disclosures we had just shared … I believed those disclosures were sufficient and there was no intention to mislead about the remedial work that we shared we were doing," she continued.
Torres subsequently wondered whether she regretted not seeking the mayor's input before signing the documents.
"I absolutely have said signing the forms at that time was a mistake given what we know," Olatoye responded.
When Torres pushed her to explain why she let 15-16 months go by without telling the general public or the public housing committee about the lack of compliance, she expressed regret over not telling people sooner.
"In hindsight, could we have done more sooner?" Olatoye admitted. "Perhaps, and that is a decision I own and will continue to work to improve moving forward."
In his opening remarks, Torres blasted a public relations campaign NYCHA staffers undertook on her behalf ahead of the hearing. And throughout the hearing, Torres frequently repeated questions until Olatoye provided a specific and direct answer.
"I'm not getting a clear answer," he complained at one point.
Olatoye does not believe she committed a crime.
"I do not believe I committed perjury," Olatoye insisted, when asked by Bronx Councilman Rafael Salamanca.
As of Tuesday, NYCHA has completed more than 90 percent of the in-unit Local Law 1 annual inspections for 2017. The agency has inspected more than 8,000 apartments housing children under 6, according to Olatoye.
Necessary repairs from those inspections will be completed by the end of the first quarter of 2018, in line with the federal law's 90-day deadline. As part of that work, NYCHA is offering residents a complete apartment painting—even for those that do not have a lead-based paint issue. Through this initiative, the agency will fully paint 7,000 units.
The agency has been cooperating with the U.S. Attorney's Office for the past two years as part of its investigation of NYCHA conditions, including leading issues, for the past two years. Olatoye noted NYCHA has embraced the partnership of an independent federal monitor to help revamp the agency.
"The greatest threat facing the Authority—and one of the factors that led to our gaps in compliance—is NYCHA's funding crisis," Olatoye testified. "When tasked with a turnaround effort of this magnitude, it's easy to identify the obvious problems, though it's much harder to come up with solutions, considering the challenges. But that's exactly what we've been doing for the past three years: working tirelessly to improve the quality of life for the residents we serve."
The city will be offering free testing to the parents of children under the age of six living in the roughly 2,300 apartments that were recently remediated due to having lead-based hazards. Dr. Herminia Palacio, deputy mayor for health and human services, blasted comparisons between the lead paint scandal and lead poisoning in Flint, Michigan.
Public Advocate Letitia James—who had called for Olatoye's resignation, started her own investigation into the matter and even called the scandal the city's "Flint moment"—made no qualms about her feelings. She told the crowd she will not apologize to de Blasio or anyone else for the comments she made at the hearing.
"If these children were living somewhere else, the public outcry would be all-consuming and the actions of leaders would be swift, immediate and severe," James contended. "But for some reason, children in public housing—excuses, excuses and excuses."
Council members were upset over NYCHA informing City Hall but not discussing it with the Council. And several of them pointed out action would have been taken more swiftly if the scandal occurred in luxury housing.
"When we were first made aware of this, why was there not better outreach and communication with the City Council which could have been a support system which we always have been?," Bronx Councilwoman Vanesa Gibson asked, saying that members and residents have "not been engaged in this process."
"We've been in the dark," she added.
As the hearing was underway, Olivia Lapeyrolerie, a deputy press secretary for de Blasio, circulated a July 26 letter in which Olatoye told residents NYCHA learned its compliance on certain lead-based paint regulations "is inadequate and incomplete" in connection with the U.S. Attorney probe.
She also sent out an email blasting comparisons to Flint as "alarmist and inaccurate." She said the childhood lead poisoning rate in New York City has consistently gone down by 70 percent since 2005.
In 2016, the spokeswoman added, fewer than 2 percent of children under 18 had blood lead levels of msg/dL (micrograms per deciliter, how blood lead levels are measured) or greater whereas at NYCHA, it was less than 1 percent.
"We want this rate to get to zero but the numbers show this isn't Flint," Lapeyrolerie wrote.
At the conclusion of Olatoye's testimony, Torres was not satisfied with what had heard. He would not weigh in on whether Olatoye should step down, though, saying he would leave that decision to the mayor.
"I am deeply disappointed with your testimony today," he said.
DOI Commissioner Mark Peters—the treasurer for de Blasio's 2013 campaign—told the committee the agency's investigation is ongoing and would not comment on the nature of the investigation.
"They failed to do lead testing and proper abatements and then they failed to make appropriate disclosures to the public, to the Council, to the federal regulators, of what had gone wrong," the commissioner told Council members.