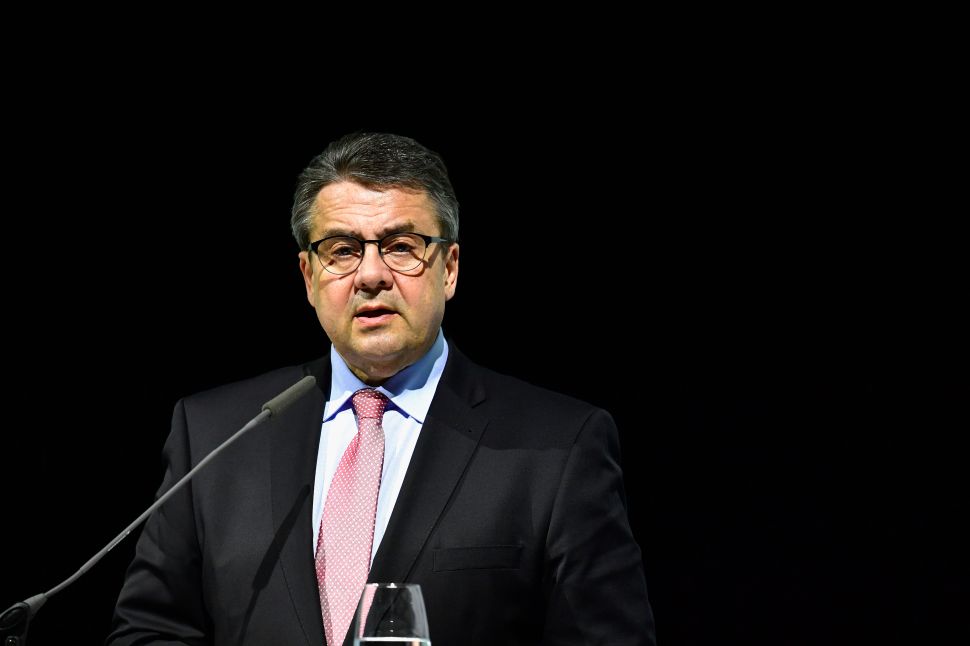 Imagine this: You had a charismatic friend through your teens and 20s. He wasn't your best friend, but he was a close friend. But as the two of you aged into your 30s, you grew apart.
And you allowed this to happen because your friend embarrassed you sometimes, and your mutual friends felt the same way about that friend. Eventually, everyone allowed their relationships with this friend to drift.
This is nearly exactly how Germany feels about their old friend America since President Donald Trump moved into the White House. When Trump was elected, German leaders were ill prepared to engage him.
Writing for Foreign Affairs about a week after the 2016 U.S. elections, Thorsten Benner, co-founder and director of the Berlin-based Global Public Policy Institute, summed up the German leadership's reaction to Trump winning the election.
"Last week, in a congratulatory note to the president-elect, German Chancellor Angela Merkel gently conditioned Germany's future cooperation with the United States on both countries' adherence to a set of shared values: 'democracy, freedom, [and] respect for the law and dignity of human beings, independent of their origin, skin color, religion, gender, sexual orientation or political beliefs,'" Benner wrote on Nov. 16, 2016. "It was a remarkable role reversal, and one that may set the tone for the relationship between Berlin and Washington in the years ahead: the leader of a country that owes its democracy to U.S. intervention was compelled to remind a U.S. president-elect of the fundamental principles of liberal government."
The Marshall Plan kick-started a 70-year partnership between the U.S. and Europe, helping to ensure the continent's good health through security, commerce and trade. But with Trump's winner-take-all attitude and divisive rhetoric, the European perception of America as a reliable partner has greatly diminished. In fact, Trump rankles Germans so badly they view diplomacy with Washington as a greater problem than potential threats posed by North Korea or Iran, according to an annual survey by The Körber Foundation, an international relations nonprofit headquartered in Hamburg that promotes peace through dialogue.
According to the Foundation's respondents, 56 percent believe the German relationship with Washington is bad or very bad; 63 percent think France is their most or second-most important partner; 59 percent think the EU is not on the right track; and a whopping 88 percent of Germans believe defense partnerships with European nations should be prioritized over those with the U.S.
These points were laid bare on Tuesday when Germany's acting foreign minister, Sigmar Gabriel, signaled Germany's intent to part ways with the U.S. and play a larger role in international affairs. He urged other European countries to follow suit.
"We must be able to define our own position and, if necessary, draw red lines, in partnership, but oriented around our own interests," Gabriel told attendees to a conference hosted by The Körber Foundation. "This means that as a matter of course we will also be seen as a competitor [by the U.S.]"
Gabriel also said Germans should begin to speak up on matters of foreign policy and let go of their self-induced silence, which was brought on by national shame from the atrocities of World War II.
So, is Germany ready to represent the West as chief global mediators, usurping America during Trump's tenure as president?
Daniela Schwarzer, director at the Berlin-based German Council on Foreign Relations, an independent think tank promoting public debate on foreign policy, said Trump's inflammatory speeches and decisions have vaulted forward a slow-simmering feeling within Germany that it should take on a greater role globally.
"Gabriel's comments should be seen in a line of thought and policy that dates back several years," Schwarzer told Observer. "The realism and skepticism on the possibility of transatlantic cooperation in times of Trump's presidency can be formulated now as German leaders have evidence of almost a year of Trump's foreign policy. His statements on North Korea, Iran, Israel and other matters show that the U.S. and the German government diverge openly on a number of policy matters… So it has become evident that it is in Europe's self-interest to engage more strongly, as the U.S. ally is no longer the reliable partner that is used to be."
She also noted the foreign policy community, at large, is concerned about peace due to Trump's public comments. And in an increasingly volatile planet, she said, security concerns are growing and "not being able to consider the US at as calculable and reliable partner is worrisome."
Even if Germany wanted to fill the vacuum being left by the U.S., as a country it's not ready to play that role, according to Sarah Brockmeier, a project manager specializing in German foreign policy for the Global Public Policy Institute, also based in Berlin.
"While some German politicians like Gabriel recognize the need for a stronger European and German role, for now, Berlin lacks the capacities to fulfill a global leadership role – not only militarily," Brockmeier said by email on Thursday. "Germany also lacks the diplomats to take on several major diplomatic initiatives at once."
She noted how directly Gabriel addressed both the foreign policy and economic interests of Germany, previously a major taboo among German diplomats. Former German President Horst Koehler had to step down when he mentioned Germany's economic interest in the NATO mission in Afghanistan.
"In this way, Gabriel's speech shows how the German debate on foreign and security policy has matured in the past years," Brockmeier continued. "This went along with Berlin taking on more responsibility in world affairs—not only in Europe. Angela Merkel took a leadership role on the Ukraine conflict, Germany armed and trained the Kurdish Peshmerga, participated in the anti-ISIS coalition and send hundreds of peacekeepers to Mali."
While some may say Germany has become the leader of Europe, it's currently premature to consider them beyond those margins. The country is still working through elections that were expected to give Merkel a clean victory, but instead have several parties competing in what looks like a potential coalition government. Snap elections are expected to be announced soon.
So, for the meantime, it looks like Gabriel was simply getting the buzz going and putting nations on notice: Germany is independent and won't be swayed by the U.S. or anyone else.
Les Neuhaus is a National and International Politics contributor for the Observer. Follow him on Twitter @LesNeuhaus