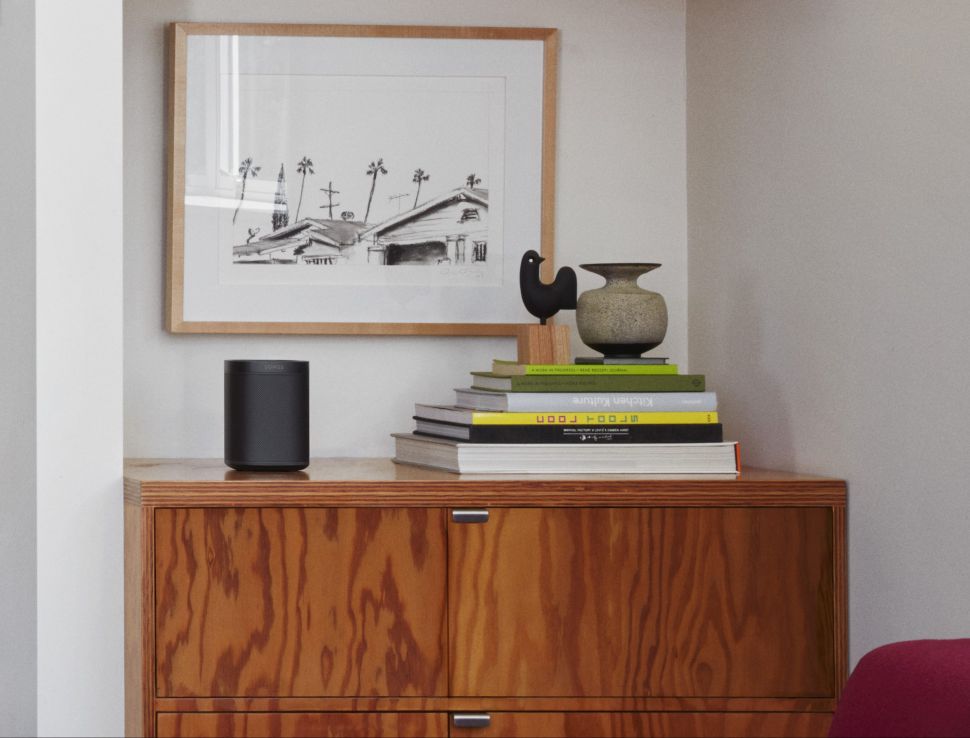 "Alexa, set a timer for five minutes."
"Alexa, set a timer for five minutes!"
"ALEXA, SET A TIMER FOR FIVE MINUTES!!"
Sorry, Alexa, I didn't mean to shout at you there. It's just that, well, it's a little maddening to talk to you these days. You look sleek and sound great in your new Sonos One incarnation. But man, it's sometimes tough to get you to listen.
It's no secret that Sonos, which pioneered the idea of Internet-connected, multi-room networked speakers, got caught flatfooted by the sudden success of Amazon's Echo, with its built-in voice-recognition and Alexa intelligent assistant.
Neither the Echo nor the highly similar Google Home hold a candle to Sonos in terms of sound quality. But Google has just released a larger (and considerably more expensive) speaker, Google Home Max, that takes dead aim at Sonos's audience.
And Apple is getting ready for the delayed release of its new HomePod speaker, which combines what it claims will be world-beating sound with built-in Siri voice recognition.
In other words, the stakes for Sonos couldn't be much higher as three incredibly deep-pocketed giants invade its turf. Its answer to these challenges, the $199 Sonos One, takes an innovative and ambitious, though also risky, approach.
Basically, Sonos has built the One to work with any of the three competing ecosystems. Out of the box, it comes ready to be configured with Alexa. Tell the One, "Alexa, play the Beatles in the bedroom," and "Hey Jude" starts to play. (It doesn't matter whether the bedroom speaker is an older, non-voice-controlled model.) It also runs many, though not all, of the thousands of Alexa skills created by third-party developers.
But the Sonos-Amazon relationship isn't exclusive. Starting next year, Sonos promises, it will add Google Assistant compatibility via a software update, allowing the same level of functionality to people who say "OK, Google…" as those who begin their instructions with "Alexa…" Also next year, the company says, it will introduce support for Apple's AirPlay 2 standard, meaning it should be controllable by any Apple device that responds to "Hey, Siri." An iPhone or iPad, say. Or a HomePod.
My early verdict on the One is mixed. As a connected speaker, it's great. As an Echo replacement, not so much.
Both physically and sonically, the One closely resembles the Play:1, the entry-level Sonos speaker. Like the Play:1, it's a six-inch tall cube that comes in both black and white and puts out astonishingly rich sound for such a small package.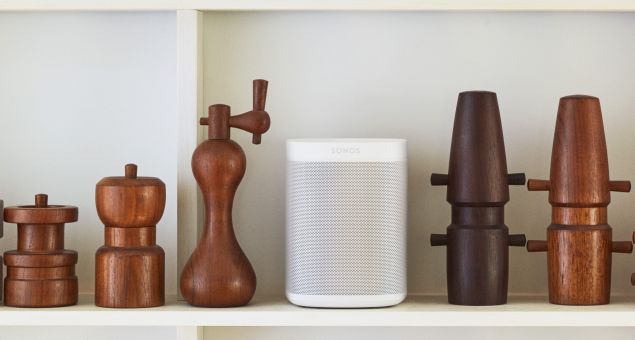 Using Sonos's controller app—available for iPhones and iPads, Android devices, Windows PCs and Macs—you can play music from a multitude of online sources: Spotify, Apple Music, Pandora, SiriusXM and Google Play Music, to name just a few. If you have speakers in multiple rooms, you can either coordinate them to play the same music throughout the house, or play different music in different rooms simultaneously.
The big difference between the One and the Play:1 is the microphone array that allows the new model to listen and respond. To test it, I planted the speaker on our kitchen counter near the stove, where previously a Play:1 and an Echo had stood side-by-side.
Setup was slightly more complicated than it had been for either of those two devices, since I had to use both the Sonos and Alexa apps to properly configure the One.
Unlike the Echo it replaced, whose microphones are so sensitive it would sometimes respond to dialogue from the TV in the next room, the One often failed to hear even a shouted command from a few feet away.
This was especially true if there was other noise in the room, such as the stove fan. Performance was better when I moved it to a quieter room, but still nowhere as good as Amazon's original. Nor am I the only one who's encountered such issues.
According to Sonos's tech-support people, whom I've used before and found to be very good, the issue is one of software, not a problem with the microphones themselves. The person I spoke with said a post-holiday update is expected to address the issue; officially, the company says only that "wake word detection is something we're constantly working on and we'll be improving performance through cloud software updates."
I certainly hope so. I've long had a soft spot for Sonos, but it's decidedly small fry compared to the Amazon, Apple and Google behemoths invading its space.
If everything works as intended, Sonos will be the most versatile smart-speaker system on the market. If it doesn't, well, there'll be three very large competitors ready to pick at the carcass.
Rich Jaroslovsky is an Observer technology columnist and vice president of SmartNews Inc. in San Francisco. Reach him at richj@observer.com or @RichJaro on Twitter.