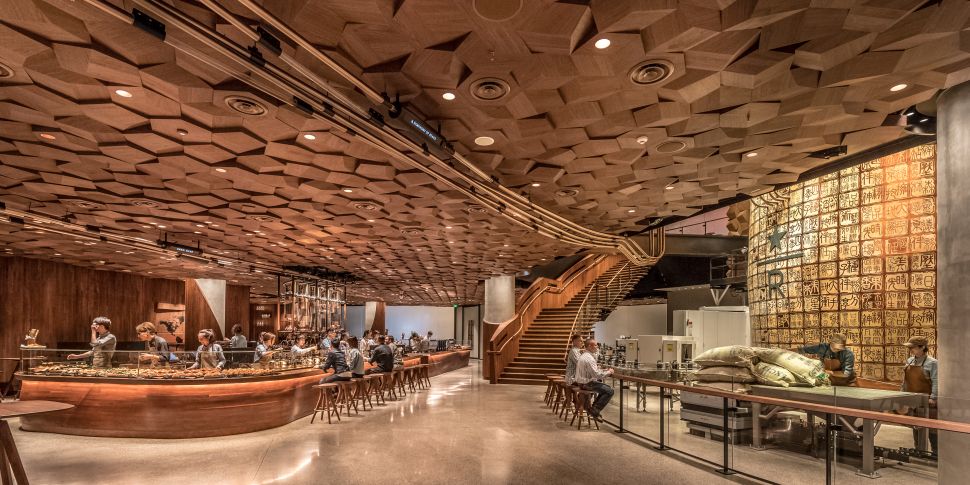 What would a supermarket-size coffee shop look like? Starbucks will tell when it unveils a new 30,000-square-foot "Roastery" store in Shanghai, China tomorrow.
Located on west side of Nanjing Road, Shanghai's busiest shopping and tourism district, the two-story Starbucks will be the largest in the world, checking every box on the retail buzzwords list: augmented reality, fully immersive experience, 3-D printing and local growing.
The "Roastery" concept is Starbuck's premium line of stores that, in addition to selling coffee, feature a number of experience-oriented elements, like coffee education programs, tasting rooms and so on. Starbucks launched this new type of store to seek an edge in the crowded market, and to differentiate from its image as the commercial street corner coffee shop.
Starbucks opened its first Roastery in Seattle in 2014. The Shanghai location is Starbucks' second, and twice as large as the Roastery in Seattle. Starbuck will open another Roastery in Milan, Italy in 2018 and Chicago in 2019.
Starbucks furnishes the Shanghai Roastery with Chinese culture-rich decor, blended with the latest trend of augmented reality. Partnering with Alibaba's e-commerce sites Taobao and Tmall, Starbucks' Shanghai Roastery uses a digital menu with visualizations of the coffee-brewing process, and company stories in a mobile app that offers customers a video-game-like experience as they walk around the store with smartphones.
The Shanghai store also sells Teavana tea for the first time, in what's called a "3-D printing tea bar." Tea products are a struggling subsidiary that Starbucks is eager to revive. In July, Starbucks announced the closure of 379 Teavana outlets across the country. It also sold Tazo, another tea brand, to Unilever in November.
But despite all of Shanghai Roastery's features, it's still a coffee shop at heart. At the three coffee bars (one of which is 88 feet long), Starbucks will, for the first time, add Chinese vendors to its suppliers list, brewing coffee beans grown in Yunnan, a southern province historically known for growing tea plants.
China is Starbucks' fast-growing and most important overseas market. In the third quarter ending October 1, China's comparable store sales grew 8 percent, compared to a 2 percent global growth and 2 percent growth in the U.S. market. In the fiscal year 2017, Chinese sales grew by 7 percent, while global sales grew by 3 percent.
"The affinity we have built with our partners (employees) and customers over the past 18 years in China is special and we knew we must bring the Reserve Roastery, our boldest, most premium store ever, to Shanghai, China's bustling metropolitan hub and one of the world's most dynamic retail destinations," CEO Howard Schultz said in a statement.
Starbucks opened its first store in China in 1999 in Beijing. Since then, it has opened more than 3,000 stores in 136 cities (more than 600 are in Shanghai), and is adding a new one every 15 hours, the company said in a statement.