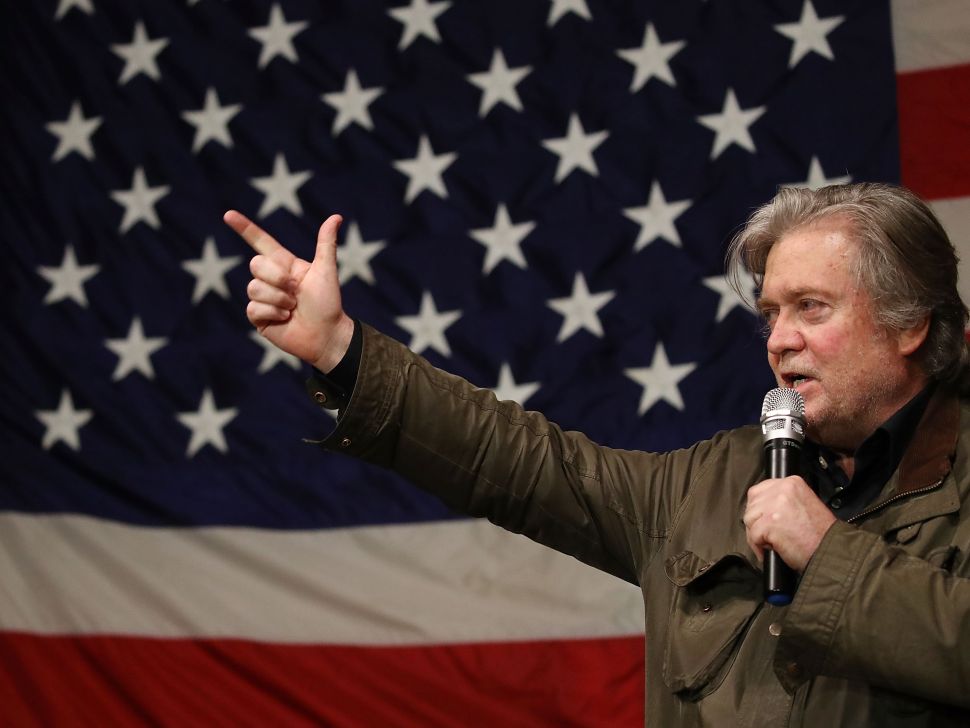 Breitbart executive chairman Steve Bannon has cut ties with Wisconsin congressional candidate Paul Nehlen. Although Nehlen received favorable coverage from Breitbart in the past, the candidate's recent slew of anti-Semitic remarks were the final straw for an organization accused of emboldening white supremacy.
"Nehlen is dead to us," Arthur Schwartz, an adviser of Bannon, told The Washington Post after Breitbart published a statement condemning the candidate's behavior online.
In early December, Nehlen appeared on a podcast produced by Fash the Nation, a website that explicitly endorses white supremacy. Nehlen has hurled racially charged insults towards columnists over Twitter, and tweeted a photo of The Culture of Critique— an anti-Semitic text promoting ethnocentric theories.
During the 2016 Republican primary in Wisconsin, Breitbart sent reporter Matthew Doyle to cover the candidate's run against House Speaker Paul Ryan. Though Nehlen lost by a significant margin, his Breitbart coverage was favorable and he later contributed writing to the site before announcing his 2018 candidacy this past summer. On the eve of Alabama's special election, he spoke at the same campaign rally for former GOP candidate Roy Moore as Bannon.
"You're going to see candidates like Roy Moore, like myself, like Kelli Ward [of Arizona] standing strong with President Trump," Nehlen told The Post after his endorsement of Moore at the rally. His appearance alongside Bannon occurred just days after his appearance on the Fash the Nation podcast.
Bannon worked tirelessly to elect Moore but failed after the Post report raised sexual misconduct allegations against the candidate, many of which may have occurred while the women in question were teenagers. Doyle was even dispatched to Alabama to discredit Moore's accusers on Breitbart.
Following Moore's loss in Alabama—which handed a 25-year Republican stronghold to a Democratic challenger—Bannon is restructuring his political operation. Nehlen's author page has since been scrubbed from Breitbart while the site's senior Joel Pollak tweeted that the organization doesn't "support him." Though Nehlen's white nationalism was documented well before December, Bannon's rebranding efforts require new allies and a break from racial controversies that have damaged his populist uprising.