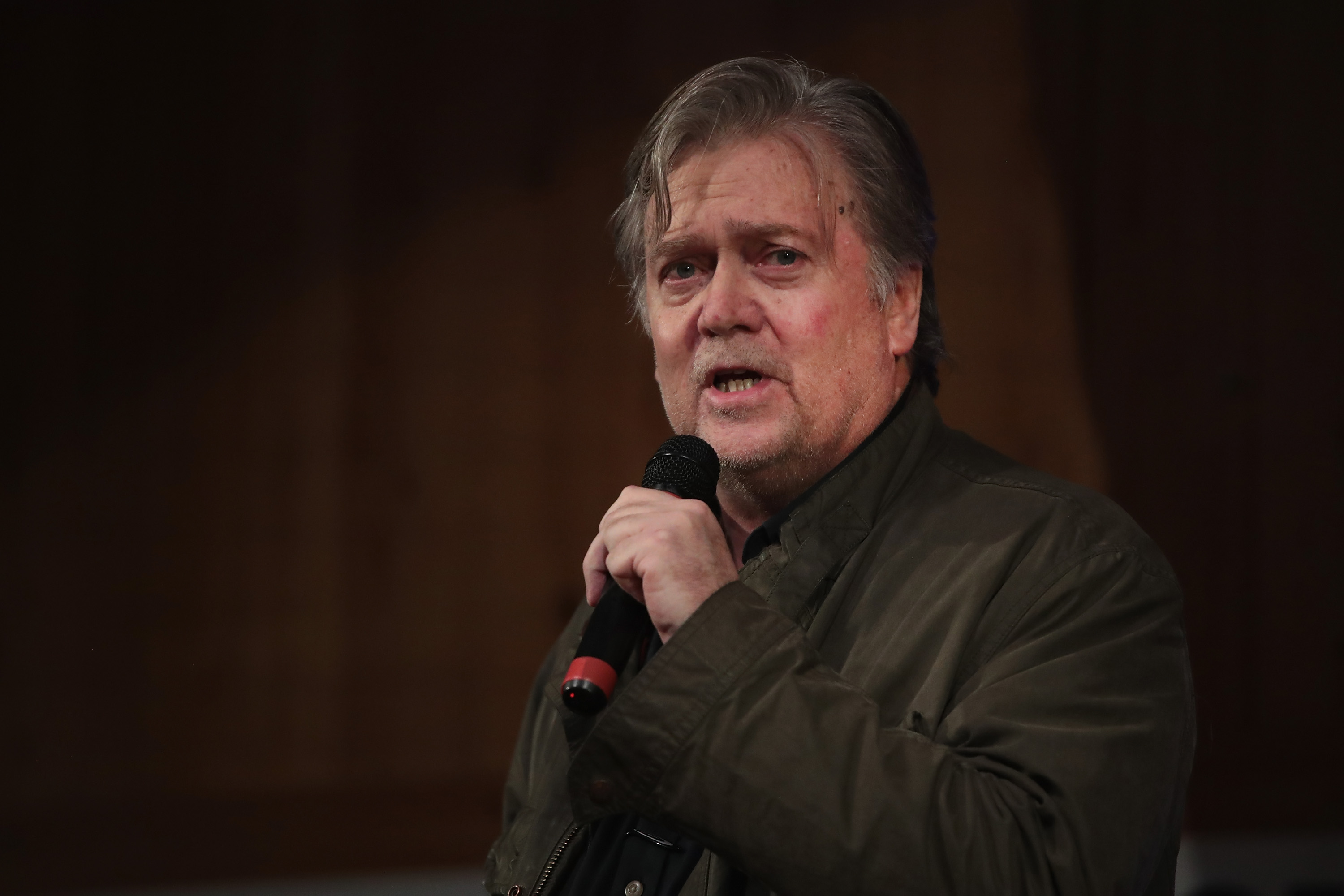 On Tuesday night, CNN kept promising a big Steve Bannon show. Bannon—whisperer to amateur President Donald Trump and shouter to the world—was making a speech in Alabama on behalf of Roy Moore, the Republican Senate candidate and accused sexual predator with a preference for teenage girls.
The CNN screen showed men on stage in cowboy hats with guitars and banjoes to warm up the crowd in front of a big American flag in a large barn. But, soon, Bannon would introduce Moore, a Republican Bible-thumper up for election next Tuesday against the Democratic candidate, Doug Jones.
Oh, you'll want to hear his words, CNN said. Stay tuned!
"We are told he will breathe fire at this event," reporter Gary Tuchman assured anchor Anderson Cooper on Anderson Cooper 360, shortly after 8 p.m. But even though Bannon soon spoke, CNN refused to cover it live.
Finally, around 9:03 p.m., in Cooper's second hour, CNN showed a clip from the speech recorded shortly before. With poor sound quality that made it hard to hear, Bannon attacked Mitt Romney because Romney questioned the honor and integrity of supporting someone like Moore.
"The only reason I'm going there, Mitt," Bannon said, "is you started it."
It sounded promising. And then—nothing! CNN went away from the speech. But, if you went on the internet, it was easy to find better quotes from Bannon about Romney. They were filed on Twitter by non-CNN reporters at the scene.
Bannon faulted Romney, a Mormon, for not fighting in the Vietnam war, as Moore did.
"You hid behind your religion," Bannon said, in one of his tweeted quotes. "You went to France to be a missionary when guys were dying in Vietnam."
Another quote read,"Judge Roy Moore has more honor and integrity in that pinky finger than your entire family has in its whole DNA."
Why weren't these quotes on CNN? Where were the sound bites? Bannon is important.
Formerly Trump's presidential campaign chairman and White House chief strategist, Bannon runs Breitbart News and is leading a faction of right-wing extremists who seek to seize power from traditional Republicans and lead American nationalists in a holy war against the Muslim world.
If you doubt this, read Devil's Bargain, a first-rate book by Joshua Green about the relationship between Trump and Bannon. Explaining the consequences of Moore's race was one of Cooper's guests, Brian Fallon, a former aide to Hillary Clinton, who lost last year to Trump.
"If Steve Bannon prevails and Roy Moore wins in this Alabama race, he's going to be emboldened," Fallon said. "You're going to see him enter races against other Republican incumbents."
But if Moore loses, Fallon said it will "put this idea to rest that Steve Bannon is some Goliath in the Republican Party."
When Cooper's producers finally found a long sound clip from Bannon to put on the air at 9:13 p.m. they used a relatively weak one about Romney and GOP Senators Jeff Flake and Mitch McConnell.
"This is what you've got to understand with Flake and Romney and McConnell and the whole crowd," Bannon told the Alabamians. "This is the scam: They don't mind giving up a seat to a Democrat. You know why? They don't mind being in the minority party. They don't mind being out of power. They don't because they can make as much money on the way down as they made on the way up, right?"
Bannon displayed his macho-man look of shaggy hair, khaki slacks, baggy jacket and the layered look of several open-collar shirts. He stalked the boards, raised his voice and waved his arm.
Finally, on the next show, at 10:49 .m. on CNN Tonight with Don Lemon, CNN found a Bannon sound bite that revealed the true nature of his vitriolic venom.
"You ran for commander-in-chief," Bannon said, as if speaking to Romney. "You had five sons. Not one day of service in Afghanistan and Iraq. We have 7,000 dead and 50,000 casualties. Where were the Romneys during those wars?"
By now, near the end of prime time, the outrageousness of Bannon's words became clear to CNN hosts, viewers and panelists like Ana Navarro. After pointing out how Trump dodged the draft during the Vietnam war, Lemon said to Navarro, "It takes a lot of gall for Bannon to bring up military service."
"It takes more than gall," Navarro said. "It takes absolutely no shame… Trump's sons didn't serve."
Bannon, Navarro said, "wants to be the Lex Luthor, the villain of the Republican Party."
As for the other news channels on cable, the coverage was even more spotty on MSNBC and invisible on Fox News Channel, which usually gives Bannon much air space. On The Rachel Maddow Show on MSNBC, columnist John Archibald of the Birmingham News reported from outside the venue about the local reaction to Bannon.
"Honestly, he sometimes seemed a little more popular than Roy Moore did," Archibald told Maddow. "Certainly the crowd was more attentive when Steve Bannon was speaking than when Roy Moore was… Bannon made it fairly clear that this is a referendum on Trump in Alabama… It is intense."
Joe Lapointe spent 20 years as a sports reporter for The New York Times and worked as a segment producer for Countdown With Keith Olbermann. Recently, he has taught journalism at New York University, Rutgers and Long Island University-Brooklyn. Follow him on twitter: @joelapointe