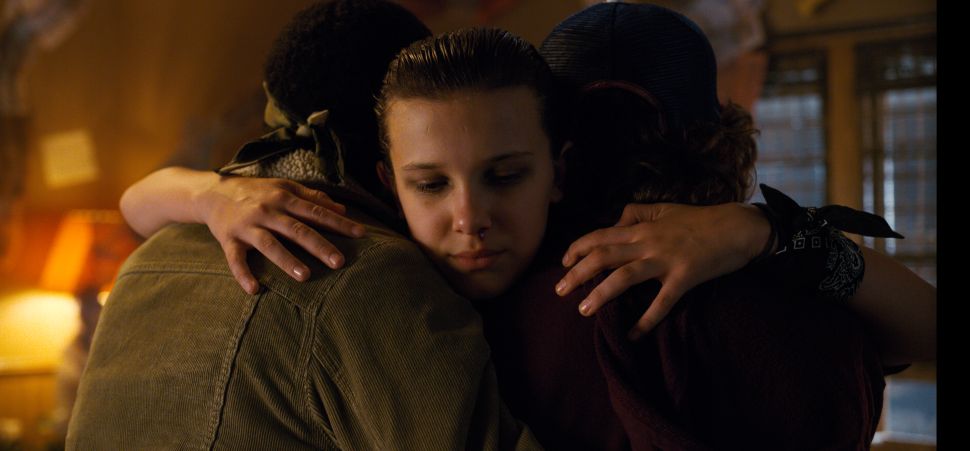 Stranger Things season one was a full blown phenomenon that took the TV-viewing world by storm in summer 2016. Stranger Things 2 was a very solid and enjoyable second go-around that we would watch anytime. It was also an absolute "ratings" monster (insofar as Netflix has ratings) that solidified the series as one of Netflix's biggest hits and one of the most popular shows around. It should come as no surprise then that Stranger Things has been renewed for a third season.
The company announced Friday that it would return to Hawkins, Indiana, with the full main cast expected to return. That includes: Winona Ryder as Joyce Byers, David Harbour as Chief Jim Hopper, Finn Wolfhard as Mike Wheeler, Noah Schnapp as Will Byers, Millie Bobby Brown as Eleven, Caleb McLaughlin as Lucas Sinclair, Gaten Matarazzo as Dustin Henderson, Cara Buono as Karen Wheeler, Natalia Dyer as Nancy Wheeler, Charlie Heaton as Jonathan Byers, Joe Keery as Steve Harrington, Dacre Montgomery as Billy, and Sadie Sink as Max.
According to Nielsen viewership data, season two averaged four million viewers per episode within the first three days of its release. That includes a staggering 15.8 million viewers for the premiere within its first 72 hours of availability. Those numbers have likely gone up since the show hit the streaming service in late October. For comparison, HBO's Game of Thrones set a series ratings record when 12.1 million live viewers tuned into the season seven finale.
Season one earned an impressive 18 Emmy nominations, though it was Hulu's The Handmaid's Tale that claimed the first-ever Best Drama statue for a streaming service. Still, Stranger Things has proven to be a cross-generational hit with serious value in merchandising and licensing. Netflix is making a killing off the series, which will likely lead to a renegotiation between the show's young breakout cast and the company.
"In September, sources told THR that stars Finn Wolfhard, Millie Bobby Brown, Gaten Matarazzo and Caleb McLaughlin each got $30,000 per episode for the first and second seasons with a bonus — less than six figures — once it became clear that the show was a phenomenon. While the cast is signed for six years, talent reps say a renegotiation will happen in early 2018. One question yet to be addressed: whether the show's breakout, 13-year-old [Millie Bobby] Brown, will negotiate separately from the other young stars."
No release date has yet been set for season three, but fans can expect a similar time jump as was seen in season two, which took place roughly a year after the show's inaugural bow.
"Even if we wanted to hop into the action faster, we couldn't," co-creator Matt Duffer previously told THR. "Our kids are aging. We can only write and produce the show so fast. They're going to be almost a year older by the time we start shooting season three. It provides certain challenges. You can't start right after season two ended. It forces you to do a time jump. But what I like is that it makes you evolve the show. It forces the show to evolve and change, because the kids are changing. Even if we wanted it to be static and we wanted to continually recycle the same storyline — and we don't — we would be unable to, just because the kids are changing. It's cool, though. The audience is going to be able to watch these kids come of age every year. The closest example is Harry Potter. Watching those kids and actors grow up in front of the camera was, to me, very powerful. I mean, I wasn't a kid when I experienced that, and I can only imagine if you were a kid and you were their age, it would have been even more powerful. That's what I'm excited about. It's a long way of saying that yeah, we're going to do a time jump."
The Duffer Brothers have said previously that they see Stranger Things lasting four to five seasons.