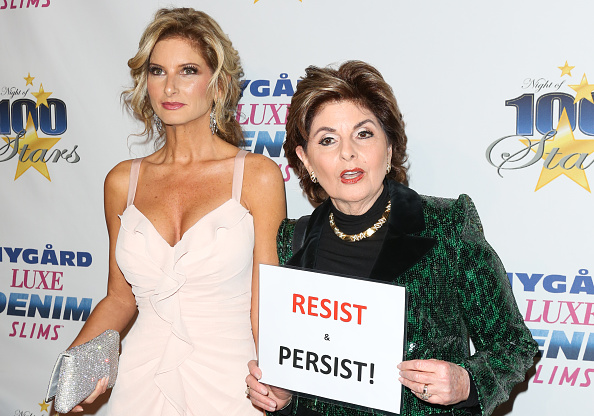 President Donald Trump's attorney is trying to get a defamation lawsuit filed by a former "Apprentice" contestant who alleges Trump sexually assaulted her in 2007 dismissed on the grounds it will interfere with his job as president.
Summer Zervos, a former contestant on the NBC show in 2006, said Trump ambushed her on more than one occasion in 2006, according to the complaint filed in New York State Supreme Court in January. The complaint alleges that Trump suddenly and without her consent kissed Zervos on the mouth repeatedly, touched her breast and pressed his genitals against her.
The complaint says Zervos on one occasion shoved him away and repeatedly told him to stop his "inappropriate sexual behavior."
Trump has called Zervos a liar and has said he never acted inappropriately with her. During a presidential debate last year, he said that several women accusing him of inappropriate behavior were "either being put forward by the [Hillary] Clinton campaign" or were motivated to come forward by "getting '10 minutes of fame,' and nothing more," the complaint added.
Zervos is seeking a retraction, an apology and at least $2,914 she suffered in financial losses due to her restaurant losing customers.
At a hearing in state court in Manhattan on Tuesday afternoon, Marc Kasowitz, Trump's personal lawyer, contended the lawsuit would make it harder for Trump to perform his presidential duties. He also maintained the New York State Supreme Court does not have jurisdiction in the case because Trump is still in the White House. He previously filed a motion to toss out the suit.
"State court can't exercise any control over the president under any circumstances," Kasowitz said during the hearing, according to ABC News.
Mariann Meier Wang, one of the lawyers representing Zervos, argued that the president could be sued under state law.
The judge, Justice Jennifer Schecter, will file a decision as to whether the lawsuit should proceed or be dismissed, but she did not indicate when, according to attorney Gloria Allred, who is also representing Zervos.
Allred told Observer that they have a "really compelling case to make." They filed an opposition to Kasowitz's motion to dismiss. Their argument, she said, is that the 1997 U.S. Supreme Court decision, Clinton v. Jones, that prevented former President Bill Clinton from invoking presidential immunity to dismiss a sexual harassment lawsuit showed "no man is above the law, including the president of the United States."
"We are alleging in the lawsuit that … then-candidate Trump defamed our client and that that was an unofficial act that he committed prior to having been elected as president of the United States," Allred said. "Our argument would be he's not immune from a lawsuit and in addition to that, that if Congress wanted the president of the United States to be legally immune from a lawsuit, Congress could have passed a law in which they caused the president to be legally immune from a lawsuit but Congress has not passed such a law."
Allred said her team is willing to do everything reasonable to accommodate Trump's schedule "consistent with our client's rights." She said she was concerned evidence could be destroyed during the seven-year delay Trump's lawyer is seeking.
"We suggested that we would be willing to take his deposition, his testimony under oath, between his rounds of golf at Mar-a-Lago," Allred said.
The hearing came amid a number of sexual assault allegations against public figures, including celebrities, politicians and musicians. Time Magazine has named "The Silence Breakers"—the #MeToo movement started by activist Tarana Burke—as its Person of the Year.
Kasowitz did not respond to a request for comment.