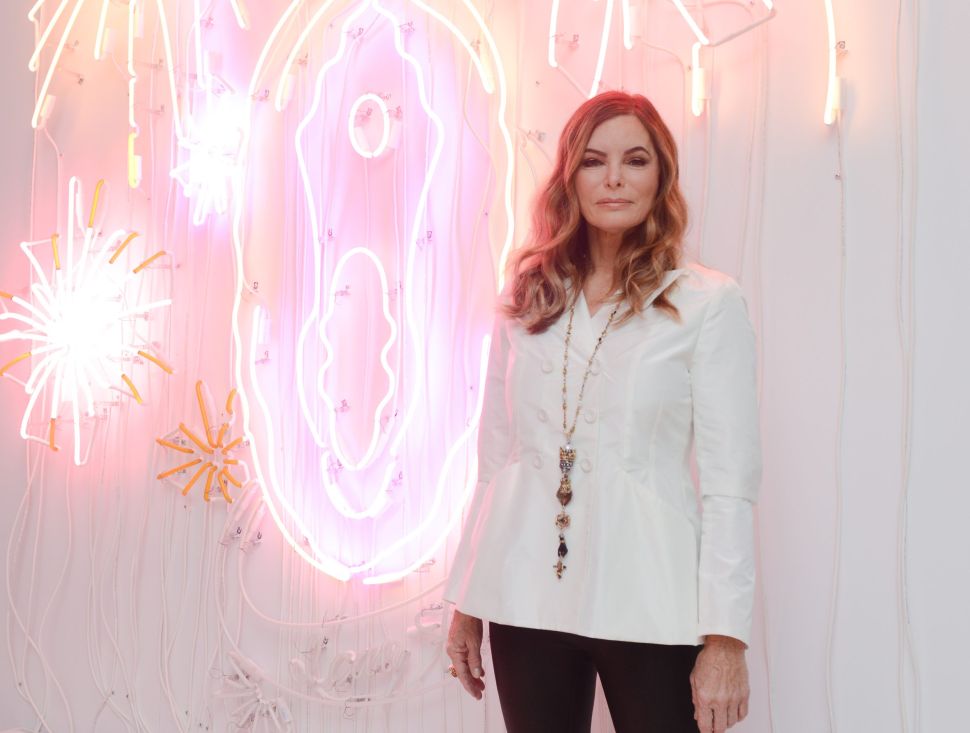 Suzy Kellems Dominik might be the only artist exhibiting at this year's Miami Art Week who's repeatedly receiving the question, "why the orgasm?" Her work, a 12-foot-tall neon sculpture of a vagina that flashes on a 27.68-second loop, will be on view at the Nautilus Hotel on Collins Avenue until December 10. After the vulva shapes flash in pink, orange, and red, the surrounding red and orange fireworks go off, a bluebird flashes near the top, and a ribbon swirls around the anatomical element with dainty cursive lettering reading "I can feel" (also the name of the artwork) at the bottom. It's clearly in the throes of passion—self-induced, perhaps, given the absence of a supporting character.
"Our emotions and our intellect and our bodies can come together in this glorious release of humanity, and orgasm is a pretty remarkable thing," Dominik told Observer. "And to distill myself poetically down to that moment, I think is a very interesting artistic device." She describes I Can Feel as a kind of self-portrait, herself as an emotional autobiographer. Her past work has explored similar themes of sexuality, pleasure, and the private made public. During 2015's Miami Art Week, Dominik exhibited an installation called In Her Dreams, which centered on a woman's bed. Her Hateful Love prints from the same year read "CREEP," "FUCK YOU," and "I WIN," the crimson text overlaying delicate bird and plant imagery.
If Dominik's neon vulva is deeply personal, she also hopes that it will connect with a much larger audience and the issues of sexual harassment and inequity that have recently dominated the news. "We live in a society where monsters walk amongst us," she says, implicating unnamed elected officials. "Some might think of this work equally obscene as an ejaculating penis. The difference though might be that the entire construct of civilization is based on an ejaculation. Sadly, women are not part of that narrative."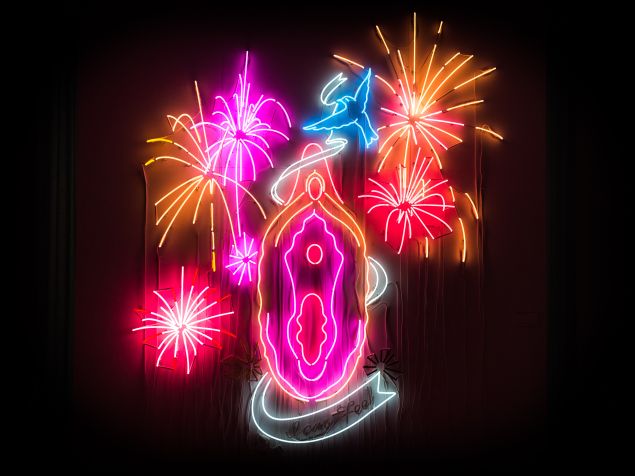 The Weinstein scandal and its reverberations have loomed in other performances this week as well. On Tuesday evening, artist Tara Subkoff orchestrated "Synaptic Fatigue/Dear in the Headlights" on La Vista Terrace off the Miami Beach Edition's fourth floor. Clad in black leotards and tights, illuminated by spotlights, 17 women including actress Selma Blair and the musician and model Caroline Vreeland stood in place for an hour, conjuring whatever emotions they'd felt during a time when men had abused or treated them unfairly in the workplace. Some cried and gripped their stomachs as opera singer Rebecca Ringle contributed auditory angst. Michele Pred led a Parade Against Patriarchy on Wednesday morning, with women decked in pink pussyhats and feminist-branded attire ("My Body My Business," "Nasty Woman," etc.) marching to chants of "Love, not hate, makes America great."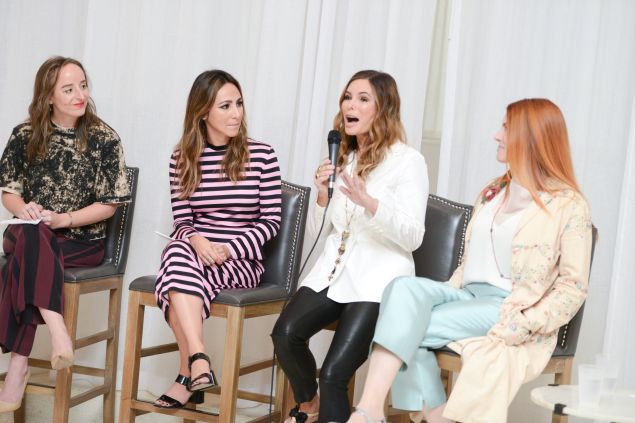 Dominik cites a personal, momentary inspiration for her own work. She was attending a hoedown party in Wyoming, where she lives part of the year. At the time, she was getting over a bad relationship ("I was a husk of myself," she said), and a dance with a friend's husband's fraternal twin brother gave her a sense of abandonment and joy she knew she had to express in another medium. I Can Feel appeared in her imagination fully formed, bluebird and all. Over time, she settled on neon for her media and then selected specific colors. "The mandate was no red-hot vaginas," she says. "I wanted a work that was visually welcoming and I really restricted myself to the palette like one would see at the inside of a conch shell, like one would see if you opened your labia."
At a panel discussion on Wednesday, Dominik spoke with Kristina Aducci, the founder of Art Zealous; collector Holly Hager of art rating site Curatious; and social media expert and curator Beckie Warren, whose Instagram handle girlseesart has acquired over 13,000 followers. Warren proffered a tip for taking the best possible selfie with the work. "What you can do is stand in front of it and it creates a silhouette of your body with the piece really shining through," Warren said. Dominik is thankful for her work's popularity via social media, though both she and Warren advocate seeing it in person. "How many vaginas do you actually see in museums?" asked Dominik, suggesting that there are far fewer than male genitalia. Same goes for hotel lobbies—take the rare opportunity, if you can, to let the neon tower over you. Selfies optional.
Alina Cohen is a freelance writer based in Brooklyn.