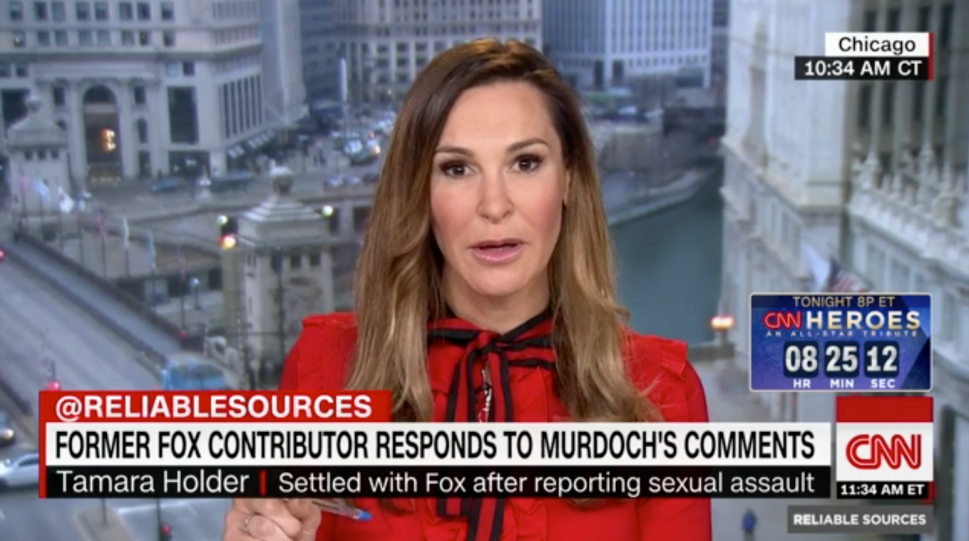 Rupert Murdoch, the chairman of Fox News, lit a fuse last week when he dismissed sexual harassment at his right-wing network as "a bit of flirting, you know?"
His haughty words ignited a string of verbal explosions from sexual harassment survivors from Fox News. A big blast came Sunday from Tamara Holder on Reliable Sources on CNN.
"He said that there were cases that amounted to flirting," Holder told host Brian Stelter. "Let me be clear: I had a man pull out his penis in his office and shove my head on it. That was not flirting. That was criminal."
That man was neither Roger Ailes nor Bill O'Reilly nor Eric Bolling, three well-known Fox creeps already fired for sexual harassment. According to a New York Times story in March, the man accused by Holder was Francisco Cortes, then the vice-president for Fox News Latino.
The Times report said papers drawn up by Holder's lawyers accused Cortes of bringing her into his office, shutting the door, pouring two shots of tequila and holding the door shut with one hand while using the other to force her head into his crotch.
This was in 2015. She escaped, filed a complaint in 2016 and later settled for $2.5 million. Cortes got fired. But Holder said Sunday she and other female Fox victims have been virtually blackballed in the television industry, and that her treatment from Murdoch and his men has damaged her emotionally.
"He ruined my life," she said of Murdoch. "It's just pain on top of pain on top of pain. There's so many women, Brian, who are hurting . . . I had to do an MDMA illegal therapy to deal with my PTSD because I couldn't function."
MDMA is a drug sometimes called ecstasy or molly. PTSD is post-traumatic stress disorder. Holder spoke on a remote hookup from Chicago. She seemed furious but in control. He voice cracked twice.
She is a lawyer and she said she can now legally ignore the non-disclosure clause of her settlement with Fox because Fox broke it by publically disparaging her, although Murdoch didn't use her name.
The Fox scandals, which began in 2016 when Roger Ailes was fired following Gretchen Carlson's accusations, were the first tremors in an earthquake of allegations of sexual harassment that has toppled powerful men in many professions in recent months.
Among those in the TV media are Matt Lauer of NBC and Charlie Rose of CBS. But there is a particularly odious quality to the Fox revelations, so many of them. The Huffington Post reported on Friday that it interviewed 10 women who either work for Fox now or have worked for Fox in the past and were sexually harassed.
They said they were "stunned," "disgusted" and "hungry for justice" after Murdoch's callous comments, according to the HuffPo piece.
When asked by Sky News if the sex scandals had hurt Fox News as a business entity, Murdoch replied "All nonsense. There was a problem with our chief executive, sort of, over the years, isolated incidents. As soon as we investigated it he was out of the place . . . And there's been nothing since then. That was largely political because we're conservative."
In a Facebook post on Saturday, Juliet Huddy—one of O'Reilly's accusers—said more Fox executives are going to be exposed and that some of them still work there and some of them are women who helped cover up dirty deeds.
"Rupert Murdoch is not just a media mogul," Huddy wrote. "He is a perpetrator, complicit in wrecking careers of hard-working, talented people while protecting their tormentors."
Murdoch owns not only the most conservative television network in the United States but also the Wall Street Journal, the leading conservative newspaper. He is close to President Donald Trump. Like Trump's wife, Murdoch speaks with an accent because he's an immigrant. Trump—generally an immigrant-bashing demagogue—appreciates some wretched refuse of teeming shores.
When Murdoch made a $52 billion deal last week to sell most of his 21st Century Fox holdings—but not Fox News Channel!—a White House spokesperson said Trump called to congratulate Murdoch. The two talk often. Murdoch advises Trump and Fox trumpets Trump.
The Fox show parallel to Reliable Sources on Sunday is Media Buzz with Howard Kurtz. His report on Murdoch's controversy lasted 50 seconds, a straight read with no video, not even a still picture. Later in the show, Kurtz crowed about Murdoch's business deal with Disney, with swell pictures of the boss.
One visual characteristic of the Fox News "look" is the objectification of women. Many Fox female journalists are blonds in sleeveless red dresses. Shows like Outnumbered feature women in short skirts sitting with their unblocked legs to the camera like a Rockettes chorus line.
Like Holder on CNN, Huddy in her Facebook post said sexual harassment victims at Fox can't find work.
"Hire Juliet Huddy?" she wrote. "You risk alienating a chunk of your audience that sees her as trying to dismantle Fox News or sees her as an unhinged, thrice-divorced man-hater who ruined their evening programming by helping to get Bill O'Reilly fired."
Holder told Stelter she spoke not just for herself and not just for the women of Fox but also "on behalf of every woman in America who's been abused." But her emotions were primarily with women of her craft in exile.
"I can't ever work anywhere again," Holder said. "You have all this talent sitting at home dying inside. We just want to work. Bring us back."
Joe Lapointe spent 20 years as a sports reporter for The New York Times and worked as a segment producer for Countdown With Keith Olbermann. Recently, he has taught journalism at New York University, Rutgers and Long Island University-Brooklyn. Follow him on Twitter: @joelapointe