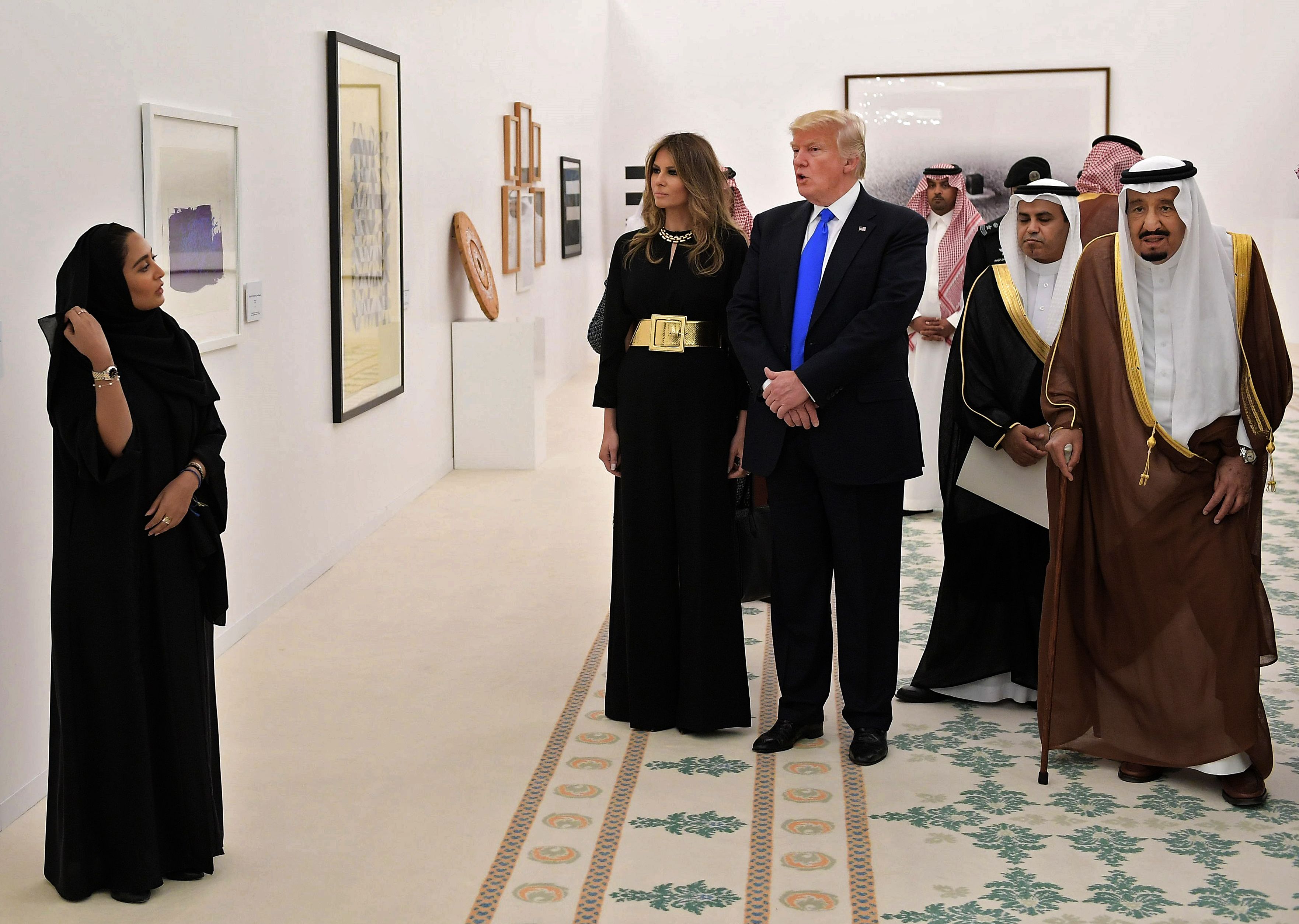 Before he even took office, President Donald Trump made headlines with his sweeping proposals for budget cuts and reforms that would purportedly "make America great again." While his threats to dismantle the Affordable Care Act have dominated the news cycle, his plan to cut spending in arts and culture also poses significant threats to the economy.
To many Americans, the phrase "arts and culture" refers to museums, music, and entertainment rather than economic stimulus. But the National Endowment for the Arts and the U.S. Bureau of Economic Analysis found that arts and cultural production generated more than $704 billion for the American economy in 2013 — outpacing the construction, transportation, and warehousing sectors. Despite consistent decreases in funding in recent years, the arts industry accounts for 4.2 percent of the gross domestic product and even posted a $24.1 billion trade surplus in 2013.
Yet the industry faces a $10.5 trillion reduction in federal funding over the next decade. If implemented, those cuts would adversely affect low-income communities and deal a serious blow to blue-collar workers throughout the country. Programs that encourage learning and self-expression among marginalized students would dry up, leaving even fewer cultural resources in the neediest areas.
Rather than stimulate growth, the far-reaching effects of such cuts would bring forth the opposite of President Trump's promised economic revival.
What We Lose When the Arts Are Left Behind
There are both quantitative and qualitative benefits to the arts.
Qualitatively speaking, arts and culture programs facilitate learning and conversation across disciplines. As Dr. Adrienne Clancy shared in her recent TEDxMidAtlantic presentation, the arts help bridge contextual gaps between the creative and scientific realms. Innovative approaches to learning are often critical to helping students grasp complex concepts.
Art also transcends language barriers and enables people from different backgrounds to find common cultural ground. We all know what it's like to look at a painting or photograph and experience passion, anger, heroism, and fear. Powerful images and works of art can unify people across borders, languages, and cultures, opening dialogue instead of closing doors.
Music, theater, writing, and other forms of creative expression have long been used to inspire young people to greatness. Organizations such as the National Endowment for the Arts have enabled millions of Americans to attend enriching concerts and cultural events, a privilege that's now jeopardized by the president's proposed cuts.
The economic disadvantages of losing such arts programs cannot be overstated. As the world becomes more globalized, a multicultural mindset is essential to succeeding in the changing labor market. People who can think with both sides of their brain and work in a global ecosystem, rather than focus solely on their own world, are essential to succeeding in the future workforce.
Cultural programs are also excellent sources of job creation. Case in point: The Actors' Equity Association alone represents 50,000 performers and stage managers. Internationally, there's been a surge in interest around how creative industries contribute to sustainable and inclusive growth. If the U.S. hopes to continue attracting top professional talent from around the world, it can't afford to ignore the power and influence of the artistic sector.
Furthermore, defunding the arts would harm the manufacturing industry, a troubled sector President Trump vowed to invigorate once in office. More than 702,000 American businesses have ties to creating and distributing artistic goods and services. Collectively, they employ nearly 3 million people, illustrating just how far the arts' reach extends. A $10.5 trillion funding cut would undoubtedly hurt many of the blue-collar workers to whom the president so often appeals — and not just in terms of potential educational enrichment, but real jobs, too.
Take, for instance, folks who work for rural radio and TV stations and are all but guaranteed to lose their jobs in the face of budget cuts to the arts. Workers who build equipment used in newsrooms, on movie and TV sets, and in other entertainment capacities would be affected as well.
In other words, the very people Trump promised to help would be among the most negatively impacted.
The Future Lies in Creative Entrepreneurship
Rather than slash arts and culture funding, President Trump should draw on his own entrepreneurial spirit and encourage innovation and cross-sector collaboration. Arts workers are integral to a wide range of industries, and their creativity could spur economic development in new and profitable ways if appropriately harnessed.
Whether you look at construction, manufacturing, agriculture, or any other field, artists have significant current and future roles to play. They're the ones designing libraries, curating museums, crafting musical instruments, and driving the popularity of trends. If President Trump sought common cause with artists instead of disenfranchising them, he could produce truly groundbreaking initiatives that boost the economy and position the U.S. as a continued leader in global innovation.
I see this potential in my own industry: accounting. Creative entrepreneurs could help bring accountants into the future by rethinking client experiences and reframing the narratives that define our industry's use of technology.
Technology, in particular, has driven changes within the accounting world in recent years, forcing firms to adapt to new ways of supporting our small business clients. The disruption already underway has created an ideal moment for professionals from these seemingly different fields to work together and generate greater value for one of the most important job creators in our economy: the nearly 29 million small businesses.
Professionals who operate outside the traditional corporate sphere can also help create more meaningful corporate social responsibility programs that foster better relationships between businesses and their surrounding communities. Bringing fresh voices into industries, supporting a movement toward conscious capitalism, and trying to break free of decades of stagnation could yield untold benefits under the right conditions.
Where #ArtsMeetsBiz, artists are a critical part of this movement. Meanwhile, those same writers, filmmakers, musicians, and other creative professionals will benefit from exposure to entrepreneurship and business best practices. It's a win-win.
By shifting from eliminating the arts to integrating them further into the economy, President Trump has the opportunity to nurture a new generation of diverse, communicative, and multitalented workers.
Although his campaign rhetoric took on an America-first tone, as president, Trump must grapple with the fact that the world is globalizing. As former President Barack Obama understood when negotiating the Transatlantic Trade and Investment Partnership and Trans-Pacific Partnership, the U.S. needs to foster a multicultural workforce if it is to stay competitive on the world stage.
To operate from the current Trump perspective is shortsighted and will lead to other disasters for future generations. Furthermore, his planned budget cuts will not ultimately move the needle: It's estimated that the elimination of the NEA and National Endowment of the Humanities "would save a paltry $300 million from the government's allotted $1.1 trillion in overall annual discretionary spending."
For the sake of our country's long-term benefit, we cannot afford to pretend like the world is not interconnected. Art is a universal language — and it's one that's becoming increasingly necessary to break down the walls between cultures and communities. Cultural programs provide the backbone to many of the U.S.'s and the world's most treasured institutions. It's time for President Trump to honor those contributions while weaving them into an economic vision for the future.
Mathew Heggem, aka the dancing CEO, is the co-founder and CEO of SUM Innovation, a national accounting consulting firm that helps fast-growth businesses achieve next-level finance and accounting departments. Mathew also co-founded Neuland Alliance, a transatlantic consortium of specialists dedicated to serving global entrepreneurs in their U.S. expansion. When he's not in the office or on the road, he's in the studio as a choreographer for Left Side Labs.