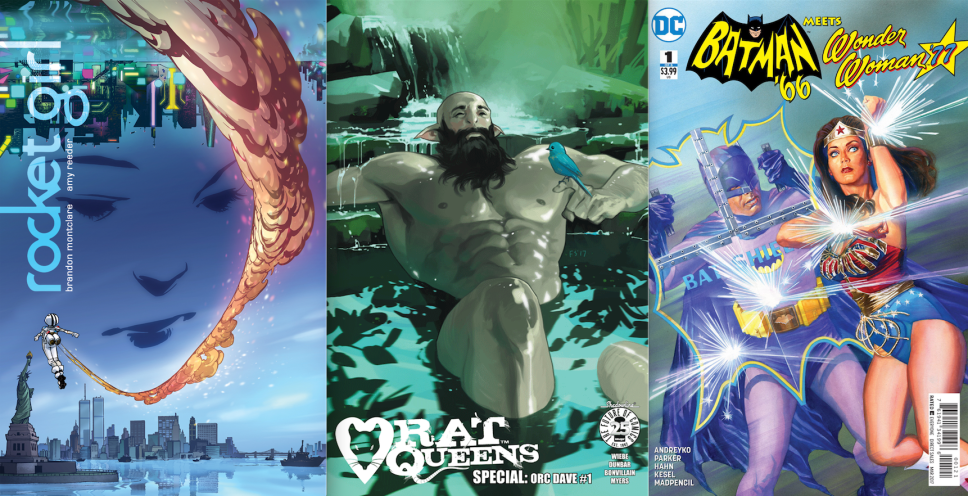 They say you shouldn't judge a book by its cover, but a comic book often lives or dies thanks to the cover image that greets you when you enter your friendly neighborhood comic book store. While it's arguable that the heyday of great comics covers has come and gone, there were certainly some standouts this year that popped off the shelves. Here's a list of the years ten best covers. 
Mighty Morphin Power Rangers #20 by Jamal Campbell
The Power Rangers universe of comics is often masterful at producing group action shots on their covers, but it was this image of the Red Ranger staring at the American Flag that was the most thought-provoking of the year. The U.S. moon landing is one of the most significant events in human history, but the Power Rangers go to the moon and fight monsters like it's NBD. In a franchise not known for its realism, this cover provides a sense of the epic through its relationship to actual human history.
Sleepless #1 by Leila Del Duca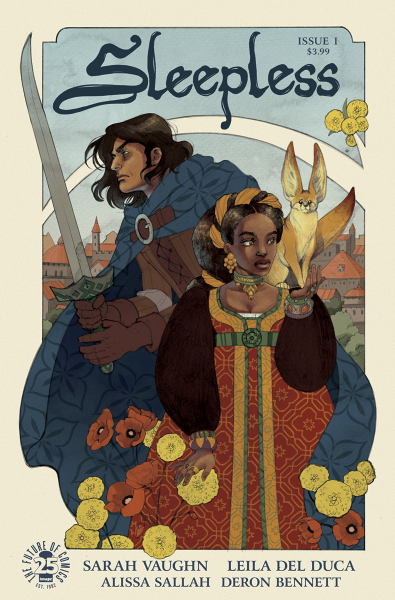 "I've always loved the illustrations of Leo and Diane Dillon, and was inspired to make this cover an homage to their atmospheric and pattern-heavy work," Del Duca tells me. "I created patterns to use on Cyrenic and Poppy's clothing and shaded their skin with a pencil for that textural feel the Dillon's often use. Then Alissa Sallah, my colorist, dropped those patterns in and using color choices that help set the mood for the melancholy fantasy." The fox on Princess Poppy's shoulder is pretty cute too, and the slight curve of her guardian's sword is a nice touch—excellent groundwork for the new fantasy universe that Sleepless is just beginning to unfurl.
Rocket Girl #10 by Amy Reeder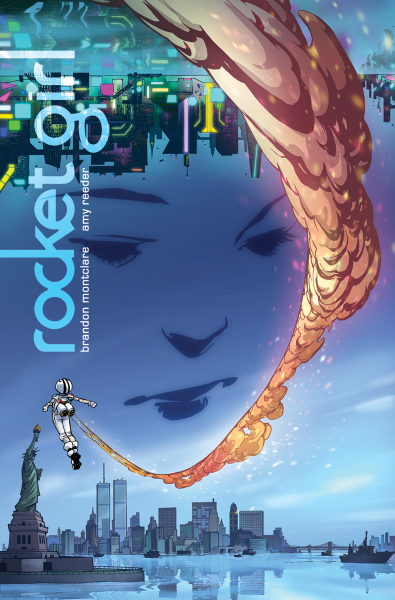 This wistful cover alludes to Rocket Girl's time travel story and seems to contain some of the bittersweetness that artist Amy Reeder said she felt while finishing the book's second arc, in an afterword to the issue. Batman artist Tim Sale immediately comes to mind when looking at Rocket Girl's minimal but expressive face. Reeder has also expressed that Rocket Girl is her best work to date. For those following this book, it would be hard to disagree.
The Batman Who Laughs #1 by Jason Fabok
Jason Fabok drew on the work of high fantasy artist Frank Frazetta and the imagery of classic metal and hard rock albums for his fantastic series of Dark Nights Metal one shot covers. The Batman Who Laughs was a particular standout character of 2017, and the cover is no exception. "I placed the camera low," Fabok told Observer. "As if the viewer is the victim and the Robins are being set loose on them." It's this audience implication that makes The Batman Who Laughs particularly scary and jarring. Perhaps the jokes on Jason, who thinks this wasn't the best cover he worked on. "It's not my favorite of the group, but I think it's something that the fans enjoyed."
Rat Queens Special: Orc Dave #1 by Fiona Staples
Covers featuring enticing female characters are a dime a dozen in comics, but it's rare for a creator to lean into male sexuality to sell books. Beyond that, Fiona Staples managed to make an orc named Dave sexy, and that alone deserves kudos. "It's my understanding that he was meant to be a throwaway character," Fiona told Observer via e-mail. "But the readers kind of made him happen. Nothing wrong with an ounce of fanservice now and then. I just tried to create fun, sexy cover that the androphiles (and orcphiles?) out there would enjoy."
Batman '66 meets Wonder Woman '77 #1 by Alex Ross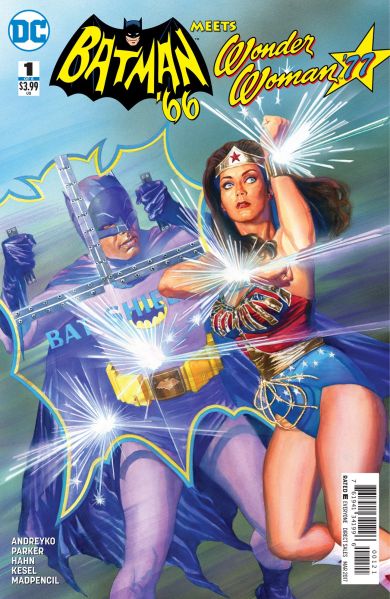 This cover from Alex Ross draws on Batman '66 lore (look at that hilarious bat shield) while perfectly rendering our TV protagonists with loving accuracy. While Batman needs a shield to protect himself from a hail of bullets, Diana just needs her bracelets. Wonder Woman has powers outside of the bright knight's scope, and Bruce knows it. This year we mourned the loss of Adam West, but it's good to know that some people at DC still understand his brand of camp.
SpongeBob #66 by Jerry Ordway 
Pretty much up until the turn of the century, covers were usually meant to entice by telling you something about the storyline. Vintage DC covers are particularly absurd and narrative-oriented. But nowadays, it often feels like we just get static portraits of a book's stars. There's nothing static, however, about this LOL-worthy cover from industry veteran Jerry Ordway. What's almost odd about the image is how Spongebob is smiling during these proceedings. " He's smiling because he always smiles," Ordway told Observer. "Nothing gets him down."
Godshaper #1 by Jonas Goonface
In juxtaposing the rustic realism of Godshaper's main character Ennay with a more pared down cartooning for his ghoulish friend, Goonface uses two different modes of comics art to make a cover that makes one curious about what's inside. According to Goonface, the image was inspired by a time when he was down on his luck. "I remember this foggy, sleepy zombie walk me and my road dog were doing out of a Colorado winter," he told Observer via e-mail. " We'd done the sleeping-under-bridges-and-eating-out-of-trashcans thing too long to be cranky or anything except exhausted. Not being alone felt like the only thing I had going and that was plenty. I tried to put that vibe on Ennay here."
Astonishing X-Men #1 by Jim Cheung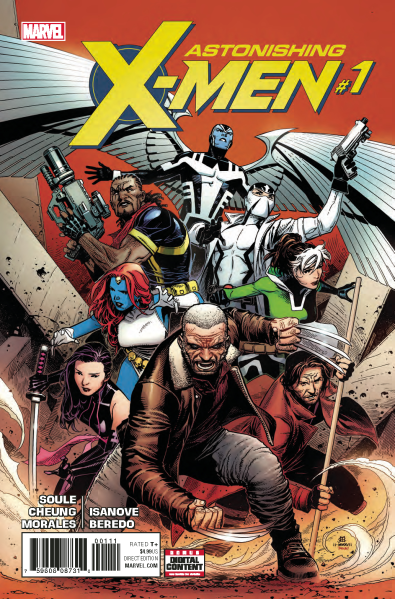 Jim Cheung delivers the goods in what is a somewhat expected but potent cover trope: the first issue group shot. Cheung's figures are striking, classic and dramatic but underneath all the bravado, there's an undercurrent of concern on most of these heroes' faces. After fifty plus years of fighting for their lives, the X-Men are (much like the rest of America) believably worn out and worried. Also, kudos to this cover for making Mystique the perfect shade of blue. They should make one of those dumb Marvel continuity rules where Mystique can only be this hue.
Spider-Man #12 by Sara Pichelli
Sara Pichelli riffs on the kiss from Sam Raimi's first Spider-Man film in an image that moves the plot of the spider books forward while simultaneously commenting on where comics should be in 2017—an age of widening demographics and concerns. The picture of Miles and Gwen is tender, sweet and PG YA, but there's still something nontraditional about kissing upside down in spider costumes. There's a promise here. The promise of a brave new world where anyone can be who they want to be.
Media guru Johnnie Martin discusses all the KaPOW that's fit to print in the weekly comics column Near Mint. You can find him on Twitter @TopNotchGaymer.