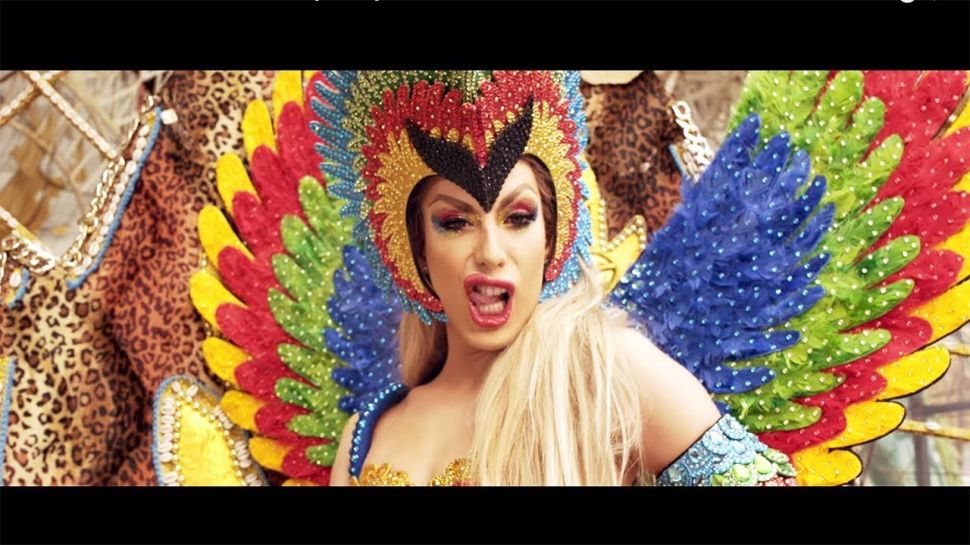 From the debut of "The Trixie and Katya Show" to Alaska's stint on VH1s "Scared Famous," 2017 was a huge year for the fans of RuPaul's Drag Race. But let's set aside these various mainstream successes to celebrate something more pressing: Solo Careers.
Following in the footsteps of Ru herself, it's become an unofficial rite of passage for the finalists of the beloved reality program to drop an album or single. This is so common that season five winner Jinkx Monsoon even titled her first release, "The Inevitable Album."
But songs from Drag Race queens are more than just inevitable. From diss tracks to parodies to club bangers, they are gifts of escapism in our current political landscape. 2017 brought so many great examples, that it soon became evident there would only be one year-end list that would matter. Here are best songs released in 2017 by RuPaul's Drag Race contestants.
Best Diss Track: Bob The Drag Queen's "Yet Another Dig" (Feat. Alaska)
Since the Drag Race universe is so close-knit, it's not surprising to see cast members regularly collaborating with one another. Still, I truly enjoyed this one from irresistible season eight champ Bob The Drag Queen and our most prolific post-competition music maker, Alaska, (seriously, get used to that name on this list).
With a beat lifted from Lil Mama's "Lip Gloss," a dash of self-awareness ("All stars two was yet another rig,") and so many rhymes, "Yet Another Dig" is a shade-throwing talent show. Bob's verse is flawless, and it's always fun to see Alaska poke fun at herself. On this one, she riffs on Roxxy's "Read U Wrote U" verse (the "Hey Jude" of Drag Race-related music) and reads season nine winner Sasha Velour to pieces. The library is definitely open.
Bob and Alaska have more in common than meets the eye, since both were overachievers on their respective seasons. Bob charmingly so in season eight, and Alaska maybe slightly less in All Stars season two (insert gif of her licking Katya's face).
Best Parody: Alaska's "Valentina"
Everything about Alaska's single "Valentina" is extremely 2017. It's a parody of 2017's most inescapable Latin anthem, "Despacito," but more importantly, it's an ode to season nine's inescapable Latin star of the same name. In this video, Alaska plays an obsessed fan (of which the divisive Valentina has many) and croons about her seen-around-the-world mask moment, which created waves in the community. The mask debacle was one of the biggest reality TV moments this year, and "Valentina" feels necessary and hilarious.
Best Track: Trixie Mattel's "Mama Don't Make me Wear That Dress Again"
All Stars season three winner Trixie Mattel (No Tea No Shade) had arguably the best 2017 of any queen. Aside from her incredible Viceland show, she found the time to put out a folk album that is honestly quite wonderful. It's not a secret either, the album hit No. 1 on the iTunes singer-songwriter chart.
There's a lot that sets her lead single, "Mama Don't Make Me Wear That Dress Again," apart from the music of other Drag Race queens: It's country (Trixie is from a "dead-end dirt road" in Wisconsin), she actually plays an instrument and isn't in drag while singing (though you can spot her in the audience during the video). Much like Adore Delano's "Adore,"this song isn't about calling out other competitors on the show. It's refreshing when Drag Race music isn't just about throwing shade. Though we love that too.
Instead, this folk song is an ode to the labor of love that is drag. It's simple, sweet and has a melody that would make Glen Campbell proud, depending on his politics. In case you're not gagged over Trixie, which clearly I am, this song is a testament to her talent. Also I recommend the holiday single, "All I Want For Christmas Is Nudes" which, thankfully, is exactly what you think.
Best Group Track, Worst New Acronym: Aja, Peppermint, Alexis Michelle and Sasha Velour's "C.L.A.T."
Since the queens from the most recent Drag Race season always put out new music, and season nine had a huge New York presence, this house track is not a shock. But it does leave me with some questions. Like, for example, what is "C.L.A.T.?" Apparently it stands for "Clout, Legend, Art, Theater" with each of the initials representing a different queen. But honestly, C.L.A.T. sounds like an STD you get in Bushwick. Not a song title.
Luckily, the song is solid musically—Sasha's verse is strong, Peppermint's is sassy as anything and Aja looks absolutely snatched. Also, Alexis Michelle is in it. I don't love that the chorus just repeats "New York" a bunch of times, but sure. This song is a fun showcase that keeps the most recent queens of Drag Race fresh in our mind. Though it does feel like something that started ironically as an email thread and then became real.
Best Track About Fashion: Detox's "She Gotta Habit"
This rap single by Detox is all about designer brands and it's mostly fun, but also part…I don't understand. Her verses are fine, but the chorus is sung by a woman not affiliated with the drag community which is perfectly okay but sort of stale. We want queens. And there are about six cuts to Detox in a thong—why? It's worth watching "She's Gotta Habit" because it's such a spectacle, but it would have benefitted from a surprise feature.
Best Track About Brazil: Alaska's "Come To Brazil"
The message of this song is actually pretty straight forward: you should go to Brazil. From Alaska's 2016 album "Poundcake" (though the music video was not released until this November), this Shakira send-up is a winner, with funny spoken word verses and an anthemic chorus that would definitely sound great live. On top of that, this video is a blast, showcasing some iconic outfits from arguably the most famous queen of Drag Race. I love that Alaska can cater to her Latin American fans while putting out universally accessible pop.
Best Serving of Corporate Reality: Sharon Needles' "Battle Axe" (Feat. Phi Phi O'Hara)
Also more along the pop lines is this single from season four winner Sharon Needles. "Battle Axe" co-stars Phi Phi O'Hara, and together they serve some Fatal Attraction realness in '80s style. They look fantastic and this video is a trip—the two queens, who went head to head in season four, have a fist fight that calls back to that feud. Though Sharon Needles may not be as busy musically as her ex Alaska, I think this delicious video rounds out this list wonderfully.
Darian Lusk (5'10") is holding out for The Comeback season three and a Fountains Of Wayne reunion tour.