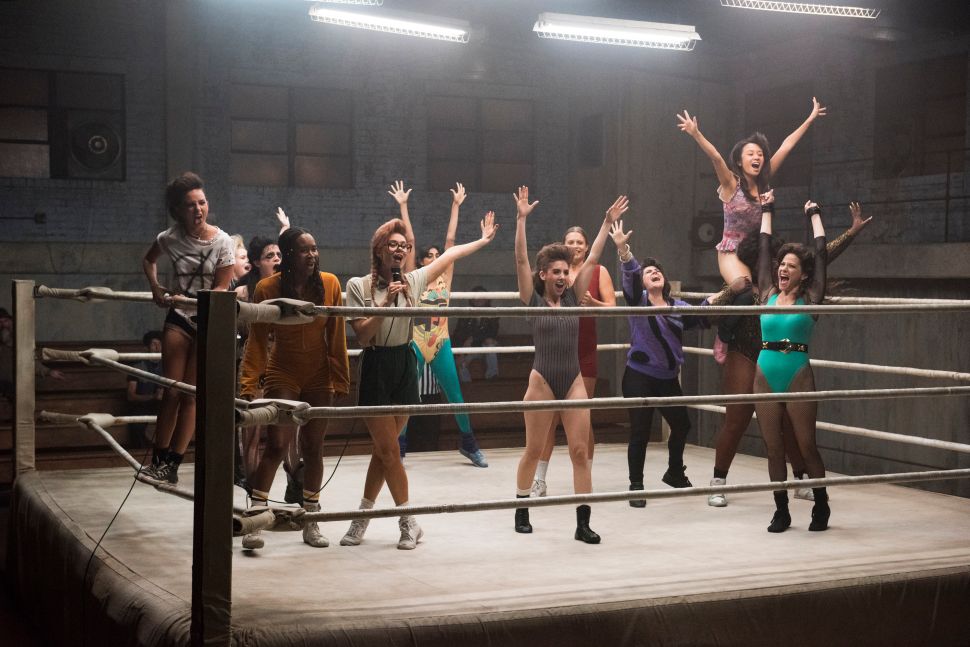 2017 has been a fantastic year for bold, innovative costume design on television with a number of standout garments jostling to be crowned the best. But rather than a standard list of the top ten, we present the most unexpected hits of the past year. From the best Audrey Hepburn impersonations to the many 1960s spandex exercise outfits that that appeared on GLOW, here are 2017's standout TV style moments. 
Best Audrey Impersonator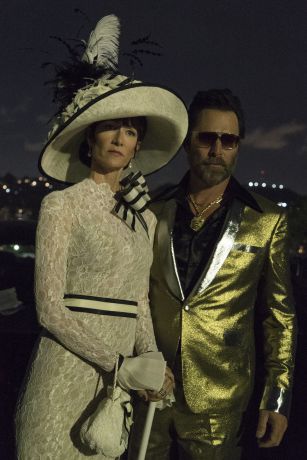 One the big hits of 2017 was HBO's Big Little Lies; an 8-part miniseries that culminated with an episode featuring many interpretations of an Audrey Hepburn dress-up theme. There are a lot of levels to the choices behind each character's look, but from a purely aesthetic point of view it is the person who put in the most effort that gets the prize. Renata (Laura Dern) went all out in a My Fair Lady ensemble that definitely was not store-bought, or already hanging in her closet.
Most on Brand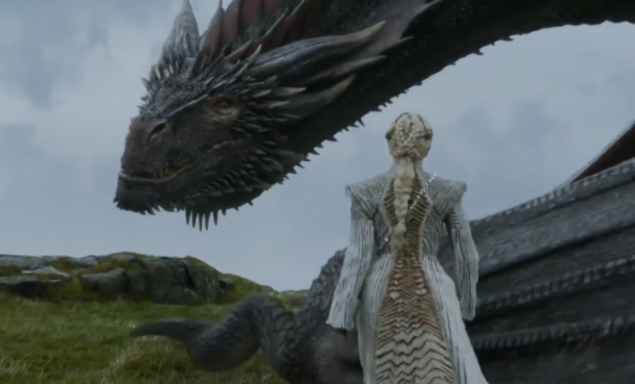 This was the year everyone started wearing black on Game of Thrones. One person who embraced this trend was Daenerys with her many dragon-themed accoutrements. Scale-like textures, chains and various dragon brooches depicting her three offspring give her outfits that extra flair; but it was her winter-ready coat that she wore as she flew off to save Jon Snow that stood out sartorially. A good leader is always prepared. Sadly she will have to modify her dragon pieces to two, now that she has lost one her children to the Night King.  
Best Makeover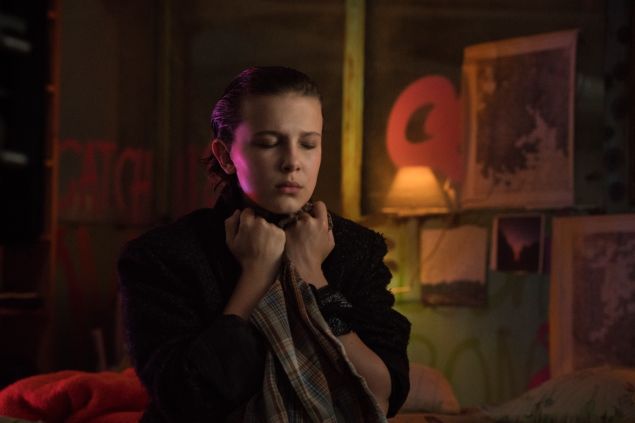 Season two of Stranger Things was widely applauded for being a successful follow-up to the breakout hit of 2016. But there was one episode that fans widely agreed fell short. Including the mostly cartoony punk gang that ever has graced TV screens, Eleven found herself getting a makeover as she roamed the streets of Pittsburgh with a decidedly manicured crew. But seeing this character discover her sartorial identity as the look softened in following episodes was a highlight of Eleven's season two evolution. Now with black eyeliner, an oversized blazer and a ripped tee, she does indeed (as Hopper agreed) look bitchin'.
Most Political
The red handmaid costume designed by Ane Crabtree, which perfectly matches the description in the pages of Margaret Atwood's The Handmaid's Tale, has become synonymous with the political resistance movement in the U.S. during 2017. Some even wore it to protest at the White House. It is a costume women are forced to wear in Gilead to denote their position in society; they have no choice. In the real world it has come to be a symbol for those for those speaking up for reproductive rights; against oppressive bills that would limit women's freedom. The bold crimson tone and white bonnet does indeed create a striking visual when worn at Capitol buildings across the country.
Devil in Disguise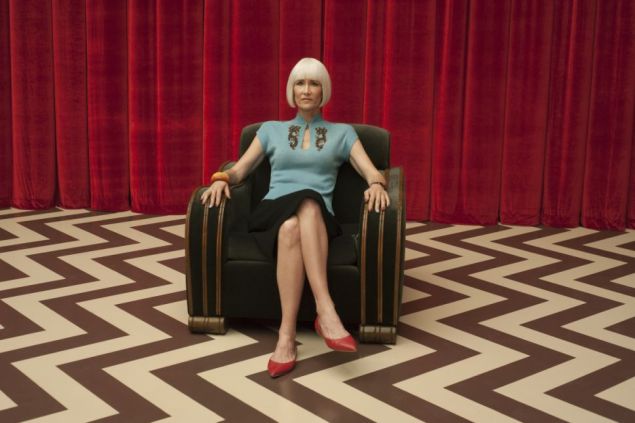 Things are never quite what they seem on Twin Peaks. Multiple versions of characters make it hard to know who to trust, but from a purely sartorial point of view there is one clear winner. Diane, with her leopard print jacket, sharp blonde bob, sunglasses and multicolored manicure, has a look like no other.   
Most Likely to Kick Your Butt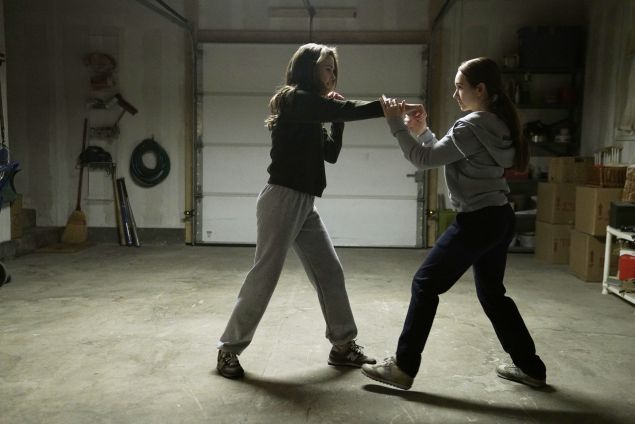 It doesn't matter what wig or disguise Elizabeth Jennings is wearing on The Americans, she'll win any fight. In the penultimate season, Elizabeth is looking to pass on these self-defense lessons to her teenage daughter Paige. Retro sports apparel is big business with brands like Adidas selling reissues of older styles. The Americans features a number of these labels, but it is Paige's Esprit sweatshirt in her first training session with her spy mom that really captures teen sportswear moment of the time. Costume designer Katie Irish's school yearbook research really paid off here.
Most Creative
Time travel is a complicated business. On Outlander when Claire decides to leave the 1960s for 17th century Scotland, she doesn't have a suitcase full of clothes to take with her. Nor does she have era appropriate garb. Taking inspiration from the Caped Crusader and his utility belt, Claire makes her version of the 'batsuit' using raincoats. It has plenty of pocket space for those essentials, plus many layers as revealed by costume designer Terry Dresbach. This costume has served Claire very well; from the streets of Edinburgh to an almost-deserted island in the Caribbean.
Biggest Drama Queens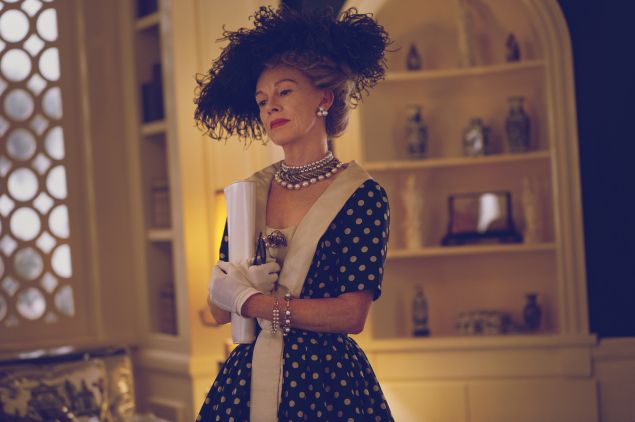 For all things glitz and glamour, look no further than Feud. Ryan Murphy's look at one of Hollywood's legendary rivalries is dripping in decadent attire. Pearls, pussy-bow blouses, furs, leopard print and caftans fill the closets of Joan Crawford and Bette Davis. But it is Hedda Hopper's unique style steals the show. Movie stars weren't the only fashion icons of the time; Hopper's outrageous hat game ensures that she stands out in every scene.   
Best 'Grease' Impression
The teens on Riverdale are ready to dress up for any occasion, mixing contemporary styles with a retro feel. Everyone has iPhones, but there is strong 1950s vibe in the show's look and location. This also applies to the way disputes are settled, like in the drag race that could have been pulled from the pages of Grease. Cheryl Blossom is on hand in high-waisted red short shorts, stacked heels and white crop top to start the race waving her red scarf. Betty leans towards her dark side by taking inspiration from final-scene-Sandy in skintight jeans.  
Making Spandex Cool Again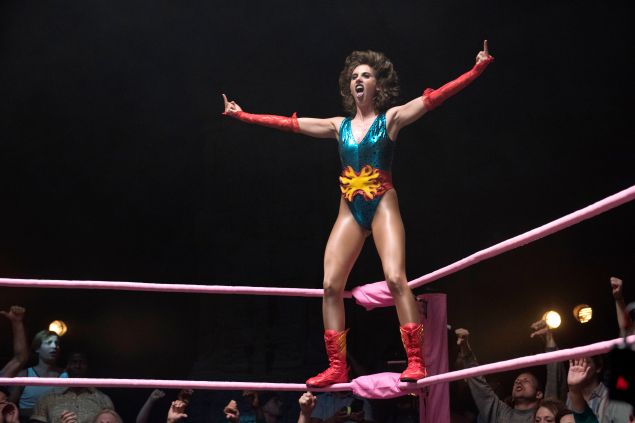 GLOW is one of the most fun new shows of 2017. Part of its charm comes from the wrestling costumes originally deriving from household items. Leotards worn to jazzercise class are now part of the daily uniform. As their wrestling moves improve, so do their costumes. Spandex in all colors and patterns feature, the more metallic the better. A sense of empowerment is another strong attribute of these costumes, and exactly what the year needed.
Emma Fraser is the creator of TV Ate My Wardrobe and spends most of her time writing about TV, fashion and costuming; like Abbi and Ilana's Broad City style, the wigs on The Americans and Fleabag's lipstick. Emma has a MA in Film and Television, and she holds Angela Chase responsible for this path. You can find her on Twitter @frazbelina.