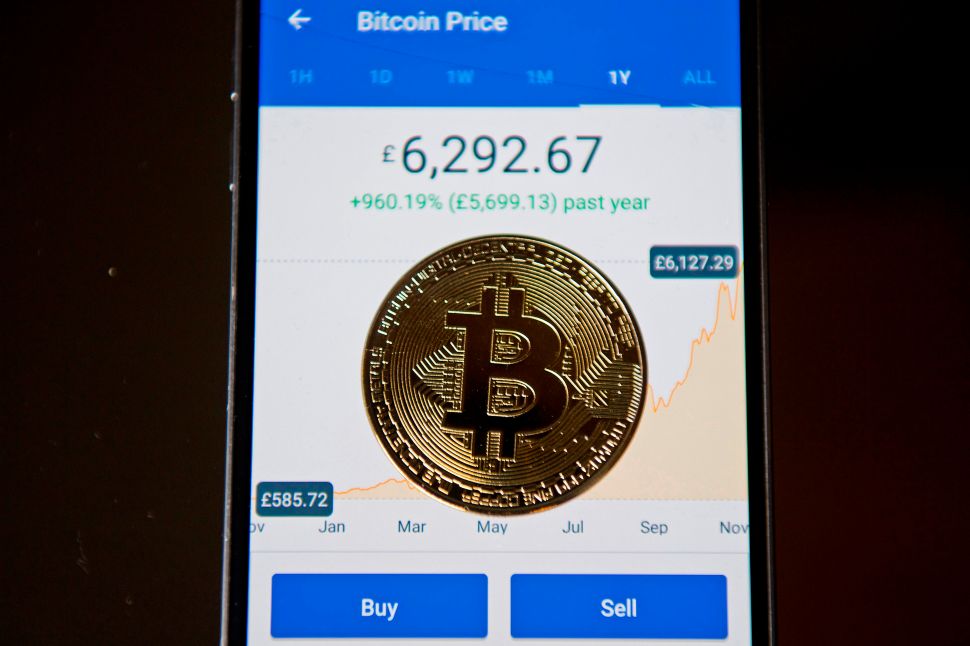 The wild rise in popularity of Bitcoin and other cryptocurrencies in the last year—more notably, last month—has stunned investors and spurred more people to plow their money into the mysterious technology.
Cryptocurrency currently have a total market capitalization of more than $340 billion, according to CB Insights, a research firm tracking technology and investment trends. Though don't put too much stock (so to speak) in that number. The recent history of Bitcoin shows the dollar value of cryptocurrencies can rise and fall quite drastically in the blink of an eye.
While regular investors are anxious and unsure whether this is a full-blown bubble that's about to pop or the start of a new economic system, it's worth taking a moment to revisit the history of cryptocurrency: who were the earliest investors? How did they choose what to buy? And what do they think of it now?
On Wednesday, CB Insights published a report analyzing the investment history of Andreessen Horowitz and Union Square Ventures, two of the top Silicon Valley venture capital firms. Both firms have been investing in cryptocurrency-related companies since 2013.
More specifically, rather than trading Bitcoin like stocks, they invested heavily in companies that build blockchain, the infrastructure for Bitcoin transaction, and similar technology.
Both firms were early investors in Coinbase, a Bitcoin trading platform founded in 2012 that has become the largest cryptocurrency broker today. As of 2017, the company has more than 10 million customers and is valued at $1.6 billion, according to TechCrunch. Union Square participated in Coinbase's $6 million series A investment round in 2013. Andreessen Horowitz led the company's $25 million series B round in the same year, which Union Square also joined.
In 2014, Union Square invested $2 million in Blockstack, a blockchain-powered data storage service.
Andreessen Horowitz had a more diverse approach than Union Square by investing in a wider variety of transaction technology. It was one of the first investors in Ripple, a decentralized ledger enabling low-cost international payments. (Its technology differs from blockchain in that it doesn't require mining.) TechCrunch founder Michael Arrington launched a $100 million fund of Ripple currency this week.
Andreessen Horowitz also invested in Axoni, a blockchain company that raised $20 million in May, and Earn.com, a Bitcoin trading company founded by Balaji Srinivasan, a former Andreessen Horowitz partner.
In a 2014 New York Times op-ed, Marc Andreessen, a founding partner of Andreessen Horowitz and a seasoned software engineer, likened Bitcoin to personal computers and the Internet in their early days—each of which depended on the high expectations of their success to make them actually successful. "This is the classic 'chicken and egg' problem with new technology: new technology is not worth much until it's worth a lot," he wrote.
This in part explains the dramatic rise in Bitcoin valuation in recent times, as initial investment in Bitcoin kicked off a loop where speculation pushes up trading value, and high trading value reinforces speculation.
And yet, as reflected in his investments, Andreessen identified companies that develop cryptocurrency technology and enable its transaction as the most important factor to determine digital currency's success. As he noted:
Bitcoin is a four-sided network effect. There are four constituencies that participate in expanding the value of Bitcoin as a consequence of their own self-interested participation. Those constituencies are (1) consumers who pay with Bitcoin, (2) merchants who accept Bitcoin, (3) "miners" who run the computers that process and validate all the transactions and enable the distributed trust network to exist, and (4) developers and entrepreneurs who are building new products and services with and on top of Bitcoin.

All four sides of the network effect are playing a valuable part in expanding the value of the overall system, but the fourth is particularly important.
Andreessen posted on Medium a year later, saying he "wouldn't change a word" about his view on Bitcoin.