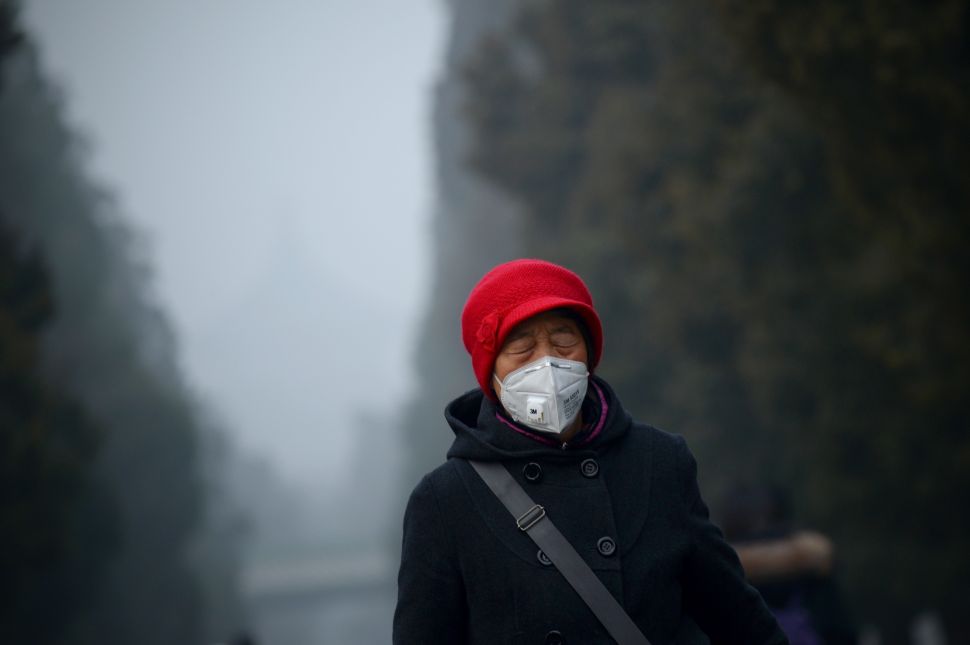 Last Wednesday, Apple CEO Tim Cook praised China's environmental policy, poverty relief and innovation. In an interview at the Fortune Global Forum in Guangzhou, China, a southern city near Hong Kong, Cook discussed Apple's business presence in China.
"[China's] environmental leadership is very clear, and it aligns completely with Apple's values," Cook said. "They are very fixated on doing the right things to avert climate change."
In ironic contrast to Guangzhou's warm climate, where Cook and other clean-cut CEOs spoke, many residents in northern China struggle to keep their living rooms warm—a direct result of a recent government effort to "avert climate change."

The same week of the Fortune event, a vendor in Linfen, Shanxi province was arrested for selling coal on a personal tricycle; in a nearby city, Yizhou, a construction worker was detained by police for five days for burning coal for heat at home. Both men were in violation of a recent government order that bans coal burning in 28 cities in northern China. 
In August, the Ministry of Environmental Protection of China sent a memo to city officials and the heads of state-owned energy companies regarding air quality control in the winter season, spanning from 2017 to 2018. The vaguely-worded notice urged local governments to keep the Air Quality Index (AQI) under an "explosive" level and to speed up the transition from coal to natural gas and electricity in heat supply. 
In northern China, heat supply is centrally controlled by cities. Depending on location, the start date of winter heat supply ranges from late September to early November. 
The government order affects more than three million homes in 28 cities. A Reuters analysis of Chinese government data in October showed that two-thirds of the cities under the program had fulfilled government-set targets to renew energy infrastructure, and would be able to switch at least 50,000 homes to clean fuel by November.
As with any large program, a small fraction misses target. In China's case, this translates to a large number of real homes in areas where the temperature drops to -18 degrees Celsius (0 Fahrenheit) in the winter months. 
In November, BBC China reported that three provinces under the program were expected to face a natural gas shortage this winter. Hebei Province issued warnings that 10 to 20 percent of businesses and residential homes would not have access to natural gas in November; officials in Shaanxi Province and Shanxi Province reported low gas pressure on the supplier end, which would cause a shortage. In Xi'an, the capital city of Shannxi, more than 170 neighborhoods didn't have access to natural gas due to a low-pressure-inflicted failure in a supply boiler. 
The consequence was made palpable when Tencent News published a series of human-interest stories featuring people affected by the heat shortage. In Hebei province, the construction of natural gas pipelines didn't start until November, while coal was banned from entering the city; coal burning was banned in the outskirts and villages, too. One senior couple secretly burned coal for heat, and died of carbon monoxide (CO) poisoning due to poor ventilation. Even in areas where natural gas and electricity are available, low-income families complain that they are too expensive, Tencent reported.
Beijing News, a major metropolitan newspaper, reported that 11 village schools in Hebei province didn't turn on the heat, despite the temperature falling below 0 degree Celsius (32 degrees Fahrenheit). Some teachers encouraged students to run outdoors in order to stay warm. 
In response, the Environmental Ministry sent out a second memo on December 4, urging local governments to prioritize heat supply and to turn on coal boilers in areas where clean energy pipelines were unfinished. The memo also urged natural gas and electricity suppliers (which are state-owned monopolies) to keep prices stable.
Coal is a primary energy source in China and is believed to be a main cause for the country's notoriously smoggy air. Air quality gets worse during colder months in northern China as heat generation traditionally relies on coal burning. Chinese news site The Paper reported that more than 700 million people live in heat-needed regions.