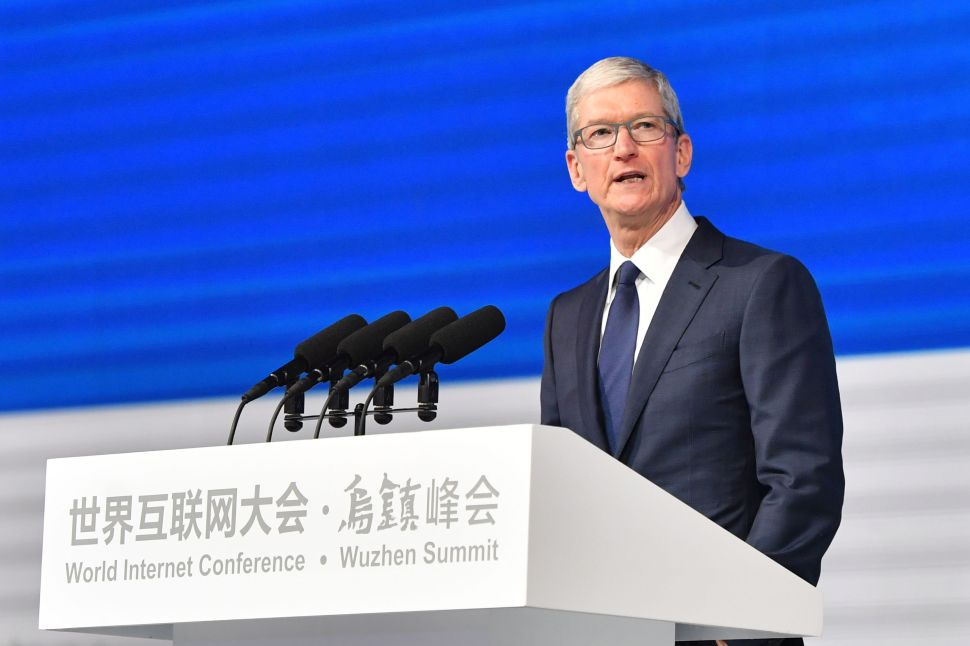 Apple CEO Tim Cook is having a busy week in China. After giving a speech at an Internet industry conference on Sunday, he showed up at Fortune's Global Forum in Guangzhou on Wednesday and did an on-stage interview for the first time at the 22-year-old event.
In an interview with Fortune's Executive Editor Adam Lashinsky, Cook responded to media criticism over his appearance at the World Internet Conference in Wuzhen on Sunday—the event organized by China's Cyberspace Administration, the government agency that's responsible for Internet content censorship and blocking overseas Internet companies (Facebook, Google, and others) from operating in China.
Cook's appearance at the event was seen by some media outlets as an endorsement for China's harsh Internet policy, which has recently tightened even more. Popular communication platforms, like Skype and a few VPN apps (virtual private networks that enable users to visit blocked websites), quietly disappeared from China's iOS App Store.
In a nutshell, Cook sees the issue as more of a difference in doing business than a matter of right and wrong. "From my American mindset, I believe strongly in freedom. They are at the core of what being an American is," he told Lashinsky on Wednesday. "But I also know that every country in the world decides their laws and regulations."
Without directly commenting on the vanished iOS apps or details on how China's policy affects Apple (AAPL), Cook emphasized the importance of participating in order to do business, or, in Alibaba's Jack Ma's words (during his speech at the Fortune event), "respect the culture, respect the market, [and] respect the consumers."
"Your choice is—do you participate, or do you stay on the sideline and yell how things should be? My view is that you show up and you participate, because nothing ever changes from sidelines," Cook said.
Cook's view reflects a broader sentiment among the tech executives at the conference. "Cook represented the consensus opinion about China's Internet policy: they're not excited about it, but they're resigned to do what is necessary to operate in China," Lashinsky told Observer.
Cook, a regular business visitor to China for 25 years, says his view on China differs from that of many, in that he sees a clear "arc" of progress in the country's technology industry and economy at large.
"I've seen so much change in that quarter of a century," he said. "It doesn't mean that [progress] is a straight line."
In the interview, Cook revisited Apple's relationship with Chinese manufacturers, which he played an instrumental role in forming in his early days as the chief operating officer. He spoke highly of China's rapid transition from a labor-intensive manufacturer to an innovative hub rich in human capital, which is why Apple will keep China as a key business partner despite rising labor cost.
He also praised China's accomplishments in reducing poverty, and the country's ongoing progress in addressing environmental issues.
"What we always try to do is to finding areas where you can work together. In the things that you disagree with, take time to understand how somebody sees it. If I'm going to get criticized for that, so be it," he said.