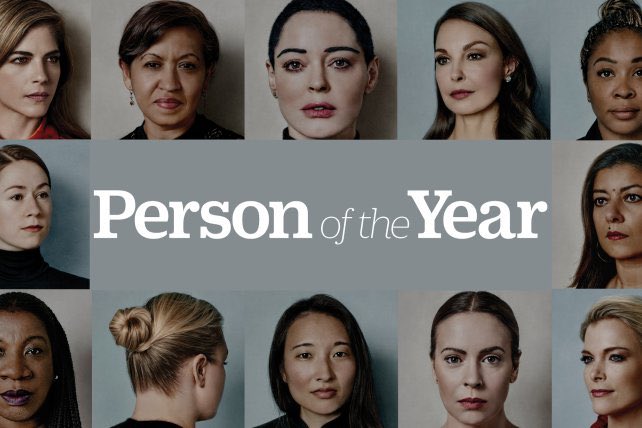 No two words epitomized 2017 more than "me too."
Women like Rose McGowan and Susan Fowler went viral this year after telling their stories of sexual harassment and assault. As a result, male-dominated industries like entertainment, media and tech were forced to reckon with misogyny in their midst.
It's because of this that Time magazine named "The Silence Breakers" as its Person of the Year this morning. Reporters Stephanie Zacharek, Eliana Dockterman and Haley Edwards interviewed about 50 women who spoke out, filed lawsuits or testified about sexual misconduct this year. They worked in many different industries, from finance and media to manufacturing and agriculture.
Edwards told Observer the Person of the Year choice became clear soon after the Time team began discussing candidates in October.
"This year we were specifically focused on what people were talking about over their kitchen table," she said. "It was clear the big issue was sexual harassment."
The reporters then went to work. While they interviewed Hollywood stars like Ashley Judd and Alyssa Milano about this issue, another one of their main goals was to spotlight blue collar workers whose stories weren't as widely told.
"Celebrities brought this issue to the fore, but at the same time we wanted to recognize this wasn't just a media or Hollywood issue," Edwards said. "Ordinary people also experience it."
For example, the story features interviews with seven current and former Plaza Hotel employees who are suing the New York City landmark over sexual harassment they experienced while working there. The team spoke with a housekeeper in California about the same issue to be "geographically diverse," Edwards said.
The magazine's cover doesn't only rely on household names. It features strawberry picker Isabel Pascual and lobbyist Adama Iwu along with Fowler, Ashley Judd and Taylor Swift.
Swift's inclusion in particular rubbed some people on social media the wrong way. They claimed her symbolic $1 lawsuit against a radio DJ who groped her wasn't as important as some of the other cases mentioned.
But Edwards pointed to a moment during Swift's trial when the DJ's lawyer asked her if she felt guilty that the man had lost his job. Swift replied that she shouldn't have to feel guilty about something he did.
"It was extremely fierce and furious testimony," Edwards said. "A lot of women we interviewed were expressing that same idea."
Some of the women Time spoke with who didn't have Swift's high profile elected to remain anonymous. One Native American woman allowed only the back of her head to be photographed, while a hospital worker from Texas showed only an arm (which is featured on the bottom right of the cover).
"A lot of these women really struggled to tell their stories to us," Edwards said. "There was a lot of self-doubt as they worked through their emotions."
One factor that somewhat reduced the pressure is that the women didn't know they were being interviewed for a Person of the Year story. They thought it was just a general sexual harassment piece.
The Time Person of the Year list is often dominated by men. Indeed, over the issue's 91-year history, women have only claimed the top spot nine times. But very few of these honors have been individual—for example, Melinda Gates had to share the cover with both her husband Bill and Bono. "American women" as a group did get one cover to themselves, however, in 1975.
Edwards said the Time team determined it was more powerful to feature a large group of women this year than an individual like Harvey Weinstein.
"His actions aren't what catalyzed the national reckoning happening now," she said. "It was the actions of these women."
President Donald Trump came in second on Time's Person of the Year shortlist. Other finalists included Chinese president Xi Jinping, North Korean dictator Kim Jong Un, Special Counsel Robert Mueller, football player and activist Colin Kaepernick and Wonder Woman director Patty Jenkins.