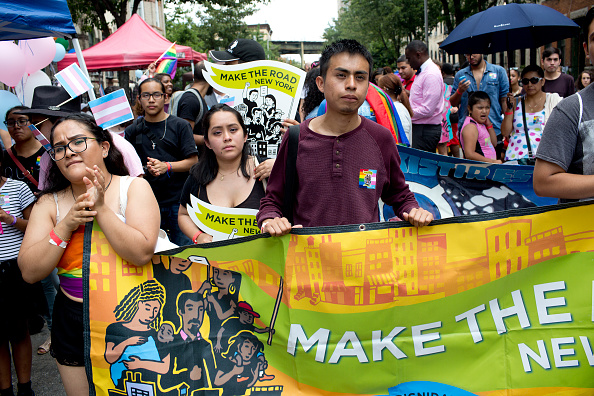 President Donald Trump's aggressive immigrant enforcement policies, including his proposed border wall, will cost New York taxpayers $447 million—plus another $240 million to New Jersey taxpayers—according to a report by Make the Road New York and Make the Road New Jersey.
Trump's proposed budget for 2018 seeks to add $5.6 billion to fund immigration enforcement by enlarging the budgets of U.S. Customs and Border Protection, U.S. Immigration and Customs Enforcement, and U.S. Citizenship and Immigration Services, according to the December report on the cost of Trump's "deportation budget" prepared by the two chapters of the immigrant advocacy group.
After analyzing Trump's "deportation" budget proposals, applying New York and New Jersey's portion of federal tax revenue contributions, they found that New York taxpayers would pay $447 million for Trump's "anti-immigrant crusade." New Jersey, the groups said, would pay an extra $240 million. This comes out to $687 million for the two states combined in a broader proposal that would set in motion massive cuts in education, transit and environmental protection funding.
In September, Trump ended the Deferred Action for Childhood Arrivals program started by former President Barack Obama to protect youth brought to the United States in their early childhood.
"Our communities do not want their tax dollars wasted on Trump's hateful crusade," the report states. "Instead, it's time that the Trump administration—with the strong encouragement of New York and New Jersey's Congressional delegations—pass a clean DREAM Act, stop its attacks on vital government services, and invest in a brighter future for families across the country."
Since taking office, Trump has expressed his commitment to an "anti-immigrant" agenda, vowing to significantly increase the number of ICE and CBP officers, the report found. The groups noted he has sought to attack so-called "sanctuary cities" for undocumented immigrants and abolish Obama's policies that use discretion in enforcement, leading to a 40 percent increase in ICE arrests.
During the first half of 2017, the groups said, an increasing number of immigrants have been taken from their loved ones and locked up in immigrant detention centers, often in poor conditions, the report said. Since last October, at least 10 people have died in ICE custody, including a New Yorker detained in New Jersey.
New York and New Jersey alone have 13 immigration detention facilities that house people detained on civil immigration violations, and the region's facilities transferred, deported or released 17,472 people in fiscal year 2015, according to the analysis. Many detainees, the groups said, are ineligible to be released on bond and have to fight their cases for years while in jail.
The House Committee on Appropriations has responded to Trump's proposed budget but the Senate has not, the advocates said. If the U.S. Department of Homeland Security's full proposal is passed, they would spend $1.6 billion on the construction of Trump's border wall; $1.2 billion for additional detention beds; $186 million to hire 1,000 extra ICE officers and 606 support staff; and $100 million to hire 500 new Border Patrol agents, according to the report.
They would also spend $132 million to expand E-Verify, an Internet-based system that makes a comparison between data from an employee's employment eligibility verification form to data from DHS and Social Security Administration records to verify qualifications.
The administration is also proposing cuts to key federal agencies, including $9.2 billion to the U.S. Department of Education, $2.4 billion to the U.S. Department of Transportation, $6.2 billion to the U.S. Department of Housing and Urban Development, $12.7 billion to the Department of Health and Human Services, and $2.6 billion to the Environmental Protection Agency, the report said.
New York and New Jersey taxpayers provide 8 percent and 4.3 percent of the $3.3 trillion that the Internal Revenue Service collected in fiscal year 2016, according to the Urban-Brookings Tax Policy Center. They determined the $447 million and $240 million figures by applying those percentages to the $5.6 billion price tag.
But these figures, the groups said, only reflect the initial cost to taxpayers. If the budget is approved by Congress and the administration's "federal immigration enforcement plan" is put into effect, they said, New York and New Jersey are at risk of losing billions of dollars in tax revenue from immigrants in the region.
New York and New Jersey's undocumented immigrants pay $1.1 billion and $587 million to New York and New Jersey, respectively, in taxes each year, according to the Institute for Taxation and Economic Policy.
The report recommends that all members of the New York and New Jersey congressional delegations pass a clean DREAM Act before the end of the year and decline to approve any taxpayer funds for "anti-immigrant" budget proposals. They call for rejecting the additional funding for the border wall, extra detention beds, additional ICE officers and support staff, new Border Patrol agents and E-Verify as well as proposed cuts to the DOE, the DOT, HUD, HHS and the EPA.
And the advocates want the elected officials to maintain social safety net programs such as food stamps and Medicaid at their current levels and ensure that federal budgets fully fund education, health care, jobs, infrastructure and affordable housing.
Instead of tearing apart families, they argued, $447 million in New York could be used to expand Child Health Plus, at $81 million; pass the New York DREAM Act, at $27 million; expand restorative justice programs to cut the school-to-prison pipeline and establish a universal youth jobs program in New York City at $163 million.
In New Jersey, they said, those resources—if delivered to the state—could fully finance prekindergarten, at $103 million, and cover NJ Transit's 2017 budget deficit, at $35 million, for far less than the $240 million price tag.