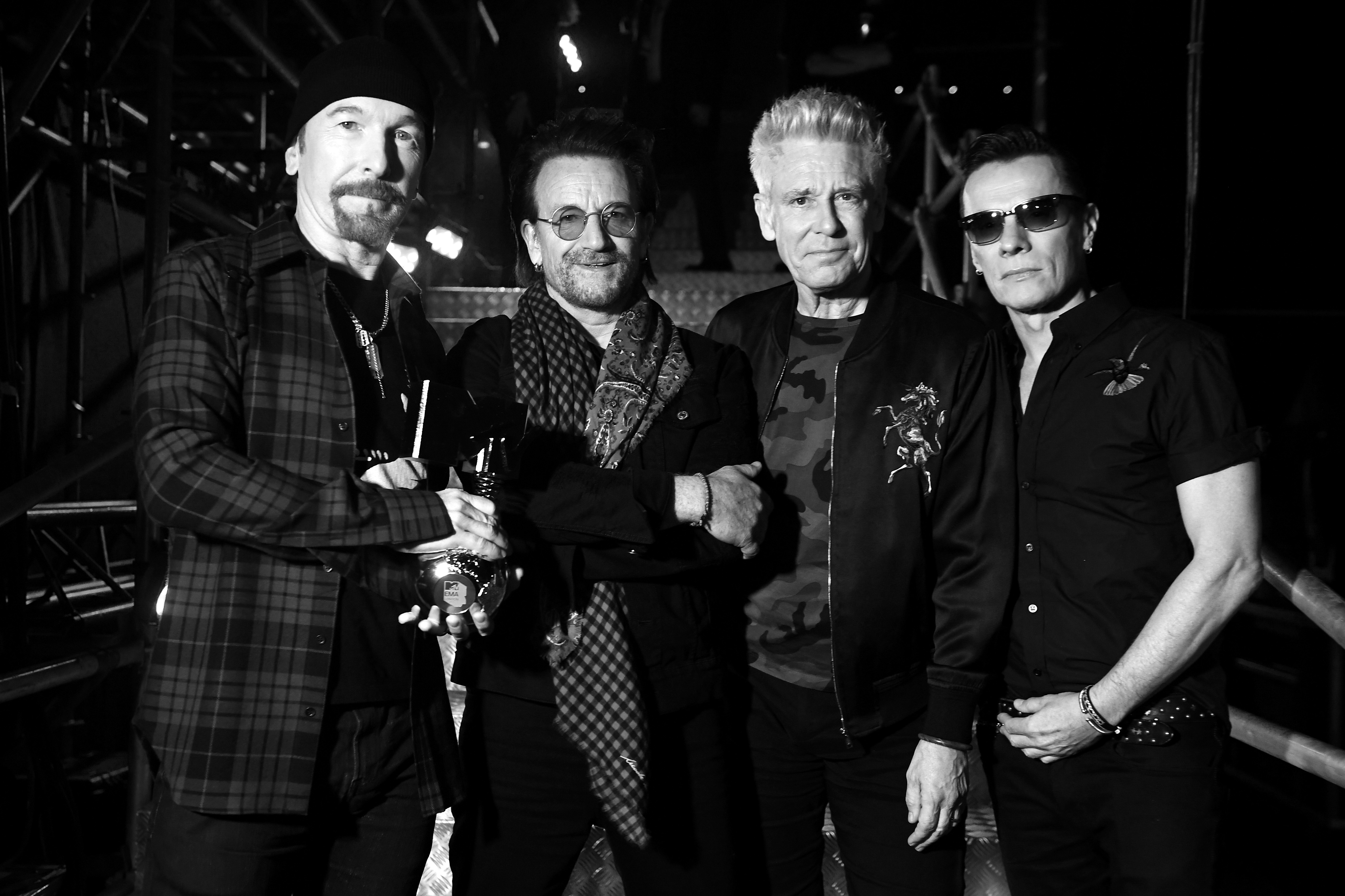 Did you know that U2 has put out at least one chart-topping album in each decade since the 1980s? Or that they have sold 175 million records worldwide and won a whopping 22 Grammy Awards? By any metric, both critical and commercial, they are one of the most successful bands in the history of music. So when frontman Bono offers a critique of the industry's current artists, it's worth a listen. However, the Irish singer-songwriter might regret his particular wording in this case.
In a wide-ranging cover story for Rolling Stone, the 57-year-old rocker opened up about an array of different topics. But it was his take on music today that has drawn the most attention as he feels as if the industry is in need of some testosterone.
"I think music has gotten very girly. And there are some good things about that, but hip-hop is the only place for young male anger at the moment — and that's not good," he said. As Bono sees it, it all comes down to having an outlet for negative emotions.
"When I was 16, I had a lot of anger in me. You need to find a place for it and for guitars, whether it is with a drum machine — I don't care. The moment something becomes preserved, it is fucking over," he continued. "You might as well put it in formaldehyde. In the end, what is rock & roll? Rage is at the heart of it. Some great rock & roll tends to have that, which is why the Who were such a great band. Or Pearl Jam. Eddie has that rage."
His comment's have drawn mixed reaction from fans online.
U2's new album, Songs of Experience, topped the charts in early December. It's unknown if Bono's recent comments will impact sales at all as the entertainment industry has become increasingly sensitive to gender-based remarks following the exposure of rampant sexual harassment. For what it's worth, the lead singer knew Songs of Experience would prove to be divisive among fans.
"I mean, it's not for everybody – and it can't be for us all the time. But it just felt right," he told the outlet. "These last two albums mix up the personal and the political so that you don't know which one you're talking to. That's a kind of magic trick, and realizing that of course all the problems that we find in the exterior world are just manifestations of what we, you know, what we hold inside of us, in our interior worlds. The biggest fucker, the biggest asshole, the biggest, the most sexist we can be, the most selfish, mean, cunning, all those characters you are going to see them in the mirror. And that is where the job of transformation has to start first. Is that not what experience tells us?"