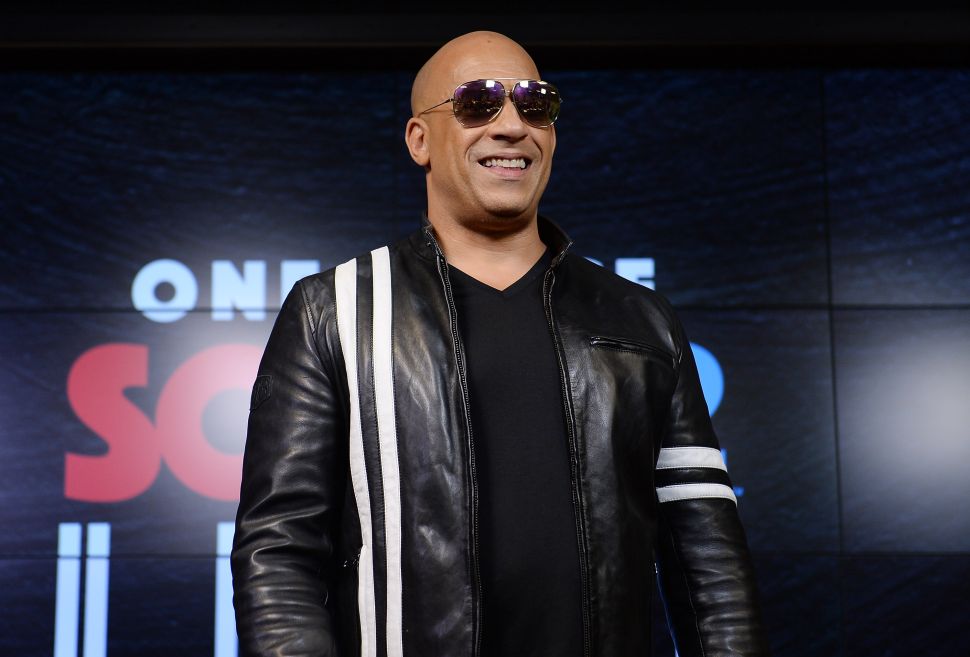 We've taken a look at the 20 most bankable stars in Hollywood, but how about the top-grossing names in film?
For 2017, Vin Diesel has taken the crown as the top-grossing actor in the game, according to Forbes. Off the back of Marvel's Guardians of the Galaxy Vol. 2 ($863.7 million worldwide) and The Fate of the Furious ($1.2 billion), the outlet estimates that he racked up $1.6 billion in global ticketing receipts. He also received a small boost from xXx: The Return of Xander Cage. Massive franchises lead to big money, who would have thunk?
"The whole point [of The Fast and the Furious] was to diversify Hollywood and in some ways change the face of Hollywood," Diesel told Forbes in 2015. Kudos to Universal for amassing a mostly non-white cast, giving the series a more worldly appeal.
Diesel's co-star Dwayne "The Rock" Johnson came in at a close second with $1.5 billion thanks in large part to the Fate of the Furious. Though May's Baywatch bombed, Jumanji: Welcome to the Jungle is proving to be a rock solid Holiday hit (pun intended). Johnson has long been a remarkably consistent box office performer and though he was unseated as Hollywood's top-earner this year by Mark Wahlberg, he remains a safe bet in the eyes of studios.
"I can kick ass better than anyone on the planet," Johnson told Forbes in 2012. "And I have a decent smile." That's a winning combo in our book.
Forbes tabulates these gross totals by adding up 2017 global ticket sales of major movies as of December 26, 2017. Animated films were not factored into these calculations.
The Internet's Israeli crush Gal Gadot comes in at No. 3 with $1.4 billion. Her Wonder Woman is the highest-grossing domestic superhero origin story ever at $412.5 million, topping the original Spider-Man. Worldwide, the DC Extended Universe's most widely embraced entry took in $821.8 million.
At No. 4 we have Emma Watson, who rode the world's collective obsession with live-action Disney (DIS) fairytales to $1.3 billion. She can thank Beauty and the Beast, which is the highest-grossing film of the year ($1.2 billion) until Star Wars: The Last Jedi usurps the throne.
And rounding out the top five is Johnny Depp, who very well may continue his his run with next year's Fantastic Beasts sequel despite the fan backlash.
Here's the complete top 10:
1. Vin Diesel ($1.6 billion)
2. Dwayne Johnson ($1.5 billion)
3. Gal Gadot ($1.4 billion)
4. Emma Watson ($1.3 billion)
5. Johnny Depp ($1.1 billion)
6. Daisy Ridley ($1.08 billion)
7. Tom Holland ($888 million)
8. Chris Pratt ($864 million)
9. Chris Hemsworth ($845 million)
10. John Boyega ($815 million)