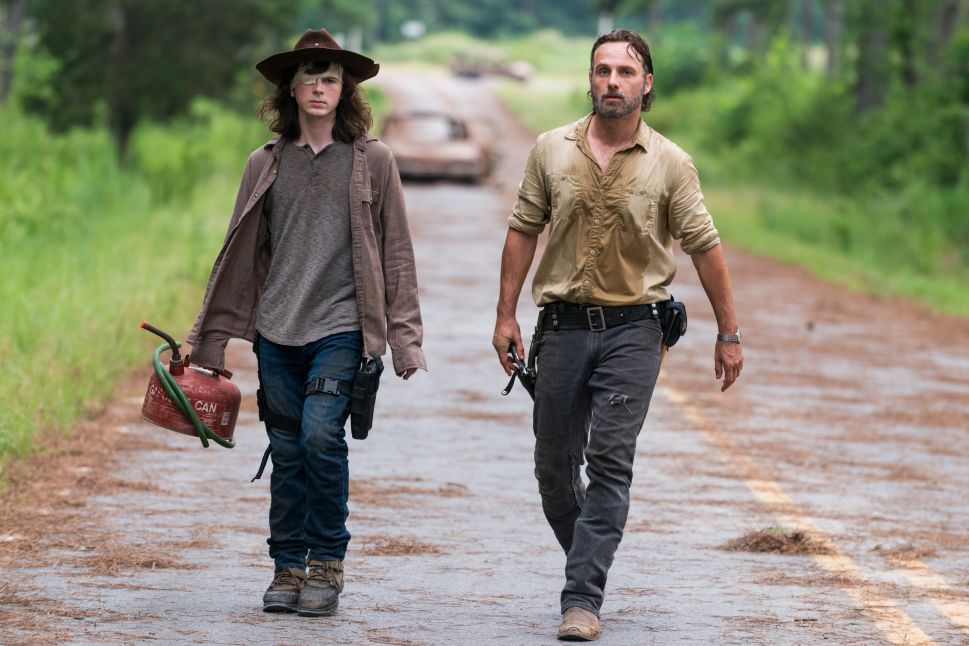 We're about to discuss the midseason finale of AMC's The Walking Dead. If you are not caught up on season eight of the series, make like the show's character development and disappear. This is your final spoiler alert.
…
Alright, now that that's done, let's get to the big reveal: The midseason finale saw Chandler Riggs' Carl Grimes get bit by a zombie. Although the character didn't die on screen, his death is imminent when season eight returns in early 2018. While most viewers like us are reveling in a collective feeling of, "Huzzah! Finally!," the "shocker" (sarcasm intended) didn't sit too well with his father, Williams Riggs, who took to Facebook to rip the show, the network and showrunner Scott Gimple.
"Watching Gimple fire my son 2 weeks before his 18th birthday after telling him they wanted him for the next 3 years was disappointing," Riggs wrote. "I never trusted Gimple or AMC but Chandler did. I know how much it hurt him. But we do absolutely know how lucky we have been to be a part of it all and appreciate all the love from fans all these years."
William Riggs gets plus-10 Dad points, but minus-10 points for his managerial skills.
As viewers saw, Carl revealed to his father Rick (Andrew Lincoln) during the closing moments of the episode that he had been bitten by a walker. Since we did not see him die, it's safe to assume that he'll be a centerpiece of the midseason premiere before succumbing to his injury. Or, you know, Rick blowing his head off. Whatever works, AMC.
"That is a bite on his side.… It will play out as bites play out on the show," Gimple said after the episode on Talking Dead. "It's very important to Carl's story and the entire story, what happens in the next episode. I'm just focused on the fact that Carl right now is alive and he has some business to attend to. That is a one-way ticket. But I'd like to think that the things we see in the next episode are so important to his life and the other characters' lives."
Dragging Carl's death out makes sense from a ratings perspective. The Walking Dead has been bleeding viewers in recent years, with the season eight premiere dropping 35 percent in total viewers compared to season seven. Overall, season eight is averaging "just" 8.7 million live viewers compared to 11.3 million for season seven. Using a major original character's death for a two-episode arc is one way to juice those numbers back up a bit.