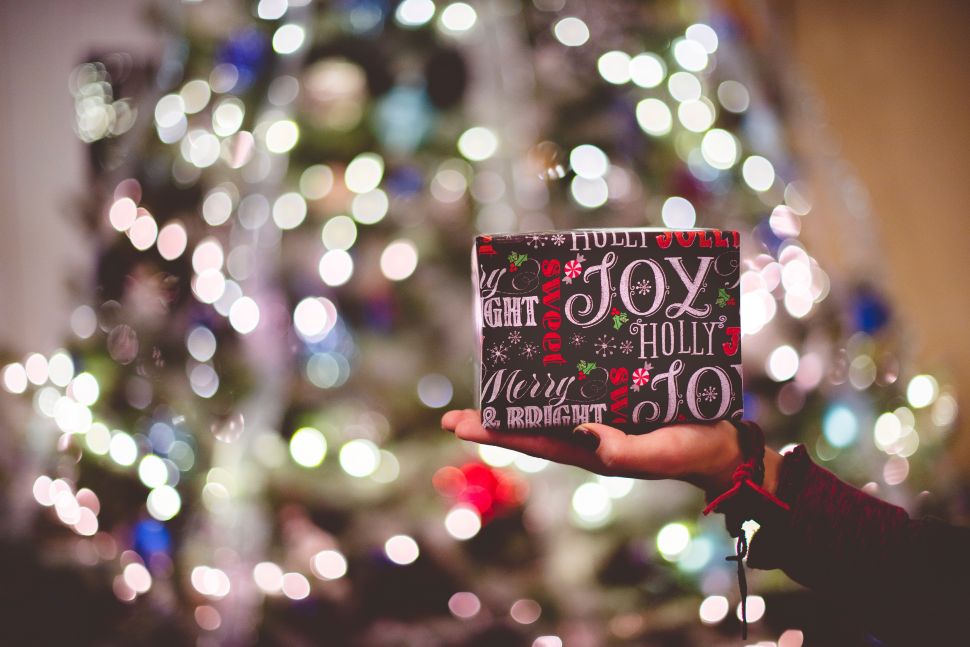 Secret Santa always seems like a great idea in theory. It's an opportunity for office bonding and an excuse to extend lunch break to an hour. That is, it sounds like a good idea until you inevitably end up drawing the name of the coworker you've never spoken to, and it's going to look suspicious if you start chatting them up now.
The good news is that nobody's impossible to buy for. By identifying your coworker's personality type, you'll be on the fast-track to finding them the perfect gift. Here's how to determine who you're buying for and exactly what you ought to gift them, based on their Myers-Briggs personality type.
INFJ 
How to spot them in the office: Your hyper-analytical, hyper-organized coworker who occasionally emails you to ask if you're doing okay, what with your aura blockage that they're picking up on.
What to get them for Secret Santa: A Lotto Love Ticket
INFJs aren't big on collecting items they don't need, but they enjoy the opportunity to give back. By purchasing a Lotto Love ticket, you're giving them the gift of contributing positively to an organization that benefits those in need. Their ticket could "win" a donation toward literacy tools for underprivileged students, clean drinking water for those in need, or nutritious food for communities that lack access to balanced meals. They'll appreciate the opportunity to share a gift with someone who needs it more than they do.
ENFJ
How To Spot Them: The office's unofficial "wellbeing coach," who's always checking in to ensure that everyone is staying on track with their personal, professional and spiritual goals.
What to get them for Secret Santa: 5: The Life Playbook
The ENFJ has no problem helping their loved one's plan their lives, but they can often become so focused on helping others reach their full potential that they forget to focus on themselves. Pick up this organized and affirming journal for the ENFJ in your office. They'll appreciate the encouragement to reflect upon their own desires for a change and to plan for the future in an organized fashion.
INFP
How to spot them: The quiet, soulful daydreamer in your office, who once analyzed your birth chart and informed you where your chakras were blocked.
What to get them for Secret Santa: Birthstone Mineral Soap
Buying soap as a Secret Santa gift is so last year. But the thoughtful INFP in your office will adore the significance of cleansing their body with the stone that signifies their month of birth. As an added bonus, these handmade products are ridiculously pretty.
ENFP
How to spot them: The eclectic new-age hippy in your office, who is on a new self-improvement kick each week. They talk a lot about abundance blocks and past lives.
What to get them for Secret Santa: Random Acts Of Kindness Kit
ENFPS love new challenges—particularly ones that hinge upon positivity and forming connections. With this random acts of kindness kit, the ENFP will be bestowed with regular challenges that make the world around them a better place. To this change-oriented type, it's the gift that keeps on giving.
INTP
How to spot them: The quiet, philosophical nerd who refuses to follow instructions but always gets things done on their own time, in their own way, in an infuriatingly creative manner.
What to get them for Secret Santa: The Onion Book Of Known Knowledge
The INTP isn't above a little subtle trolling now and then. Feed their appetite by gifting them this sarcastic encyclopedia that their coworkers might accidentally take seriously. At best, it'll give them a chuckle. At worst, flipping through it will serve as a damn good distraction from their work for an afternoon.
ENTP
How to spot them: The loud, philosophical nerd who preaches anarchy at every opportunity and enjoys sparking lunch hour debates.
What to get them for Secret Santa: The Disappearing Social Liberties Mug
Get a kick out of riling up your office ENTP? Gift them this snarky mug, which reminds them with every sip that their civil rights are rapidly dissolving. Nothing like a morning cup of java to get them thinking about the inevitable disintegration of democracy and to get the rest of the office debating politics by noon hour.
INTJ
How to spot them: Your eclectic and philosophical yet ruthlessly organized coworker who always seems to be two months ahead in their workload.
What to get them for Secret Santa: Literary Insult Chart
It's not that INTJs hate people—it's just that they hate when people interrupt their workflow unnecessarily. Help the INTJ in your office get some frustration out by picking up this Literary Insult Poster. It'll allow them to offend your officemates in a way that goes completely over all of their heads—leaving the INTJ satisfied and everyone else vaguely confused.
ENTJ
How to recognize them: Your ruthlessly organized coworker who has a wide variety of obscure, intellectual side-interests.
What to get them for Secret Santa: Inspire Mac Candle
Okay, so you're ENTJ coworker wouldn't normally want a candle for a Secret Santa gift. But this candle happens to inspire the sweet smell of productivity—the ENTJ's favorite scent. Not to mention, a portion of the proceeds go to FIRST, a charity that inspires children to pursue STEM-related careers. Now that's a cause the ENTJ can get behind.
ISFP
How to spot them: Your sensitive, artistically inclined coworker who always looks effortlessly chic.
What to get them for Secret Santa: Oak Leaf Copper String Lights
Sure, if you got these lights for yourself they'd end up in a box under your bed for the rest of the year. But your ISFP coworker can create masterpieces from knick-knacks. They'll inevitably end up with lights strung across their workspace or bedroom in a fashion so hopelessly artistic that their Instagram following will double by the end of the week.
ESFP
How to spot them: The enthusiastic, free-spirited socialite who managed to become best friends with everyone at the office within a week of getting hired.
What to get them for Secret Santa: Rainbow Tape Dispenser
This type has a colorful personality and they need colorful office supplies to go along with it. Help them stand out with this rainbow tape dispenser that they can use to make their drab office documents more fun. Expect all future reports sealed in multicolor!
ESFJ 
How to spot them: The upbeat and organized socialite who enjoys arranging office get-togethers down to the last detail.
What to get them for Secret Santa: Complimentary Pencil Pack
The ESFJ may keep busy giving their officemates pick-me-ups, but that doesn't mean they don't need them themselves. Pick up this packet of complimentary pencils to remind the ESFJ just how appreciated they are, as they're busy organizing the next office event.
ISFJ
How to spot them: The kind-hearted, organized coworker who is always available to walk you through the newest workplace procedure, because he or she was the first one to read the memo.
What to get them for Secret Santa: Homesick State Candle
The ISFJ has a deeply sentimental side, and chances are some part of them is aching for a connection to the place they grew up. Provide them a quick fix by picking up a candle that wafts them right back to their childhood with the simple light of a match.
ESTP 
How to spot them: Your gregarious, fast-moving coworker who's known for telling it exactly as it is.
What to get them for Secret Santa: Big Personality Desk Sign
The ESTP loves being noticed, so stroke their ego with a personalized sarcastic desk sign. Emblazon it with your favorite quip about their take-charge, no-nonsense demeanor and they'll secretly treasure it immensely. It's best people know who they're dealing with upfront.
ISTP
How to recognize them: Your chill, tech-savvy coworker with an aversion to excessive socializing and a ceaselessly dry sense of humor.
What to get them for Secret Santa: Hoverdock For iPhone
The ISTP rarely answers your emails or texts, feigning an uncharged phone. Knock that excuse out of the water by picking up a Hoverdock for his or her iPhone. The gadget can stay lodged next to their work desk at all times… and it just looks too cool to not use.
ESTJ 
How to spot them: Your no-nonsense, take-charge coworker who pushes the rest of the team on stay on track with their targets and goals.
What to get them for Secret Santa: Avocado Socks
Remember earlier this year when millionaire Tim Gurner claimed that Millennials can't purchase homes because they're spending all their money on avocado toast? Well, the ESTJ sure isn't! This ceaselessly practical type never makes a purchase they don't absolutely need. So make a frivolous splurge for them by picking up these avocado socks. For a moment, they can have the best of both worlds.
ISTJ
How to spot them: The steady, industrious colleague who can often be found working late, as they tie up the loose ends that everyone else was too lazy to finish.
What to get them for Secret Santa: Personalized Wine Delivery
ISTJs can be ruthlessly particular, so give them the gift of self-selection with this personalized wine service. They can fill in the details of which types of beverages they prefer, then have them delivered right to their doorstep—the perfect end to a long day of working overtime.